One of the first online dating websites to cater to those looking for extra-marital affairs, Ashley Madison is no stranger to controversy. After a well-publicised security breach in 2015, it looked as though the site's days were numbered.
However, in the wake of that incident, the company has doubled-down on its security protocols and privacy protocol, and now offers married men and women the chance to make a discreet connection, while keeping their private lives private.
With around 54million users worldwide, it looks as though faith has been fully restored in Ashley Madison's casual dating services. But does the site still stand up to scrutiny? We decided to put it under the microscope to see what's changed and create our own in-depth Ashley Madison review for you.
If you are interested in the best married dating sites in Australia be sure to check out our ranking table!
Our Review
Ashley Madison is, without doubt, aimed at a very specific type of user. While there are singles who use it exactly as you would any other online dating site, the vast majority describe themselves as 'attached'. You can set the search parameters to within 20 miles of your location or, to keep things even further from home, widen the field and extend your search up to 150 miles away.

However, if you're looking for an affair, there are a couple of hurdles you'll need to get over. The one that has received the most criticism is the inability to communicate for free. To initiate or take part in online chat, users must buy credits.

However, while you might have credits, the person you're trying to contact may not, which can be frustrating. There have also been instances of users creating fake female accounts, which has put some people off returning to the site.

Where Ashley Madison has got it right is in the offer of premium services. Priority Man is one of the site's best features, and gives users the ability to stand out from the crowd. It ensures their profile is highlighted as part of another user's search results.

The Travelling Man service also rated highly on our Ashley Madison review. Ideal for those looking for a discreet encounter while on holiday, users can connect with people from that area, whether you're a travelling man or a travelling woman.

A downside for men in general is that the site is undersubscribed by women, which can make finding a match a little tricky. The biggest disparity is in the 22 to 45 age-group, where men outnumber women by around 18%. It's better news for seniors, where the figure drops to around 10%.

Overall, we give Ashley Madison the thumbs-up, and our review has shown it to be the best at this particular type of dating site. It doesn't pretend to be anything it isn't, from the 'Life is short. Have an affair' strapline, to the online honesty of stating your relationship status.

It might not be for everyone, but it's definitely earned its space in the market.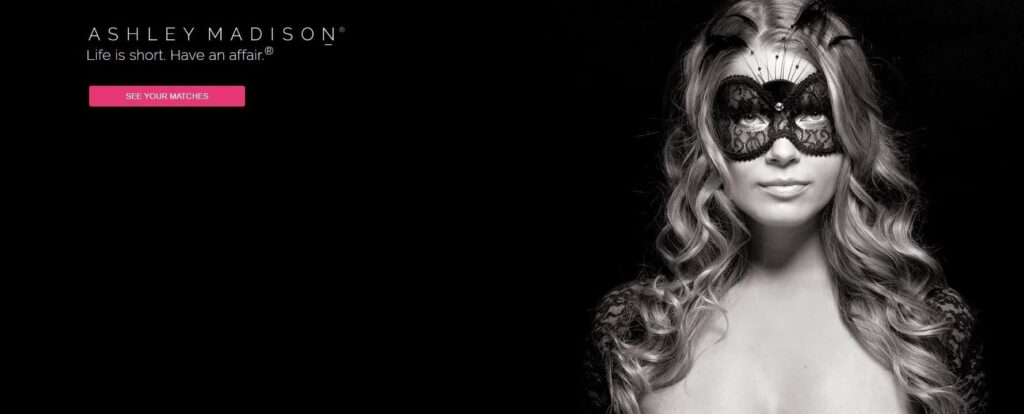 🆓 Free services and paid-for services
Signing up to Ashley Madison is free to start with. Once you've signed up, you can use the advanced searching tool to specify factors such as the height, weight and gender of the match you're looking for. You can even search the type of encounter you're looking for with options ranging from Something Short Term, to Undecided.
As part of the free sign-up, you're also given access to other users' profiles, many of which have photographs. You'll find that some of these are blurred; users have the option to restrict who sees their profile picture until they've made contact and established some connection.
Unlike many other dating services, Ashley Madison isn't swamped with adverts. However, the site has to make money in order to function and this is where the credits system comes in.
To ensure the online safety of its female users, the onus is on men to make the right moves. This means that male users are charged to send messages to women and to receive messages from them. There are three packages to choose from:
Basic: offers 100 credits
Classic: offers 500 credits
Elite: offers 1000 credits
The Ashley Madison Elite services – all the little extras
If you want more than a discreet messaging service, then the Elite package offers some excellent add-ons. These include:
24 hours of free chat on your first day.
Priority Man status for 30 days. This is designed to bring you extra interest by highlighting your profile above others that have been searched for by another user.
💰 Prices
How much do the different packages cost?
The Basic package is for those who are maybe starting out on Ashley Madison or for those who just want to dip their toe in the water. Using your credits, you can chat with like-minded people, send private messages, and even send virtual gifts.
| | | |
| --- | --- | --- |
| Package | AUD per Credit | Price |
| Basic (100 credits) | 0.59 AUD | 59.00 AUD |
| Classic (500 credits) | 0.35 AUD | 175.00 AUD |
| Elite (1000 credits) | 0.28 AUD | 275.00 AUD |
It's worth knowing that the different features on Ashley Madison require different amounts of credits. Sending a priority email, opening a message in your account's inbox and your first email to another user will each cost five credits.
Once you've established a connection with another user, there's no charge for you to send them further emails.
Chats are charged at 30 credits for 30 minutes and 60 credits for an hour, while you can send a range of virtual gifts, priced at 20, 30 and 50 credits each.
How to pay?
You can pay using your credit or debit card, using the online form on the Ashley Madison website. Crucially, all credit cards are discreetly billed, with no mention of Ashley Madison on your credit card statements.
Alternatively, you can use PayPal or other online payments systems, including Skrill, Pay SafeCard and Neteller.
💡 How to reduce costs at Ashley Madison?
The messaging service is free for women who are looking for men. In the interests of online safety, men are charged, using the credit system. However, if you want to minimise your spend on the messaging side of things, the Message Plus option can be very cost-effective.
Message Plus allows you to receive, reply to and store messages without having to touch your credit stocks. In addition, you can message an established contact, even if you've run out of credits.
The Message Plus feature is free for 30 days, as part of a credit package. This is a self-renewing product so, if after the free trial period you decide it's not for you, you'll actively need to cancel it.
📊 Membership structure
A discreet online dating site for married or single people
Ashley Madison is aimed at people between the ages of 18 and 55+. However, men and women between the ages of 25 and 45 make up the largest numbers. There are around 54million active users worldwide, and the site hosts the sending and receipt of over 5million messages each day, so things don't get stale or boring.
With thousands of new members signing up daily, there's always someone new to talk to.
International appeal
Extra-marital affairs have been around a lot longer than Ashley Madison, but the company has created a safe and secure environment in which users can pursue their extra-curricular activities.
While the parent company's headquarters are based in Canada (Ruby Corp), it also has offices in 53 countries, from America to Israel. Its ease of use and capacity to search specific distances has made it a popular choice since it was founded in 2002.
✍️ Registration
Time needed: 11 minutes.
Signing up to Ashley Madison is simple.
Sign-up

Go to ashleymadison.com and hit 'register'.


Follow the registration steps

You'll be asked to provide an email address and choose a password.

Create your profile

Give as much or as little information about yourself as you want. Members are requested not to give their real names, to preserve anonymity. However, you will be required to disclose your relationship status.

Select your preferences

Specify the type of matches you want to meet, by selecting options from a one-page questionnaire.

Buy credits

Purchase the credit package of your choice.
As part of the registration process, you'll be asked to choose your profile picture. Once you've chosen yours, you'll be given the option to edit it. This can take the form of blurring the picture or masking parts of the face to help you remain as anonymous as you want to.
📱 User friendliness and the app
When we decided to conduct our Ashley Madison review, one of the most important aspects for us was how easy the site is to use. Fortunately, we're happy to report that it's easy to navigate and very user-friendly.
All the options, such as the search facility, your profile and the ability to buy credits are all clearly laid out, leaving you in no doubt as to what you are doing. In addition, viewing a user's profile is as simple as clicking on their picture.
You'll then be taken to their page, where you can see further information about them and decide whether to send them a message or a gift or engage in chat.
The Ashley Maddison app is just as easy to use and is available on both iOS and Android phones. For added discretion, the app will save itself to your screen, displaying only the initials 'AM'.
Just as with the desktop site, you can engage with other members, search for matches and even choose your membership package.
✉️ Contacting users
Ashley Madison was primarily designed for married people to conduct relationships and encounters, beyond the confines of a marriage. Naturally, there is a need for discretion and privacy. However, this doesn't restrict the ease with which you can contact potential matches, or share information.
Whether you're using the app or the desktop website, all you need to do is click on their profile. Once there, you'll be given options, such as messaging or sending a gift.
In addition, there are other features to explore, such as sending a 'wink', 'favourite' a user, or to use the 'Private Showcase' function. Using the 'Add to favourites' button means you can store up to 100 profiles that catch your eye.
Private Showcase allows you to put photos in a 'holding page', which you must grant permission for someone to view. This gives you complete control over who can see any pictures you decide you may want to use.
👍 Pros and cons 👎
What we like
The easy-to-use, no-frills format
App compatibility with both Android and iOS
Assured discretion, even on credit card statements
The fast and simple registration process
Increased security in the wake of the 2015 security breach
What we don't like
Messages cannot be sent for free
Possible fake profiles
You can only chat with users that have also bought credits
🙋 FAQs
Is Ashley Madison safe now?
After the disastrous hack in 2015, Ashley Madison has beefed up its security procedures, offering its users far greater levels of protection and anonymity. This starts right from the moment of registration. On signing up, new members are asked to provide a password.

The site's password analysis tool will help you to choose a high-strength password to keep your account secure.
How discreet is their billing method?
Payments cannot be traced back to your card or online payment account. Bills are discreet, with no mention of the company name turning up on statements.
Is Ashley Madison legit?
Ashley Madison is entirely legit although, as with any other dating or social networking sites, not all its members can make the same claim. There have been stories about fake accounts, generally claiming to be women, which have been set up with the sole intention of scamming.

However, a recent report by Ernst & Young suggested that any bots that had infiltrated the site have been deleted, thanks to Ashley Madison's improved security protocols and privacy improvements.
What are Ashley Madison gifts?
Gifts on the website might be virtual, but they're a good way of letting someone know that you're interested in them. There are three types of gift, each with its own price-tag:

1. Teddy bear – 20 credits
2. Rose – 30 credits
3. Necklace – 50 credits
Company information
Registered office address: Safenames House Sunrise Parkway, Linford Wood, Milton Keynes, MK14 6LS
Private Limited company registered in the UK
Parent Company: Ruby Corp, Toronto, Canada
Director: Simon Marshall McManus
We also have reviews for the following dating sites