Collarspace is an entirely free online network for fetish dating, encouraging users to meet with other like-minded people who are both familiar with and willing to explore boundaries. Collarspace even has over 1.6 million users worldwide!
The openness of the website deserves a lot of credit, and for anyone who is looking to either get into the BDSM scene or is experienced and wants to try a new community, there's a lot to possibly find here. Anyone can join if they are of age, and you can even find locals.
Alternatives to Collarspace
Whether you are looking to meet a findomme (a woman who controls your financial situation) or dominatrixes of any sort, Collarspace has a robust community that will be able to offer something, so long as you are willing to do a little digging for it.
Unfortunately, the site does have a few downsides, such as its poor-looking layout and the often-unintuitive navigation and layout. This can be enough of a problem for some people and can also make contacting other users a little tiresome.
Still, the site is free to register with and use, and it is entirely possible for you to meet the right match for you here. To show you why we think Collarspace deserves a look, we review Collarspace and look at its members, features, and the user-friendliness of the site.
Check out our ranking table for the best fetish dating sites!
Our Summary
There are some positives and negatives to a site like Collarspace, but unfortunately the experience we had was somewhat underwhelming. Some of the good things about the site include that it's a free site to use, so you can access everything, including users' explicit photos, from the start.

There is also a well-informed Resources page which gives a lot of information not only on BDSM lifestyles and practices, but also current events such as issues concerning LGBT news, blog posts, and stories.


This also includes safety tips and guides for dating. It's all-around very informative and a welcome sight. However, the site's poor looking layout and lack of efficient way to navigate around can possibly push users away.

It looks as if the site has not been modernized and feels clunky when used. The buttons on the left are a little vague and their searches simply don't always produce good results. The lack of a proper homepage with a standard grid-view for profiles really hurts the site, and it would benefit greatly from getting a facelift.

Additionally, because of the free nature of the site, you do see a noticeable amount of fake (or at least questionable) profiles possibly looking to scam you. Still, that doesn't mean that the site isn't worth looking at. There are a good deal of real accounts here and you can meet other people who share the same interests as you from around the world.

In the end, if you are careful using the site then there's nothing to lose from registering and giving it a quick try to see if you like it. Everyone will have a different experience and who knows, you may even find someone who is compatible with you!
🆓 Free profile vs paid profile
Collarspace's greatest selling point is that it is an entirely free website for people in the bondage community to get to know one another. That being the case, all the site's features are entirely accessible once you have registered and your account is approved.
2019 free membership
Browsing all profiles
Sending and receiving messages
Find out who saw your profile and was checking you out!
Streaming videos available
Chatrooms for everyone
See new and upcoming events
Add users to your 'favourite' list
Seeing users who added you to their 'favourite' lists
Friends list
Seeing newest users
💰 Types of membership
There is only the single free membership currently available on the site. As of yet there is nothing to indicate that men and women will be able to upgrade into higher tiers or pay for a premium service.
📊 Membership structure
How many Collarspace users are in Australia?
There are an estimated 900,000 men and women in Australia using Collarspace, and over 1.6 million people worldwide.
Collarspace's demographics of love
According to the data that we were able to access for Collarspace's membership, it seems as if there is generally a disproportionate amount of men to women. There's approximately a 70/30 ratio of men to women on the site.
✍️ Registration process and profile creation
The registration process isn't immediately clear on Collarspace, but once you begin it is quick and easy to do. You can even finish your profile later if you would like.
Start by registering

When you first visit Collarspace.com, you will see a random user's profile and some information below that. On the left side of the screen there will be a large button that says 'Join the BDSM Community'. Click that.

Signing up for an account

You will now be on a page where you can create your username, password, and provide a valid email. You will also need to solve a captcha code by typing in the requested code. This is necessary to move onto the next part.

Building your profile

Once your account is created you will automatically be taken to your profile page. You can add to this now or work on it later if you want to by clicking on the Create Profile button on the main menu to adjust your profile.

The profile is split into a few parts, including necessary information and optional information. Necessary information includes gender identity, sexuality, and the role you would prefer in a BDSM relationship, among other things.

Optional fields include details about your physicality, your location and if you are willing to relocate, and the type of person you are looking for (eg. a dominant or submissive).

Write a bit about yourself

You will have quite a bit of space here to write about yourself, what kind of kinks you have, and what sort of sexual adventures you may be looking to have while on Collarspace. The clearer you are with what you are looking for, the better.

Add your profile image and pictures

Next, there is the option to add a profile image to your account. Generally, this is something that will help you get a lot more attention while browsing Collarspace. You are free to use any kind of image you want, so something explicit is okay.

After your profile has been created you will be able to add an additional 14 photos. You can change these photos later if you find that you aren't happy with them, so you aren't locked into any set you choose.

Interests and skills

Finally, you will be asked about your Interests and Skills. This is optional but it gives you a way to add more information about what you like to do for adventuring, diversions, hobbies, intellect, and general lifestyle data.
Although a little unclear on how you start the registration process, as you need to search for the correct button to sign up with, it becomes simple as you get going. There's a good amount of optional information that you can fill in, making your own profile strong.
However, a lot of the profile is optional to fill out, which means that you will find many people who have simply left a lot of their own blank. Overall, it is a fine registration process. The wait time for getting your account approved is a little slow, though.
Navigation
There's no real way to sugarcoat how unintuitive Collarspace's dating site is to navigate. There's no real home page which gives you an overview of a selection of potential matches related to your interests, and a list of links on the left which are not always helpful.
Contrary to almost every other dating site on the market, profiles for men and women are not shown in a grid-like fashion based on your interests and who you match with. Instead, you will have one profile open with a text list of other users below that which you click.
For a dating website in 2019, it feels as if Collarspace has not innovated or updated their website since launch. It simply feels outdated, and the actual layout feels awkward to use. All the information is there, but it isn't presented or organized well.
Profile
Profiles have the potential to be quite robust and informative, but because much of the information you need to fill out is optional, many people will simply leave a lot of it blank.
📱 User friendliness and app
There is currently no mobile dating app for Collarspace as of 2019, but it is always possible that they will add one later. You can click on the button 'Mobile Interface' from the main site to get a version of the site that is better for mobile phones.
✉️ Contacting users with Collarspace chat and messaging
There are a few ways to chat, as well as ways that you can read and reply to messages. To use the chatroom, simply click on the 'Chatroom' button the left of the page and you will be taken to a chatroom. Feel free to read and reply to anyone!
How to contact another user with messages:
Go to a profile of a person you want to contact
Note that you will need to have your profile approved before you can send messages
Click on the button below their profile info text that says 'Send Message'
Type out the message you would like to send
Click 'Send'
Check your inbox later to see if they have replied to you!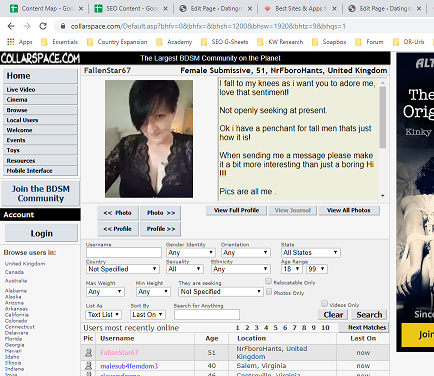 👍 Pros and cons 👎
✔️ What we like
Completely free of charge
Free, unlimited messages for everyone
List of active online users and their localisation and age
Advanced search options
Possibility of having an account without a public profile
❌ What we don't like
Takes some time for your account to be verified
Your profile must be approved before you can send a message
Fake profiles
Dating seems difficult to start
No mobile app
Not operated by all browsers
The website has a very outdate look and a strange user interface
Many ads for other BDSM community sites on all pages
🙋 FAQs
Who owns Collarspace?
It is stated that Collarspace is owned by Bayshore Software Technologies Inc. in California.
Is Collarspace safe?
Yes. Collarspace won't give out your information to third parties. As a rule, don't share your private information, be careful about your photos because all profiles are available for public view, and don't send money to any stranger online.

Collarspace offers a lot of safety tips and guides for people looking for dating in the BDSM community, so make sure you view the sites 'Resources' for more information, especially before you start to read and reply to messages from strangers!
What is the Collarspace photo grid?
This is a feature that is no longer present on the site. It was intended to be a search feature that showed your daily matches arranged in a photo grid to view easily, like how most dating sites do. It has been reportedly disabled for technical reasons.
Is there a spam filter for Collarspace?
Yes, you can adjust the site's filters in your inbox.
ℹ️ Company information
Collarspace is an online community comprised of persons who share an interest in romantic explorations known as BDSM. Collarspace is owned by Bayshore Software Technologies Inc. in the USA.

Headquarter:
Bayshore Networks, Inc.
4625 Creekstone Dr. #100
Durham
NC 27703
We also wrote reviews for the following dating sites