In our Down Under Dates review of the dating service, we explore the Australian dating app and look at how it performs. Read on to get an overview of Down Under Dates, its pros and cons, what the costs are, how you can register, and more.
Down Under Dates is an online dating site for hookups and casual dating experiences. Contrary to many popular hookup apps such as Tinder, this is a service that relies on matchmaking compatibility in searches. That means filtering based on your preferences rather than location as a priority.
If you are in Australia and looking to find potential matches to hook up with, Down Under Dates is a viable alternative to mainstream dating sites and apps. Check out our review below to learn more!
Down Under Dates review overview
As far as dating websites in Australia go for casual dating, Down Under Dates offers a surprisingly in-depth registration process. Some of the questions can be a little personal, but they all help to make sure users have a better idea of who their potential dates are.
This is great because Down Under Dates' matchmaking is then based on an algorithm that uses your dating profile to find the best matches in your area. The more details you can add to your profile, the more refined your results will be.
While the involved registration process isn't as long as one for a long-term dating service, it's still refreshing to see. However, once you have registered and set up your profile, you will find that you can't really interact with potential matches or meet people until you upgrade your account (details about membership and prices below).
Most users seem to be between 25-35, although anyone is free to join. It is unfortunate that nothing is available to users who don't subscribe to their auto-renewing premium memberships, and many Down Under Dates reviews complain about this and the lack of users they meet.
For people who do upgrade, a lot of features open up on the site and you will be able to use everything that Down Under Dates has to offer.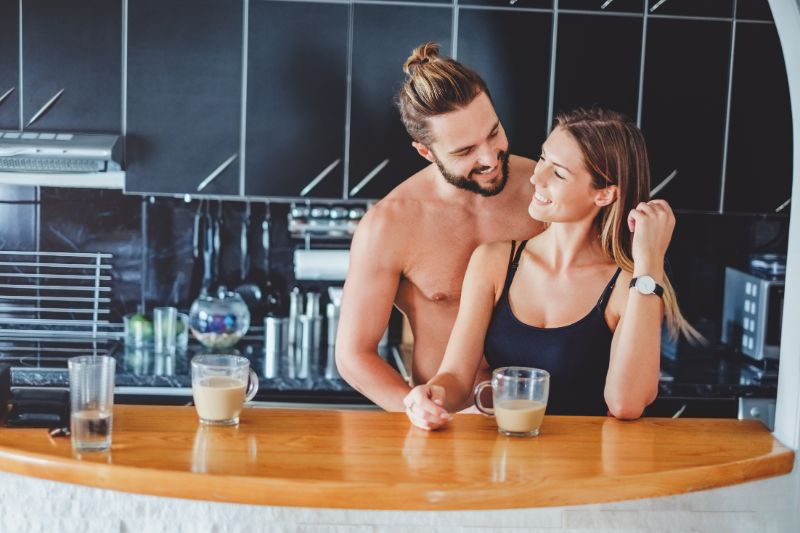 Down Under Dates review: pros and cons
With any hookup service that helps real-life daters to meet up, you will find things that are good and things that aren't. To give you insight into this, our Down Under Dates review has provided a list of our pros and cons for Down Under Dates.
Pros
Many of the best things about Down Under Dates lie in the profile creation process, matchmaking, and user experience as you chat with other members:
The moderators are responsive to communications, giving you a real person to work with rather than a bot if you have issues
Matchmaking felt real and made sense using the filters that were in place
Dating profiles offer a lot of information, giving you a clear picture of people you match with
Chatting is simple to do and can be done as soon as you upgrade your account
Local matchmaking works well, but you can also broaden your search criteria to other cities
A "money-back" guarantee if you can't find a sex date
Cons
Unfortunately, there are some things that did spoil the user experience with Down Under Dates. These relate to the costs and the potential presence of scammers on the site:
Some users have complained of fake profiles with scammers who are trying to scam them out of money
You can only look at pictures, see friends, and view or send messages with a paid membership, making the service impossible to use for anyone looking for a free dating experience
The features that you unlock with the premium membership seem like they would be basic features on any other site
Confusing text that tries to explain there is no risk to you when you subscribe for a premium membership
Down Under Dates review of costs
For first-time users, you will find that much of the website or app is locked out to you. You can receive messages, but you won't actually be able to read them. You will also notice that all pictures are blurred, and your search options are extremely limited.
If you want to use the site to its fullest, then be prepared to spend money on an auto-renewing subscription. Subscriptions come in 3 packages: 1 month, 3 months, and 6 months. These are the names, lengths, and prices of the packages:
| | | |
| --- | --- | --- |
| Subscription name | Length of subscription | Cost of subscription |
| Starter Subscription | 1 month | A$ 65.00 |
| Classic Subscription | 3 months | A$ 50.00 |
| Deluxe Subscription | 6 months | A$ 40.00 |
All subscriptions give you the same premium features and are identical whether you use an Android, iPhone, or computer. There is no difference in what you get between a "Starter Subscription" and a "Deluxe Subscription", they just auto-renew at different times.
Premium membership features
To give you a clear understanding of what the difference is between a free membership and a premium membership, our Down Under Dates review has compared what each has to offer you in an easy-to-read table:
| | | |
| --- | --- | --- |
| Features Available | Free membership | Premium membership |
| Better position in search results | – | + |
| View friend list | – | + |
| Enhanced search function | – | + |
| Get access to member pictures | – | + |
| Show profile visitors | – | + |
| Write messages | – | + |
| Read messages | – | + |
| Email notifications | + | + |
| Receive messages | + | + |
| Search other members | + | + |
| Picture upload | + | + |
| Create profile | + | + |
Our Down Under Dates review: how to register
Creating your profile when you sign up with Down Under Dates can take anywhere from 3 to 10 minutes depending on how much information you want to provide. The more questions you answer the better your search results will be. The process can be broken down into 5 different steps:
Select your gender, which is limited to either "male" or "female". Then provide your date of birth and a valid email address that can be used to verify your account and to receive notifications. You don't need to provide a phone number.
You will now be taken to an in-depth questionnaire that is broken up into the following: your preferences, fetishes, amount of partners you are interested in being with at a time, whether you want to look for men or women, and what an ideal meeting place for you would be. Each field offers a selection of buttons you can select to show your answers. You will also be given a chance to describe yourself in intimate detail under a section called "Looks".
The third thing you must do is provide a "Profile text" that will appear in your profile when someone visits it. This is about 500 characters but can be shorter, and is an opportunity for you to let other members know who you are and why you are on the site.
The next step is to write up a short introduction that will be shown to members that tells them you are new. This is a more personalized message and can be thought of as a way to break the ice.
Finally, you will need to select a profile picture that other premium members will see when they match with you. You can include screenshots of yourself if you'd like, but our Down Under Dates review would recommend a higher-quality picture to show off your best side.
Down Under Dates review FAQs
If you aren't still aren't sure about the service after reading through our Down Under Dates review and you still have doubts, read on. Our Down Under Dates review has answered some of the most frequently asked questions to help clarify a few things about Down Under Dates.
Is Down Under Dates legit?
Yes, although there are a number of fake accounts that the service creates to incentivize users to get a premium membership and to interact with other users. While you can't date these profiles, you can still date with others who use the service.
Who is Down Under Dates for?
Down Under Dates is a sex dating service for adults between 25-35, with a few members being older and younger than the average. Down Under Dates is best used as an alternative to mainstream casual dating services.
How do I delete my Down Under Dates account?
Deleting your account is pretty easy:
Login to your Down Under Dates account with your email address and password
Click on your profile in the upper-right and navigate to "Settings"
Scroll down and find the "Delete" option
Click on the "Delete my account" option to remove your account from the site
Please keep in mind that deleting your account won't stop payment for your premium membership and that this will continue to auto-renew until you cancel that payment.
How do I cancel my premium membership?
This information is located in the "Terms and Conditions" portion of Down Under Dates. The information reads as follows:
The User of a fee-based Service (premium membership) can terminate the contractual relationship and continuing obligation within a period of 14 calendar days prior to the end of the respective ordinary contract term.
Termination of a fee-based contractual relationship must be made in writing to take effect. The declaration of termination should include:
The User's full name
The Service used
Email address and username used for registration in order to ensure successful processing of the termination
Termination by email should be sent to [email protected]. Alternatively, the written termination of a fee-based contractual relationship can also be sent by fax at +41 (0) 41 5087019 or by post.
For your assistance Down Under Dates has created a cancellation form, which you can simply fill in and send or use as a guideline. It includes all contact details with all the necessary fields to successfully complete the termination of a fee-based service.
The URL for the form can be found here: https://www.down-under-dates.com/pdf/cancellation.pdf
Are there alternatives to Down Under Dates to find a long-term relationship?
Yes, if finding love is more of a prerogative for you than casual encounters, we would recommend using our top serious dating brands over hookup apps. These are some of the most reliable brands that our Down Under Dates review would recommend to serious daters:
Down Under Dates review: final thoughts
Down Under Dates offers detailed profiles and matchmaking for an alternative casual dating app, more so than many of its competitors. The largest drawback is that you can't really test the site out for yourself without paying for a membership.
However, the advantage of using a service that is outside of mainstream dating apps is that you can often meet people you wouldn't otherwise. It's great for covering your bases and giving you as many options as you can have when looking for sex dating.
If you aren't impressed by the sign-up process or user reviews, you can always consider checking out some of our other casual dating services. However, we think that despite the costs, Down Under Dates has something to offer so long as you are willing to pay for it.