In this eHarmony review, you'll see why eHarmony.com is one of the most popular matchmaking websites in Australia. With over 10 million users from all backgrounds and ethnicities around the world, it's also one of the most in-depth matchmaking services to find love!
eHarmony was the first algorithm-based online dating site for meeting potential matches. Thanks to their in-depth personality survey and compatibility quiz with an evolving algorithm, they have become one of the top dating websites in the world.
These 150 questions are based on 29 key dimensions, which eHarmony says are crucial to lasting relationships. Does this alone mean that eHarmony is one of the best dating sites?
Their matchmaking questionnaire sets eHarmony apart from their competition, which is evident in the success rate of their matchmaking. In the modern age of dating apps and quick swipes, eHarmony shows that there is a use for psychology tests to help create perfect matches.
Widely known as THE dating platform for singles looking for commitment, serious relationships, and marriage rather than casual dating, our eHarmony review covers the pros and cons, personality test, and eHarmony prices in Australia.
eHarmony review in Australia: Is eHarmony worth it?
Although it is an easy dating website to use, the eHarmony subscription comes with a price tag that shows how committed premium members are. This means that when you do sign up and subscribe, you'll be joining others who are serious about finding true love.
This is very much a site for singles who are looking for a committed relationship. If you're more interested in casual dating, there are other options for you.
Australia's eHarmony offers an app for Android and iOS if you prefer a more convenient access to your profile and matches. This has made finding true love an especially flexible and successful endeavor for Australians, thanks to eHarmony.
With such an established service that has evolved its matching algorithm, more Australians than ever are finding long-lasting relationships. However, as with most things, there are pros and cons:

Pros of eHarmony:
Detailed sign up process and questionnaire increases chances of matching with the right people and filtering out incompatible options
Matches are delivered daily
In-depth profiles are fun to fill out and explore, heightening your dating experience
eHarmony is known as the best dating site for people looking to commit to a long-term relationship
Cons of eHarmony:
Lengthy sign-up process can be off-putting to people who just want to get started fast
You can't search out individual users and review them yourself
Free membership isn't effective as you can't see pictures and messages are limited
LGBTQ dating is limited on eHarmony, but it does offer a separate dating site for this under the umbrella of "gay dating" which looks and operates identically to the main site
The subscription plan for membership cost can be expensive (more details below)
Fake profiles can still be found on the site
eHarmony price breakdown for Australia
There is a free membership option, and three types of paid memberships available on eHarmony, with costs ranging from 12.95 AUD to 49.95 AUD per month. The good news is you'll pay less for your membership if you subscribe for a longer length of time.
Below is the breakdown of eHarmony prices and subscription plans in Australia:
Subscription
Length
Monthly Cost
Premium Light
6-month subscription
$49.90 AUD per month
Premium Plus
12-month subscription
$17.95 AUD for the first month,
then $35.90 AU per month
Premium Extra
24-month subscription
$12.95 AU for the first month,
then $25.90 AU per month
Once you've chosen the membership that's right for you, you have a few payment options to choose from. You can pay as a one-off payment, a payment plan in three instalments by either credit card, gift card, or PayPal.
All the paid memberships include:
Completing an online dating profile
Taking the full matchmaking personality survey
Seeing your matches including profile pictures and photos
Sending icebreaker questions, winks, and more
Sending personalized messages
Enjoying options to video date, send gifts, and more
Seeing who viewed your profile
Seeing who marked your profile as a favourite
Browsing member profiles outside your preferences, with the option to do so anonymously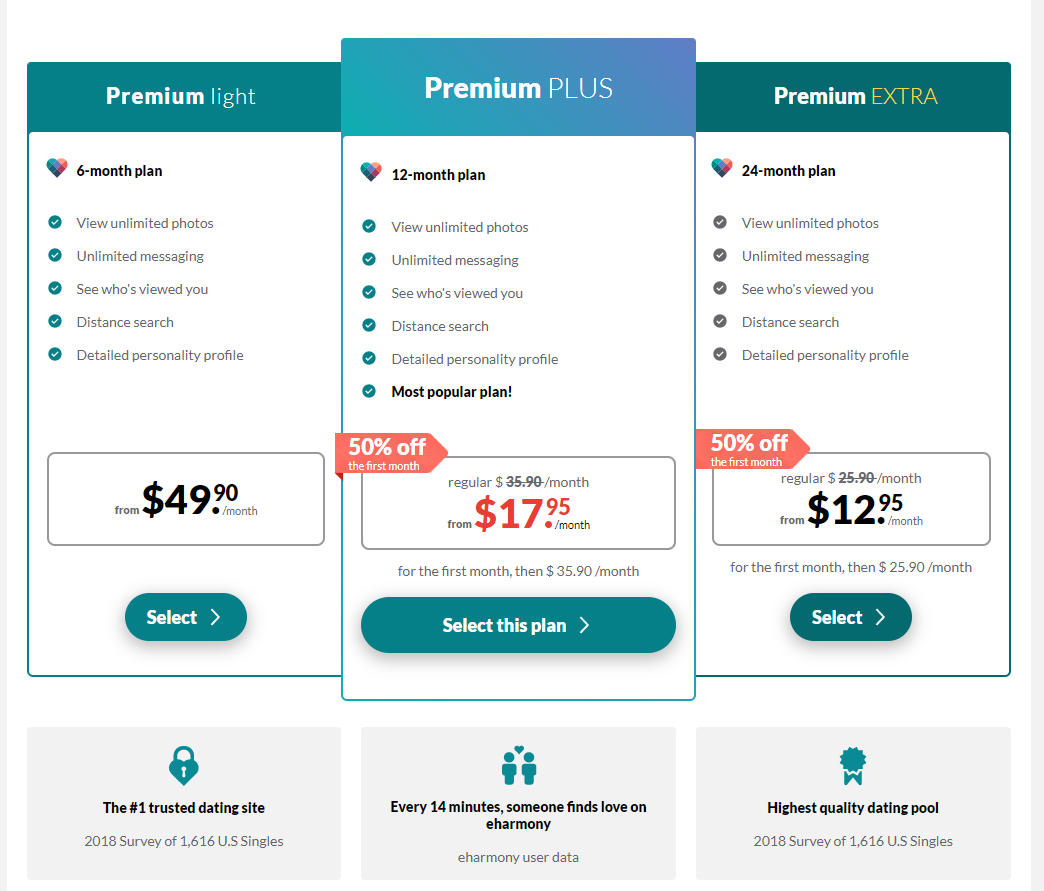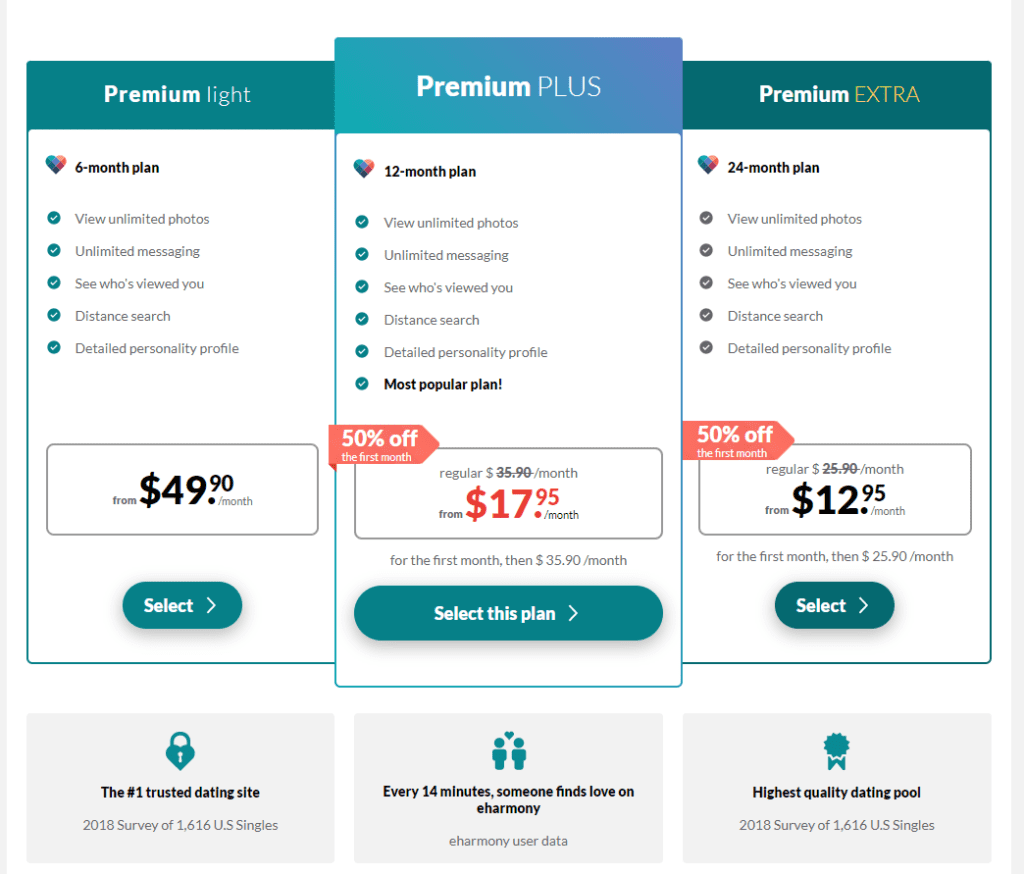 Premium Lite six month subscription
This is to test the waters and give you an introduction to the service, and you can unsubscribe if you feel like it isn't for you. The plan costs $49.90 AU per month. This plan offers most services, the highlights of which include:
See who's viewed your profile
Unlimited messaging
View unlimited photos
Access more matches
Premium Plus twelve month plan
This will unlock all the features of eHarmony, and will give you the best chance at making quality matches quickly and reliably. The Premium Plus plan costs $17.95 AU for the first month, and then $35.90 AU per month. The following features come with the Premium Plus eHarmony plan:
Browse anonymously
Get read receipts on all messages
Be a featured match for 24 hours every month with spotlight
Premium Extra twenty four month plan
This is identical to the 12 month plan but is discounted for a longer membership period. The plan costs $12.95 AU for the first month, and then $25.90 AU per month after that.
If at any point you would like to cancel, you can do so in your account settings and select cancel payment prior to your billing period.
What about free membership?
If you're not quite ready to pay for dating services, you will have the option to sign up and use eHarmony for free. However, your options are going to be limited, and may not get you the results that you want. With the free membership, you:
Can complete a dating profile
Take the full matchmaking personality survey
See your compatible matches
The photos will be blurred out of other eHarmony members, but you can view their full profile
Send icebreaker questions to new matches
Our Australian eHarmony review's tips for getting started
Now that you've decided on your membership plan, it's time to get started on your profile. When you first sign up for eHarmony, you'll be presented with the questionnaire to fill out your personality profile. We highly recommend spending as much time as you need on this initial setup, even if it takes a while. The more accurate your answers are, the better the results.
The answers and questions may seem a little odd at first, but the functionality and success of eHarmony's questionnaire and compatibility matching system is undeniable. To give you an overview, it is split into five sections:
Emotional temperament
Social style and social values
Physicality
Relationship skills
Values and beliefs
Although you don't need to include a phone number, you should definitely invest some time with your profile photos. Maybe hire a professional photographer, or at the very least ask friends to help out.
When you do start to message people, you'll get the option of using icebreakers to help initiate a conversation. Users can choose 5 of 100 icebreaker questions as a free user, and more as a premium member. This is especially useful if it's your first time online dating.
You can also just send a smiley emoji or a flirty gesture if you aren't happy with the icebreaker questions, which come with preexisting answers. With that said, the icebreaker questions do give you a good entry and talking point if you aren't sure how to get started.
These icebreaker questions reflect the values explored in the personality survey and span topics such as dating attitudes, life ambitions, family. There are even questions that are more out there, like how you would use time travel, what you might do if you were XY or Z, and so on.
eHarmony review FAQs: Australia
Curious to know if eHarmony is worth paying for? Do you have specific questions that our eHarmony review Australia didn't cover? Below we answer some of the most frequently asked questions about eHarmony in Australia:
Is it worth paying for eHarmony?
eHarmony boasts some impressive statistics. They claim to be responsible for 542 weddings a day. Their compatibility algorithm is unique and claims to be scientifically accurate, but because of that, it can sometimes provide only a few matches.
eHarmony is a place for people who are serious about committed relationships; it ensures this by putting a large price-tag on its service and a lengthy sign-up process, which allows you to discover what you want from a relationship.
This filters out time wasters and ensures quality matches.
Can eHarmony be trusted?
Yes, eHarmony can be trusted. It is a legit service that focuses on finding the best match for its users. As you can see from our Australia eHarmony review above, we believe that the service has a lot to offer users, including successful matchmaking.
Does eHarmony have a lot of fake profiles?
A few, but fewer than you might think. While it is true that a few fake profiles exist, most profiles that you will see are legit, as is the service. eHarmony generally offers a safe and reliable dating experience.
What age group is eHarmony Australia for?
eHarmony is for any age group, and you'll find success no matter how old you are. However, around 30% of users are between 18-24. The next highest group, 35-44, makes up about 20% of eHarmony's user base.
eHarmony review Australia: Fall in love today
Are you single in Australia and looking for other Aussies to fall in love with, but want a reliable and safe service you can use? We definitely recommend eHarmony for one of the most reliable ways to fall in love and finda serious, long-term relationship!
Thanks in part to their advanced algorithms that ensure high-quality matching and multiple filtering options for premium memberships, you'll be sure to find the perfect match in no time.
So sign up today, fill out the in-depth personality questionnaire, and start finding matches who are perfect for you!