In a world where dating apps and dating sites are the new normal, people are starting to move away from the fast-paced hookup culture with meaningless dates.
More and more singles are craving real connections, deep conversations and meaningful bonds.
The relatively new platform MeetMindful was created to provide a more conscious dating experience and, like their motto states, create "a fuller life together". This alternative dating website focuses on real connections rather than mindless swiping.
In our MeetMindful review, we took a closer look at how the platform works, who its members are and everything else you need to know about this very special dating platform.
If you are interested in joining a community of mindful people, keep reading!
Pros and cons of MeetMindful
MeetMindful is a niche community with a well-designed platform and an emphasis on detailed profile descriptions. We collected the most important pros and cons of the dating site in a nutshell for you:
Pros
unique community of like-minded individuals who practice mindful living
easy to use platform with a modern interface
verification process avoids fake profiles and guarantees the user's safety
a lot of articles and information related to mindful dating, wellness and mindful living are provided for free on the site
very detailed profile information which puts the focus on character and passions
Cons
the registration process takes longer than on other dating sites
the free basic membership doesn't allow you to browse through many profiles and limits your search options
the recent hack of the platform where 2.3 million profiles were leaked
unbalanced gender ratio – a lot more female members on the dating site
the dating app version of the platform shows some glitches and bugs
Our Review
This relatively new dating website is perfect for singles who are living a healthy and mindful lifestyle. It is the first dating platform where mindful living meets online dating. The aim of the founders is to build a mindful community and real connections. Members value spirituality, art, wellness, health and fitness and have a unique perspective on life.

The platform has a welcoming and accepting vibe and radiates good energy. The site fits best for younger singles between 25 and 44 years looking for a serious relationship or new friendship.

Your matches are carefully chosen by the algorithm to suit your preferences and the detailed profile description shows the app's commitment to creating meaningful relations. You can also find hundreds of dating and relationship articles about mindfulness to guide you through your journey.

You can create a free account and use most of the features for free. If you want to search, flirt and chat without limits, you can obtain a premium membership. The pricing is, compared to other dating sites, quite average.

We recommend MeetMindful for singles looking for real connections and deep conversations. If you are just looking for a quick hookup, this dating site is not for you.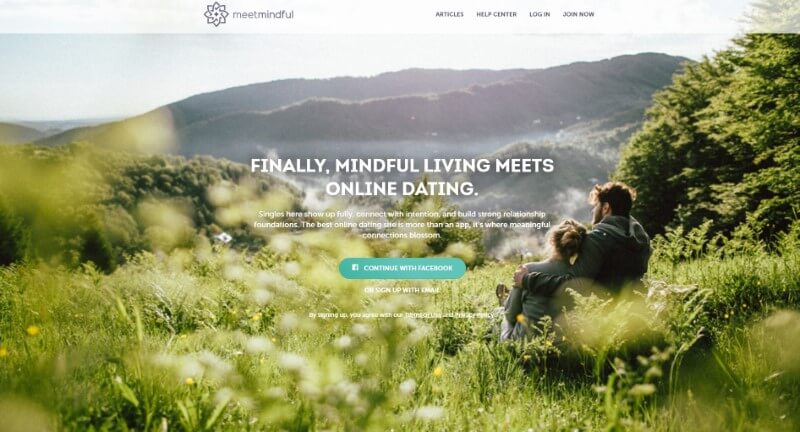 Membership structure
Number of Members: 246,000
Monthly Active Members: 38,000
Gender Proportion: 70% Female, 30% Male
The MeetMindful members are from different countries but the majority is from big cities in the United States. In fact, more than 75% of all users are located in the US.
The platform has more registered female users and is therefore dominated by women. Nevertheless, it is still possible to find your match as a woman. The site is open for all genders without biases and offers different gender options.
The demographics of the community show quite young users who are between 18 and 44 years old. The average MeetMindful user is around 29 years old and is looking for like-minded singles who are also in the process of self-development and improvement. Most users are looking for long-term relationships and friendships with a spiritual bond.
Free Services and paid-for services
With the standard membership, you can enjoy the sites basic features like creating a profile, searching for singles in your area and giving out likes. Although the basic plan is great to start with, you are limited in some areas.
The paid membership gives you more freedom and unrestricted possibilities like unlimited messages, likes and matches as well as advanced search filters to find your perfect match more easily.
Free Services:
Create your account
Fill in and edit your profile information
Upload up to 6 photos
Give 3 likes per day
Receive 10 match suggestions per day
Use the basic search filter
Message your matches
Read interesting articles on various topics
Paid-for Services:
Get unlimited daily matches
Get unlimited likes
Send messages to anyone on the platform
Personalize your search preferences
Set your profile in private mode
Receive priority support
Prices
In comparison to other platforms, the costs of MeetMindful are fairly average. There are no paid add-ons or trial plans. The platform offers only one type of membership which unlocks all special features for the user – the only difference is the duration.
Duration Price Saving
1 Week 14 USD –
1 Month 29 USD 50% (7 USD per week)
3 Months 49 USD 70% (4 USD per week)
6 Months 79 USD 80% (3 USD per week)
The cost of the premium membership is 14 USD per week. This plan is recommended for users who just want to give premium a try.
Depending on the duration of your membership, your weekly costs will be reduced. For a MeetMindful beginner, we recommend the 1-month premium plan, with which you can explore all features at a very good price. For more experienced members we recommend the 3-month plan in order to properly dive into your search for a soul mate and enjoy all the benefits premium brings.
You can pay your membership via credit card. You can cancel your subscription at any time. Refunds are not possible.
How to reduce costs at MeetMindful?
If you are a new user of the dating website, we recommend trying all its free features for a while before committing to a paid plan. If you like the dating app, you should consider buying a premium plan in order to unlock all features. Nevertheless, it is still possible to find your perfect match by only using the free version.
If you choose to have a premium account for more than 1 week, you can save up to 80%. For that reason, it makes a lot more sense to choose a plan which lasts at least one month. You can save the most money by choosing to pay 6 months in advance.
Registration
MeetMindful puts its emphasis on meaningful connections – that is why the profile description is more detailed and the registration process can take a bit longer than on other apps.
You have two options to register. You can register via Facebook and sync your personal information and photos from your account, or you choose the classic email registration process which can take up to 5 minutes.
After verifying your email or registering via Facebook you will first have to specify your gender and sexual orientation. Then you will answer a series of different questions which will help to fill out your profile. You always have the possibility to skip the process but this will leave you with an empty profile.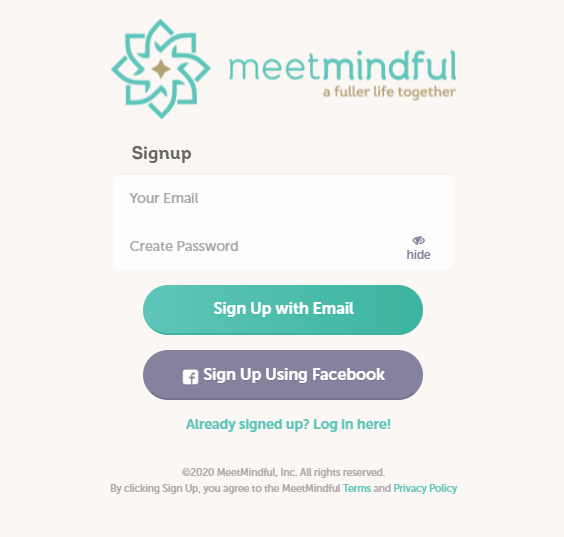 The profile completion can take a while since most of the questions are to answer in an essay style. This means writing in your own words what you are most passionate about and how you choose to live mindfully.
The profile information you will fill out in the questionnaire is divided into 3 areas:
1. Basic information
Here you fill in facts like your birthday, location and who you want to meet on the platform. The next step is to upload a profile pic which is mandatory. The photograph will immediately be checked and verified by the system.
2. Personal information
Here you will write about your mantra, your likes and dislikes and you will be able to give some extra details about your personality.
3. Detailed information
In this last part, you will be able to talk more in detail about how you live a mindful life. You can write about your hobbies, your personal development, interests and more.
Example questions/phrases you will need to fill in are:
"What inspires you/keeps you centred?"
"My friends describe me as …"
"I'm most passionate about …"
"Imperfections I'm embracing or changing: …"
Although filling out your profile is optional on MeetMindful, the profile description is almost more important than the profile picture. Your bio takes up a lot more space on your profile than your pic. You can upload up to 6 profile pictures.
After completing your dating profile you can immediately start looking through your matches. The algorithm presents you 10 matches per day and you can decide to "like" or "pass" them. MeetMindful doesn't use the popular swiping method and encourages singles to "Quit swiping!".
Tip: It is not compulsory to fill in all the fields of your profile, but we recommend taking some time to carefully choose your answers and open up about your passions, deal breakers, projections and dreams. In that way, your chances of finding a perfect match that shares your interests are increased.
User-friendliness and the app
MeetMindful is free to download and available for Android and iOS. The platform is easy to use both on the app and the desktop.
Nevertheless, we have to mention that the app version is slower and the design seems a bit more cramped-up with some glitches and bugs, which influences the functionality of the platform. The navigation through the desktop version is much faster and easier.
The platform convinces with simplicity and has a minimalist, modern design. Its soft tones give the feeling of peace and calm and go well with the overall concept of the dating website.
The information is well organized and easy to understand. Overall, the design focuses on the basics without a lot of extras or distractions.
Contacting users
There exist three basic ways of communicating on the platform – messaging, likes and chat rooms. The whole matching process works similar to Tinder, without the swiping function.
The match recommendation on the app is based on your location and you will only be able to see members within a specific distance. You are presented with 10 profiles daily which you can either like or dislike.
If both members like each other, you have a match and can start a conversation. With the free version, you are only able to message your matches which you will find in your connections list.
There are no exceptions made depending on your gender – the same rules apply to both men and women.
Only with a premium account, you are able to message members who haven't liked you back and you can adjust your search settings to find more suitable users.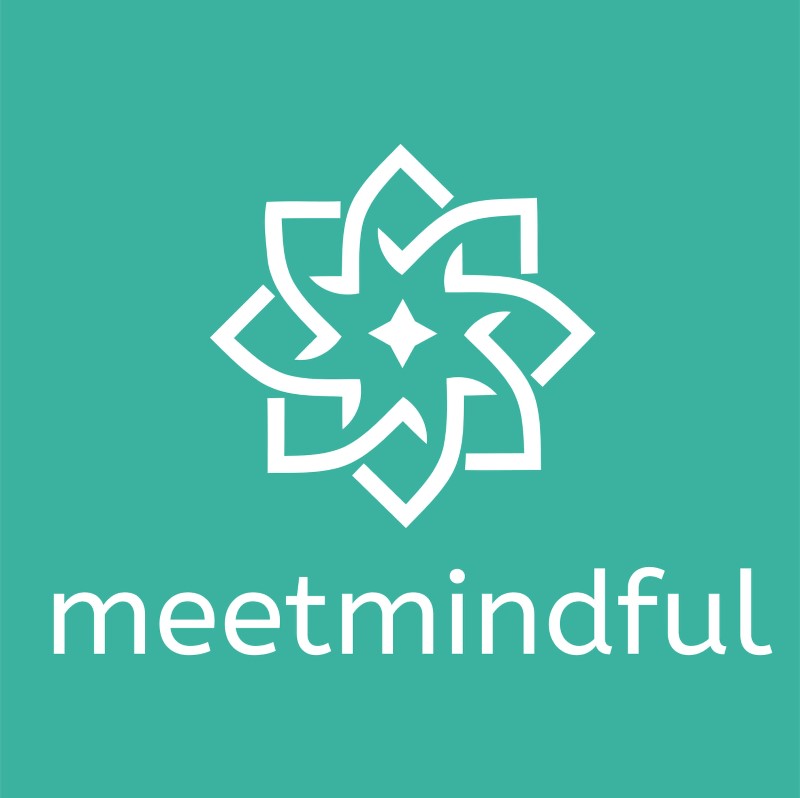 FAQs
Is MeetMindful free?
Yes, MeetMindful is a legit platform that is free to use and download for both iOS and Android. With the basic membership, you can still easily meet and chat with other mindful singles. The free version allows you to create a free account, match with 10 singles and give out 3 likes per day.
How do I sign up for a MeetMindful account?
There are 2 different ways to sign up:
Register with a valid email address
Sign in with your Facebook account
What can I do with a basic membership?
As a basic member, you can create and edit your MeetMindful profile, add up to 6 profile pictures, use basic search filters, browse and match 10 profiles every day and give up to 3 likes to other singles.
What's included in the premium membership?
As a premium member you can use all features on the platform, this includes sending unlimited messages to anyone, having unlimited daily matches and likes, using browse mode, using advanced search filters and many many more.
How can I cancel my premium membership?
If you already bought a paid plan, you can first disable the auto-renewal option in your settings. Under "Change Membership" you can choose to "Cancel" your plan. You can also directly contact the support team.
Can I send messages to other members for free?
You can only send messages to the users you matched with. If you want to message other users, you have to buy a paid membership.
How do I change my location?
There exist 2 options:
Go to Settings – click the "Edit" button – select "Account" and modify your location
Adjust the location filter in your Discover page
Can I hide my MeetMindful profile?
Yes, but only as a premium user. Activating "Private Mode" hides you from being discovered by members which aren't connected to you yet. You will still remain visible to the ones you already matched with, liked or messaged.
How can I prevent strangers from texting me?
Because premium users can message any member they want, it can happen that you will occasionally receive some unwanted messages into your inbox. You can either block or report an unwanted user to the support team or, as a premium user, adjust your messaging settings.
Why was the site hacked?
In January 2021, a hacker attacked the dating website and leaked over 2.23 million profiles including all their personal information like names, email and location. The platform immediately took action to assure its member's safety and contacted each affected user.
Keith Gruen, one of the founders of the platform said that the data breach only contained outdated information of their members and that the vulnerability was identified and immediately resolved.
Company information
The company MeetMindful Inc. was founded by Amy Baglan who wanted to create a different dating platform connecting like-minded people. The headquarters are in Denver, Colorado.
Amy Baglan first started to practice yoga and meditation. 4 years later she went on an "eat, pray, love" adventure to India. When she came back to the US, she founded a company that hosted yoga dates. This idea was, together with her friend Adam Taylor, quickly developed into the first prototype of MeetMindful. The company has been growing ever since.
Address:
1444 Wazee St. Suite 130, Denver, CO 80202
E-Mail:
Phone:
1-866-304-6444
More Reviews