Military Cupid is a dating website by Cupid Media that is focused on people in the armed forces and singles (mostly women) who want to date men and women in military uniform. This includes men in the Army, Navy, Air Force, and Marines and Coast Guard.
For singles who search for a man that works in the defence of the state, Military Cupid offers the best way to match and start dating. The site is free for anyone to join, and includes military personal, paramilitary forces, and civilians from all over the world.
Alternatives to Military Cupid
There are over 600,000 singles who want to match and date with people in the armed forces, or who are within the armed forces, that are currently using Military Cupid. That's a lot of people for you to search through, giving you plenty of chances to find love!
Military Cupid also provides additional search features for anyone who is interested in dating military people, giving you even better odds at finding a match that is just right for you. Singles looking to date military men can appreciate that!
If you want to search for hot military men, then we would like to show you why we think Military Cupid deserves your attention. We review Military Cupid and look at its members, the user-friendliness of the site and the mobile app, and its prices.
Check out our ranking table to find out more about the most popular military dating sites!
Our Summary
When it comes to looking for a date and dating military men and women, Military Cupid offers a reputable variety of services for interested singles. There is a lot of like about the site, from its sleek user-friendly design to its direct approach toward online dating.

Free users can browse profiles and engage in a variety of basic services that are both reasonable and more than capable of finding you a date. Paid users get the benefits of one of two tiers (Gold or Platinum) to more deeply explore the site.

There is even a fast and easy matching option that you can use, where all members who meet certain criteria you specify (including age, gender and proximity) will show up in your search results. You can take your search further and look for others by branch of service.

Something that we liked was that anyone who signs up will be able to chat and send each other emails, and Platinum members can even video chat with other members.

The only downside we had with Military Cupid was that the emphasis on dating in the military felt as if it was lacking, and more could have been done to focus on that. Beyond the search features, not much else is military-related.

Overall, Military Cupid is a prime example of modernized online dating, and Cupid Media's reliability shines through in providing its users with a niche online dating platform that is sure to provide you the most capable service possible.
🆓Free profile vs paid profile
There are three grades of membership on Militarycupid.com: Standard, Gold, and Platinum. Standard membership is free and allows you to send interest to other members and communicate with Gold and Platinum members.
Gold members can communicate with all members of the site, regardless of their member grade. Platinum members have access to all site features, including advanced matching features, message translation services, and Profile Notes.
Free membership
Create a profile
Add photos
See who's online
Search and browse profiles
View profiles
Show interest
Add to Favourites
Basic matching
Communicate with premium members
Gold membership
Communicate with all members
Live chat with instant messenger
Send and receive messages
No ads
Platinum membership
Platinum membership includes all the features that the free and Gold memberships offer, along with the following:
Hide your profile and browse anonymously
Rank above other members
Double your profile space
VIP profile highlighting
Exclusive search features
Advanced matching algorithms
Translate messages
💰 Types of membership
Military Cupid has two different tiers of paid membership, each with three different options for how long you want to subscribe for.
Gold membership
| | | |
| --- | --- | --- |
| | Monthly price | Total |
| 1 Month | AU$ 34.99 | AU$ 34.99 |
| 3 Months | AU$ 23.33 | AU$ 69.99 |
| 12 Months | AU$ 11.66 | AU$ 139.98 |
Platinum membership
| | | |
| --- | --- | --- |
| | Monthly price | Total |
| 1 Month | AU$ 39.98 | AU$ 39.98 |
| 3 Months | AU$ 26.66 | AU$ 79.99 |
| 12 Months | AU$ 13.33 | AU$ 159.99 |
Payment options
Military Cupid offers the following payment methods:
Credit card
Debit card
PayPal
Check
Bank transfer
Vouchers
Other country-specific payment methods
Please note that not all methods are available in each country. To see which payment methods are available in your country, check their payment page.
💡 How to reduce costs?
Try the free membership out
Even with the free version of the site, there are a lot of features that you can make use of when looking to start dating online! Try out the basic matching and have a look at all the profiles of either military men and women or civilians interested in military dating to start.
This is a great way to give the website a test run and to see if you really want to commit yourself to it. But if you are interested in dating military people via an online dating community, then you will get a lot out of even the basic membership.
Take advantage of their payment plans
Once you have a feel for how the plattform works and would like to take the plunge into this military dating site, check out the different paid memberships that the site has. If you are committed, then both the gold and platinum memberships have a lot to offer.
Try the 1-month plan to get a feel for the premium memberships and cancel before the end of the month if you aren't satisfied, as this will get you the best deal without costing you too much. If you do upgrade, the prices are all reasonable to boot.
📊 Membership structure
How many Military Cupid users are in Australia?
There are currently over 30,000 users in Australia who are looking to start dating with Military Cupid.
Military Cupid's demographics of love
There are approximately over 600,000 users using the Military Cupid site to start dating men in the military. Our data suggests that most people who use the site are civilian women who want to be dating men in uniform. Further data shows that:
Almost 70% of users are female
45% of users are females between 25 and 44
Over 80% of people on Military Cupid are below 45
Most users are civilians who are interested in dating military men
There is a sizable proportion of people from all over the world on the site
Most people on the site are focused on starting a serious relationship
✍️ Registration process and profile creation
Registering with one of the best military dating sites on the web is honestly very simple and takes only a few minutes to do. The registration process is quick and easy to do, and you can finish your profile later if you would like.
Signing up

When you begin the registration process, you will be asked to give your first name, a valid email address, a password to use for the site, and details about your sex, and age.
Once you have provided this information you will be taken to the next page.

Upload photographs

This is an optional step but having a profile photo will increase your chances of attracting the military men and women you're looking for. When you submit a photo, you will have to wait for it to be approved.
Your pictures will be subject for approval and should be reviewed within 12 hours of your uploading them.

Building your profile

You will now be asked to fill in information about yourself. There are several tabs to choose from to fill in that will help you to better meet Military men and women. This includes answering questions about your personality and hobbies.
The more you fill in the better your odds will be at finding someone that is a good match for you.

Decide what kind of matches you want

The next big thing you should do to get started is define what kind of military personal or civilians you would like to start dating. This includes their basic information, appearance, military background, languages, and religious views.

Verify your account

This is optional, but we recommend doing this if you are serious about Military dating and wish to get the most out of the website. Under 'Edit Profile', click on the tab marked 'Verify Profile' and follow the instructions to prove you are genuine.
You will need to upload a government approved document, such as a driver's licence or a passport. You don't have to do this, but your profile will have a 'Verified' comment once you do that will let people know you are real.
📱 User friendliness
Military Cupid dating site
Registration
The registration process at Military Cupid is like many of the other Cupid Media dating sites and is streamlined to give you a straightforward experience. Registering takes almost no time at all and is very easy to do.
Navigation
Like Cupid Media's other dating sites, Military Cupid offers a user-friendly and multifaceted navigational system for giving you the most optimized dating experience.
You can use their many features quickly and easily from any page, and the intuitive design will make going from messages to profiles and matches a truly seamless experience.
Profile
Your own profile and the profiles of others will have a wealth of information that you can add to and access. There is a lot of flexibility to what you can add to your own, and if others have filled their own in you will get to see a lot of info about the Military men and women.
Military Cupid dating app
The app functions smoothly and is a good alternative to the website if you are on the go. It does operate very similarly, so nothing is much different between the website and the app.
Registration
Registration is the same, taking no time at all.
Navigation
The navigation of the app is a little different from the site, being focused on giving a suitable mobile experience. The app works wonders though and is easy to use.
Adjusting profile
You can do this at any time, and it is simple to do. Just click on the 'Edit Profile' button at the top of the page.
✉️ Contacting users with Military Cupid chat
Sending a message for another user who is looking to meet the man or woman of their dreams is easy to do and can be done in just a few clicks.
How to contact another user:
On the user's profile you will see a message icon, click that
A message box will pop up, type in your message
Click send
Alternatively, you can first look at their profile to get some basic info:
Click on a profile that you are interested in
To the right of the profile picture you will see two buttons, 'Show Interest' and 'Send Message'
Click on 'Send Message'
Type out the message you would like to send
Click on 'Send'
👍 Pros and cons 👎
Pros:
Extensive search and match feature options
Clean, pleasant interface
Ability to verify ID and search by verified members
The site is available in many languages
Fast registration process
Simple use
Cons:
Some options require more expensive membership
Very limited military-specific features
Sending messages is not free
Only available for Android users
🙋 FAQs
What are the details that I need to provide when I call the customer service hotline?
Before you make the call to Militarycupid, make sure that you have your website name and your member ID ready. Calls are answered Monday through Friday, between 9:00 a.m. and 4:00 p.m. Queensland, Australia time. The number to their hotline for AU Customers (freephone) is: 0800 056 9427
How does the profile approval process work?
The team at Military Cupid reviews new and updated profiles to make sure that users follow the Terms of Use. This is done for your own security as well as the security of others on the site.
What is the importance of verifying my profile?
Verifying your profile is important because this will help to ensure and maintain the authenticity and security of profiles on Military Cupid. This is a way to let you and others know for sure that a profile is legitimate and has been reviewed.
Doing so will give you the best odds at finding your best match for dating, so go the extra distance and see for yourself the benefits of added security!
What are the photo requirements?
All photos that are used on Militarycupid must be less than 10MB, and they must be in .jpg, .bmp, .gif, or .png format.
To add a photo, know that there are many different options for you to add a photo to your profile. You can access your Photo Management page by choosing "Photos" from the Edit Profile menu on your member home page.
Click on 'Edit Profile' at the top of the screen in the navigation bar
Select 'Photos' and click on that
From your Photo Management page, you can add a photo directly from your computer
You can also copy photos from your Facebook account
Choose to upload them and you will be finished!

If these options aren't suitable for you, you can click the "Can't upload photos? Try these alternatives »" link in your Photo Management page to view your additional options.
Keep in mind that all photos are reviewed by militarycupid to ensure they comply with their photo requirements. For example, your face must be seen clearly and your photo cannot be offensive. This process is usually completed within 24 to 48 hours.


What happens to messages from other members?
Any messages that do not meet your requirements for contact will be filtered and stored for up to 2 months in a folder. These are then automatically deleted.
What are ways to pay?
There are a number of ways that you can pay for premium memberships on Military Cupid's dating site. You can pay with PayPal, credit card, debit card, check, bank transfer, or vouchers. Check the site to see which restrictions apply to individual countries.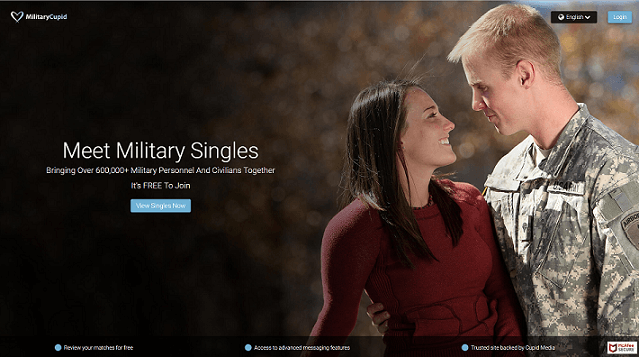 ℹ️ Company information
Military Cupid was launched in 2004 and is operated by Cupid Media, a leading international niche online dating network since 2000. The company is known for producing both country and gender-based online dating websites.
Military Cupid is catered for military personal and non-military people who want to meet someone who has or currently is serving.
We also wrote reviews for the following dating sites