When it comes to country life, romantic encounters can be few and far between. Whether you're working long farming hours or you've moved into town for work and are struggling to meet like-minded people, Muddy Matches provides the answer.
Based on a farm and founded by sisters Lucy and Emma Reeves, Muddy Matches is a family-run online community that aims to revolutionise farmer dating.
It's designed for people who are looking to meet someone who shares an interest in country living, whether they're city folks or already living in the countryside.
Most members are looking for love and want a serious relationship, and reviews of the Muddy Matches dating site show plenty of success stories that have ended in marriage. As a member of the Online Dating Association (ODA), you can relax knowing this country people dating site will offer a trusted and safe experience.
We know it's a good place to start for singles looking for someone who's not averse to a bit of mud, but are there any downsides to the site? We've taken an in-depth look at Muddy Matches, and created our very own Muddy Matches review for you.
Our Summary
Created as a dating site for people who love everything about the countryside, Muddy Matches isn't exclusively for those living in rural areas.

It welcomes anyone who lives in the city too, as long as they're interested in exploring country life. However, as it's so geared towards 'muddies', many 'townies' may still be too hesitant to sign up.

Accounts need approval from the site's moderators, which does help to filter out some fake profiles and make sure content is as appropriate as possible. This can take up to 24 hours, which is a long time for any new members keen to get started.

The ability to upload several pictures is a bonus and may increase your chances of meeting a match, and the pictures all show clearly and in high quality. All the other information on members' profiles is visible without any limitations, even to those with a free account.

Other benefits of joining up to Muddy Matches include dating advice, a Country Calendar and the Muddy Townie Quiz. The Muddy Townie Quiz can be taken at any time, and some members filter their search by these quiz results.

Events are a favourite way for people in the country to socialise, and the website's Country Calendar lets you check different events that are happening in your area. These include race meets, point-to-points, farming shows and game fairs, and offer an opportunity to take online dating to real life.

A lack of free messaging and a premium membership that only really offers one major benefit may disappoint some, but overall the Muddy Matches dating site is good for people who live in the countryside and want to find someone with a similar background and interests.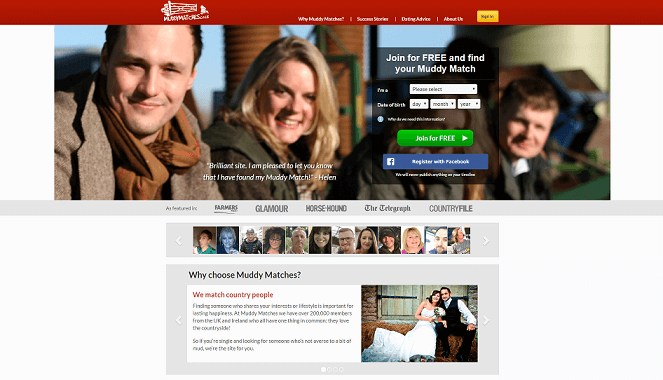 🆓 Free services and paid-for services
Signing up to Muddy Matches is free to start with. Once you've joined, you can immediately browse other members' profiles and add other members to your favourites.
You can take the Muddy Townie Quiz, read the Dating Advice Blog and view the events on the Country Calendar. Uploading a photo and completing your profile is included in the standard membership, as is service and help from website moderators.
The Muddy Matches Premium service – Plenty of extra perks
A premium subscription not only means you can send and receive unlimited messages, but allows other members to read and reply to your messages for free too.
Additional benefits include:
Seeing who has viewed your profile
Finding out who's added you to favourites
Upgrades
'Profile Boost' makes sure your profile appears at the top of search results, and lets members show their interest in you without having to come up with a message.
💰 Prices
How much does Premium cost?
If you want to access certain features, you'll need to sign up for a paid subscription. There's a choice of four different subscriptions on the Muddy Matches dating site: one, three, six and 12 months.
| | | |
| --- | --- | --- |
| | Price per month | Total |
| 1 month | A$49.25 | A$49.25 |
| 3 months | A$30.30 | A$90.90 |
| 6 months | A$22.73 | A$136.36 |
| 12 months | A$14.83 | A$178.01 |
An additional upgrade of the 'Profile Boost' can be added to be used for five, 10 or 30 days:
30 days: A$20.82
10 days: A$11.35
5 days: A$7.56
To subscribe to a paid subscription, select the 'Subscribe' button in the toolbar or in the side menu on the app.
How to pay?
You can pay for the premium subscription using most major debit and credit cards, except for American Express.
Your subscription will start immediately once your payment has been accepted. It's worth remembering that it will automatically renew on a rolling monthly basis at the end of your term, and this will be charged at the standard rate.
💡 How to reduce costs at Muddy Matches?
The longer you subscribe, the more money you'll save. Subscribing for three months saves 38%, while a six-month subscription offers savings of 54%. If you pay yearly, it's 70% off.
Muddy Matches discount codes are sometimes available to reduce costs, with some deals offering up to 40% off subscriptions.
📊 Membership structure
A great dating site for the countryside community
Muddy Matches has over 250,000 members, who all have their love of the countryside in common. Rather than casual hook-ups, a majority of members are looking for either a serious relationship or friendship.
It's not aimed at a specific age group, so members of all ages can find potential matches.
✍️ Registration
Time needed: 4 minutes.
Joining Muddy Matches dating site is free.
Select your preferences

On the Muddy Matches homepage, you'll need to select your gender and the gender of the Muddy Match you're seeking

Add information

Add your date of birth

Continue the process

Click 'Continue'

Basic information about you

Enter your name, surname, email and password

Complete your resgistration

Select 'Complete registration'.
You'll then be asked to provide some more personal information to help make your profile stand out, which claims to take around two minutes. To help find matches near, you'll need to enter your country, county, nearest town and your postcode.
You'll then to enter additional information about your background and appearance. The information needs to be added at this point to continue, you won't be able to fill in your profile later.
Adding a photo to your profile is straightforward and can increase your chances of finding love. You can choose to upload it from your phone or desktop PC/laptop or skip this stage.
To complete your profile, a minimum 50-word introduction is needed to tell other members a little about yourself. Any random text will not be approved, and Muddy Matches won't publish your profile.
It may be straightforward, but registration is quite time-consuming. Not being able to skip through certain sections could frustrate some new members, but it does help to make sure people are genuine as all profiles are then sent to the website's customer care team for review.
📱 User friendliness
Features are clearly laid out in the top navigation bar, but a smooth journey around the site can sometimes be a little tricky, especially when you want to return to the homepage.
The search function is good, with several different filters to make your search results more specific. When you find a member you're interested in, it's easy to favourite their profile or to send them a message if you're a premium subscriber.
You'll be able to find out basic information about members from their profile, but they are not as detailed as some other dating sites. Muddy Matches makes reading information about other members simple by grouping the questions into sections, so you can find those with similar interests quicker.
The app is free to download if you already have a registered account. The Muddy Matches App is also easy to use and offers all the same features as the desktop version. The app's clear layout means you can see any icons you need at a glance.
✉️ Contacting users
To start chatting with other members, you'll need to pay for a subscription. Once you've upgraded, using the messaging feature is quick and easy.
If you're receiving unwanted messages from a Muddy Matches member, you can choose to block them or report any inappropriate content to the site's customer care team using the 'Report' link in the message you've received.
👍 Pros and cons 👎
What we like
Profile information is divided into several sections for quick reading
Profiles are quite detailed
Profile information can be edited after creation
The clear, straightforward content
The app is free to download and simple to use
Member of the Online Dating Association (ODA)
What we don't like
A paid membership is needed to receive and send messages
Account approval can take 24 hours
🙋 FAQs
Does Muddy Matches have an app?
There is a Muddy Matches App, which is free to download from the Google Play Store.
What is Muddy Matches?
Muddy Matches is an online dating and social networking site created for the countryside community.
Who owns Muddy Matches?
The online dating site is owned by sisters Lucy and Emma Reeves.
Is Muddy Matches available to non-farmers?
Yes it is, however you should be interested in a rural lifestyle.
Do you match me with members when I sign in?
Yes, Muddy Matches will automatically run a search of people you may be interested in when you sign in. This is based on information provided in your profile, including gender, age and location.
Is my Muddy Matches account connected to my Facebook account?
You can register and sign in using Facebook, but you'll never see anything posted from Muddy Matches on your Facebook account.
How do I cancel my Muddy Matches subscription?
Your premium subscription automatically renews on a rolling monthly basis, but you can cancel using the 'Manage my subscriptions' page in 'My account' and revert back to being a free member.
You can adjust automatic renewal settings 24 hours after subscribing, and 48 hours before a renewal payment is due.
How do I hide my profile?
If you want to take a break from online dating but don't want to lose your information and messages by deleting your profile, you can choose to hide your profile. To hide your profile:
Go to 'My Account'
Choose 'Change my profile visibility'
Click on the 'Hidden' option
Does Muddy Matches offer discount codes, coupons, and vouchers?
Occasionally, the dating site offers a Muddy Matches discount code on subscriptions. Add the discount code to the box on the 'Subscribe' page and select 'Apply'. Prices will then be adjusted with the discount applied.
How can I find a member that has viewed my profile?
To see who's viewed your profile, click on 'Visits'. This appears in the top menu on the website and on the side menu on the Muddy Matches App. Simply click on any members that you're also interested in, and you'll be taken to their profile page.
How do I report a member's unacceptable behaviour?
To report a member, you can contact the website's customer care team by selecting the 'Report' link on a profile or in messages.