Senior Match is a dating site designed for senior singles who want services that will help them to make new friends online, find travel partners, and even start a serious, long-term relationship with someone else.
Seniormatch.com began as a senior dating site in 2003, giving it over 20 years of experience in facilitating relationships for seniors in the age range of 50+. Since then, they have perfected their algorithm for facilitating potential matches meeting up.
Read on to learn more about what we think of Senior Match, who the service is intended for and who uses it, and everything you need to know about the ease of use for a dating website like this.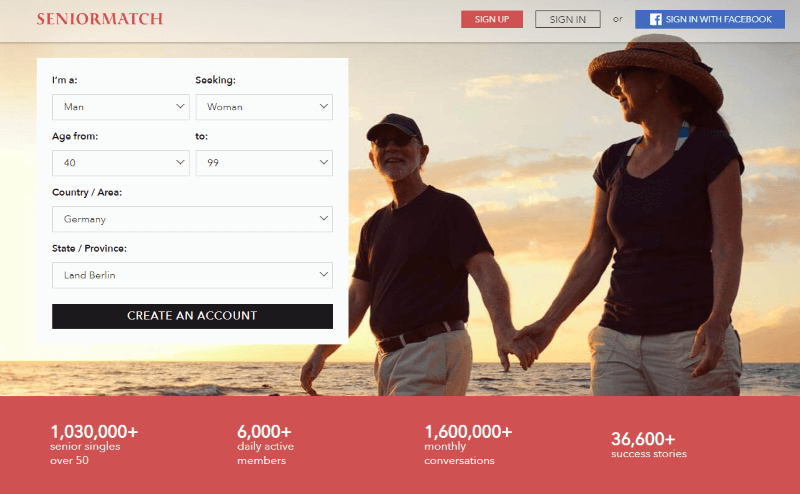 Our overall rating: A Senior Match dating site review
To summarize our feelings about Senior Match, we would have to say that this is a senior dating service that offers a little something for everyone. It stands out from other online dating sites for not narrowly defining itself as one thing or another, which works here.
Of course, the dating website is largely for serious, long-term relationships and focuses on a particular age group, that being the 50 plus dating scene. However, there are still a good number of users who are under fifty that use the platform to date older singles.
The flexibility for finding someone to be a companion is a nice feature. It means that you can look for friends on the platform, travel buddies to go exploring with you, a soulmate to become a life-long romantic partner, or even a casual no strings attached relationship.
However, that flexibility also can hurt it, as that means your matches can sometimes get blurred in with those that you aren't interested in. There are filters you can use to limit this, but it still happens.
One thing that stands out to us are the number of features free members get when they sign up. It's actually quite a lot of freedom and features for a free service relative to other dating sites, so if you're just curious or want to get a taste test, it's a good choice.
That does mean you can run into a number of fake profiles, and scammers will take advantage of the easy sign-up and free privileges to target seniors. However, with a good amount of common sense about online safety, you should be fine.
In the end, we feel that Senior Match is a great place to start your senior dating adventures, giving you a lot of freedom to see what truly interests you. If you do decide to upgrade, you get more features and the cost is okay, so it's worth it if you enjoy yourself.
Looking for a senior relationship somewhere else or just curious about senior dating? Read up on our articles, reviews, and studies here to learn more!
📊Senior Match Membership overview
For an online dating service that caters to seniors, this is a website that certainly throws its net wide. There's a surprising mix of ages here, and a healthy mixture of women to men, giving all members a decent variety.
There are also LGBTQ+ options for seniors when they sign up, so you'll find active members from all orientations and communities here.
Ratio of men to women
This dating service features a split of around 60% women to 40% men, which makes sense given that women tend to live longer than men and so are available more frequently for dating. There's a healthy mix of LGBT+ members too, so it isn't all just hetero matchmaking.
Age ranges for Senior Match
Almost 70% of users are aged 50 and up, with most users being between 49 and 69. However, there are a small percentage of users who are 70+, around 10%, and another 20% who are under 50 with an age range of approximately 34 and 49.
🆓Senior Match's free account and premium membership
When it comes to outstanding services for free memberships, this is a platform that really stands out. However, that isn't to say that paying members won't get their money's worth since so much is freely available. Here's our breakdown of what users get:
Standard Members' free membership features
Free membership features a number of matchmaking services that can really help get you started. They're quite robust for a service like this, which is pleasantly surprising:
New members can sign up for an account and complete a profile
You are able to reply to messages and online chats
You can send up to 50 winks a day
Get dating tips by accessing "first date ideas" and post your own ideas there
Use the quick and basic search features
Add public or private photos and request access to private albums
Post, edit and answer questions on the forums, as well as editing your own blog
Use Senior Match's "Let's Meet" feature
See all the latest updates from other members
Comment on profiles, photos, blogs, and forums
Gold Membership
Gold Members are members who have paid for a premium membership. These are often users who have enjoyed the services so much that they want to unlock the full potential of the site with its paid, exclusive features:
Start chats and send messages to other users regardless of their membership
Reply to other first date ideas that are posted online as you check out "likes me" and "Let's Meet" pages
Check how often a user replies to messages, as well as who has favorited you, viewed you, or liked your pictures
Utilize Advanced search features to search by State/ Province or Zip/ Postal Code/ City
Get an overview of new members who joined the site
Use reverse matches to see who you match with based on your description rather than the algorithm
Get details on when others last logged in, and hide yourself from search results or browse anonymously
Use the feature of adding private notes to profiles that you like
Get new and helpful dating advice and safety tips
Receive priority customer care with support and your own personal account manager
💰Prices
If you do decide to upgrade to a gold membership, you can do so for either 1, 3, or 6 months. Subscriptions auto-renew and must be cancelled with enough notice, so read the terms and conditions before purchasing.
| | | |
| --- | --- | --- |
| Time | Cost per month | Total Cost |
| 1 Month | 29.95 USD | 29.95 USD |
| 3 Months | 19.98 USD | 59.95 USD |
| 6 Months | 15.99 USD | 95.95 USD |
💡How to pay and how to save money with Senior Match
If you decide to sign up as a gold member, you can purchase it either through the site or via the mobile app's service available at Google Play. You can pay with Paypal or Credit Card, but be aware that it's a subscription fee which will automatically deduct funds from your account.
In order to really get the most out of this service and to save some time, we would recommend trying out the free version of the site. It's a standard approach, but here you get so much out of Senior Match's offer that it truly makes sense.
If after a month or two you still don't feel like there's much for you here, then move on to another service. However, if you are enjoying it, sign up for a single month and cancel to see if you'd enjoy a premium membership. If not, move on.
Just make sure you cancel before you get charged again.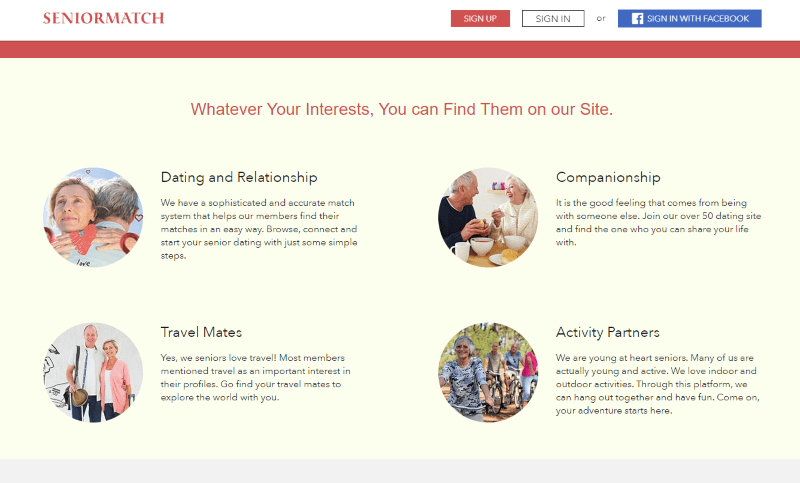 ✍️Registering with Senior Match
Time needed: 5 minutes.
The good thing about signing up with Senior match is that you don't need to be tech-savvy to do it, which is great for older singles who enjoy mature dating. You also have the option of using a Facebook account to import all of your information and photos, if you want.
Start the sign up process via email if you don't sign up with Facebook
Begin by going to the website or accessing the mobile version of the page. You can sign up from the home page by providing your age, email address, your gender and what type of partner you are looking for, as well as your approximate location.
You will then be asked to provide your name (which is never displayed) and to create a password for the service.
Provide information about yourself
You will then need to give more specific information about yourself, including your ethnicity, height, specific location (zip code), and marital status. You will then need to add a picture for your profile along with a profile headline to catch the attention of other users.
About yourself
You will next need to write about yourself. You get a good amount of text to do so, and you can cover a lot of important things about yourself, such as hobbies, history, desires, work, beliefs, and so on. Go wild here and be open and honest.
About your ideal partner or friend
The next step is to write a detailed description about your ideal partner, what you want to see in a potential match, what their physical appearance might be or career, as well as anything that you don't want in a partner (kids, no income, different beliefs, etc.).
Again, be honest and open here. It's best to make it clear what you want and what you don't want before anyone gets blindsided.
Reply to the verification email and get matching
Finally, you will be taken to the Senior Match website. However, you will first need to reply to a verification email to really get started, but from here you can either use the free version of the site or upgrade to a premium membership, as you see fit.
🌟The site's features
On top of the basic matchmaking you'll get, there are a number of features spread between free and premium members that can spice up your searches.
Reverse Matches
If you feel the need to mix things up, you can have the website drop its algorithm and instead use the description you've written about yourself to directly find matches that are similar to you.
Send a Wink
Winks are a way of nudging someone that you might find attractive. You get 50 a day that you can send, and you can also attach a short message to it to maybe help them notice you.
Blog
Like any other blog online, these are specific to Senior Match and are free to create for all members. You can browse, read up, and respond to any blogs that you find interesting, or create your very own!
Forum
This is where the community is most active, and you can join in on the conversation to find out what other members have to say and discuss. It's also a great place to share ideas and make new friends, or even organize meetups.
Account Manager
As a premium member, an account manager will guide you through the individual steps of the website and help you acclimate yourself with all the details of Senior Match. If you ever have a question or aren't sure about something, you can contact them.
First Date Ideas
Think of it as a fun suggestion box where premium members can come up with ideas and share them with other users to help get them started with their own dating ideas. You can also comment on and add to others' first date ideas when you are a gold member.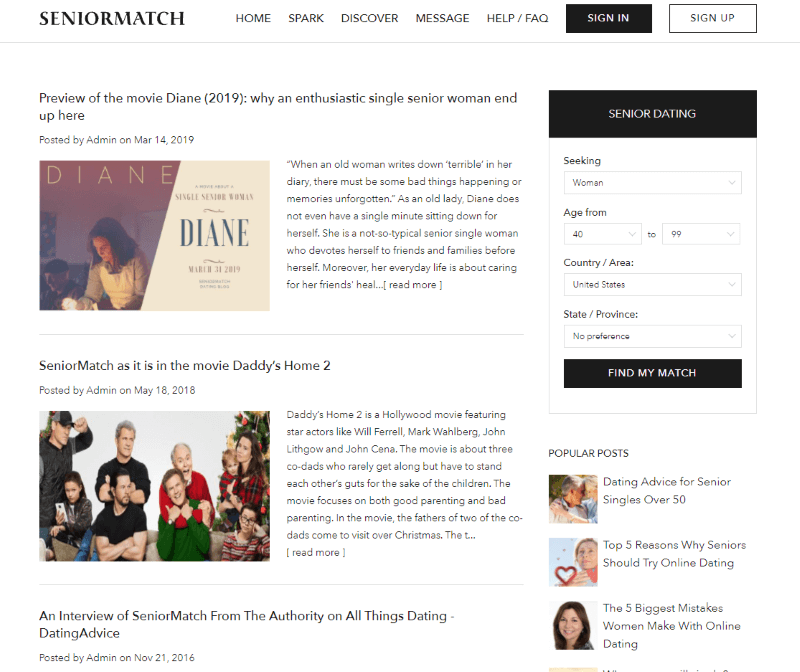 📱User-friendliness of Senior Match website
Senior Match is extremely straightforward and was designed with such in mind, so that people of all ages could enjoy the dating experience in an open and inclusive community. From sign-up to matchmaking, the ease of use was intended to be a high priority.
The dating app as such is available via Google Play store, but functions almost entirely like it does on a desktop or laptop. You are flexible with which you use, and when you sign up for the service you can access it on both your phone or computer as long as you have the app.
💑Success Stories
Here are a couple of success stories taken directly from Senior Match's website to give you encouragement about signing up:
Met the woman of my dreams on here at the start of the pandemic. She was the second lady I corresponded with. Texted for a couple of days, met in person, and started the romance of our lives. We have been inseparable for the past few months. Moved in together a short while ago. Bought the rings a couple of weeks ago, and we pick them up today. Will be married in about 6 weeks.
Hello! We met on your site and we were in correspondence for one and a half years. I'm a Bulgarian, he- an American and we first met in person in Paris. We decided to marry 5 days later. So we live in Europe since our marriage. We love and respect each other and we have a lot of mutual interests. Thank you very much for bringing us together!
👍Pros and Cons of Senior Match👎
With a service like Senior Match, there are a lot of pros to enjoy that make the service fun for everyone. However, we want to be fair by pointing out a few of the unfortunate issues that stand out. With that said, here are our pros and cons:
Pros
Flexibility for senior dating, which is a rarity on the dating market for seniors
Offers a lot of free services to new members so you can date with compatible matches even without paying
Prices are reasonable for premium membership, and you get a lot out of it
Great for finding friends or long-term relationships, and even chances for no strings attached relationships
Cons
They do take their dating pool of users from other partners, including Millionaire Dating, BBW Dating, and Biker Dating, among others
Fake profiles can be seen frequently on the site thanks to how easy it is to sign up, so beware of scammers trying to run any number of scams on you
If you are looking for a more specific kind of dating, such as for true love or hookups, you might be better off using a more focused service
🙋FAQ about Senior Match
For further questions about Senior Match and how to use it, or what you can expect, we've answered some of the most frequently asked questions to help get you started. Read on to get off on the right foot!
Is there a way to stop the auto-billing of my subscription?
You can stop your Senior Match subscription at any time by clicking on "Settings" and then navigating to "Membership Settings." There is an option for "Subscription Status" here where you will be able to cancel the auto-billing of your subscription. 
Is there a way to reactivate my account?
If for some reason your account has been paused or deactivate, you can in fact reactivate it. First, go to the website and log in using your email and password. There will be a button "Reactivate" that you can click. 
Your profile will first need to be reviewed and approved though by customer service before you can start using it. If you have any issues you can contact support at:  [email protected]
Can I share my private album with another member?
Yes, you sure can. All you need to do is go to the profile you want to share your album with and click on the text that says "Share private photos". It's in the left-hand navigation bar and your photos will need to be verified first. 
I lost my password, is there a way to get it back?
Yes, you can, or you can have your password reset. You will need to click on the "Forgot Password" link when you login and provide your email address. A password reset link will be sent to you shortly that expires within 24 hours. Check your spam folder if you don't see it. 
What is an "Account Manager" and what do they do?
An account manager is someone who will personally follow-up with you to see how you are enjoying your experience with Senior Match. They will also answer any questions that you may have about the service, and assist you in any way they can. It is limited to premium members, however. 
What is the Senior Match phone number? 
You can contact Senior Match customer service at 1-416-628-1072 or via email at their support team with the address: [email protected]. 
What are some alternatives to Senior Match? 
If Senior Match isn't to your liking, there are a number of mature dating services that we would recommend to users, as well as a few that are more general but provide a reliable service for matchmaking: Match.com, Silversingles, Ourtime, eHarmony, and Zoosk.
ℹ️Company info.
Senior Match is owned by SuccessfulMatch, which is located at the following address:
SuccessfulMatch / SeniorMatch.com
10 – 8707 Dufferin St,
Suite 160 Vaughan,
Ontario L4J 0A6
Canada
You can contact their support services through their e-mail: [email protected]
Want to check out more dating services for seniors over 60? We've reviewed the best ones here: