With an explosion of good dating apps promising true love or lasting friendships, it's difficult to know which one to choose and where to begin.
One of the hottest dating applications out there right now is Skout, a location-based app connecting people across the globe.
With this review, we find out exactly what all the fuss is about and explore whether Skout has what it takes to enrich your social network and boost your love life.
Our Summary
With so many people using Skout, chances are there is at least one person out there that you can connect with, whether it be a new addition to your friend circle or a more romantic encounter.

The app's community-based approach makes it the perfect choice for people new to town or those looking to find friends while travelling.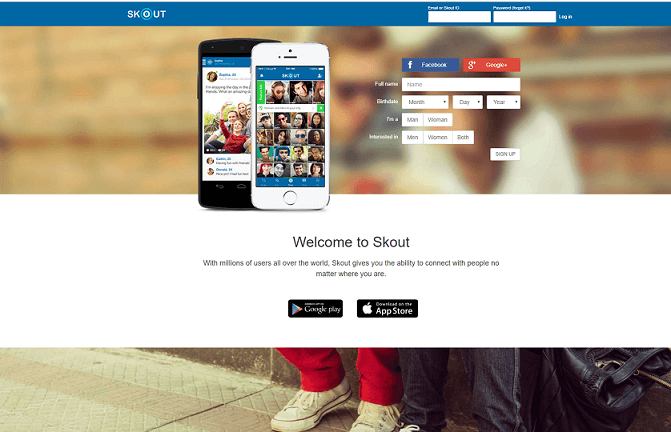 The Basics
Based in California, founded in 2007 and originally launched as a social networking site similar to Facebook, Skout has since conquered the planet, connecting users spanning over 180 countries.
The app's focus is intentionally fun and light-hearted, placing just as much emphasis on hooking up with new friends as bagging a potential spouse.
Skout nurtures a safe and friendly dating environment, and with a community of around 10 million people, is sure to host someone nearby to suit even the most demanding of members.
🆓 Skout services
One of Skout's greatest assets is its abundance of features, many of which are available without spending a penny.
Let's review some of the differences between the free version and the premium package, so you can decide for yourself whether that extra fee is really worth it:
Skout for free:
Registering an account and browsing profiles
Liking and commenting on member's photos
Adding favourites
See who has viewed your profile
Chatting with other users
Skout for a fee:
Professional advice to help boost your popularity
Send and receive messages directly to inbox
See who has you listed as a favourite
Insight into potential matches
Enjoy the app free from adverts!
💰 Pricing and subscriptions
If you wish to take full advantage of the Skout dating app, you can subscribe to the premium package based on duration. The more months you sign up for, the less you pay. For example:
| | |
| --- | --- |
| Duration | Total |
| 1 month | 13.00 AUD |
| 3 months | 32.00 AUD |
| 12 months | 90.00 AUD |
Aside from the Skout Premium option, users can also opt to send virtual gifts to fellow members. By topping up your account via credit card, PayPal or mobile phone, you can add credits to your profile to spend as you wish across the community.
Those looking to save costs should check out whether Apple or Google are running any free trials, which in the past have included a complimentary first week of a Skout Premium subscription.
📊 Membership structure
As previously mentioned, the Skout dating app is reportedly home to 10 million members, scattered across the globe.
Perhaps owing to its social network beginnings, the app attracts a young crowd looking for chats and dating fun, rather than serious relationships.
Of course, it can happen, but those intent on hunting down a lifelong partner should perhaps consider an alternative site more suited to their needs.
Skout is location-based, making it a great option for new residents to a city or those travelling alone. Due to strict safety standards, the app will never reveal your exact position and you can even choose to turn off the location function if you wish.
The site's network supports the latest technology, ensuring millions of messages are delivered daily to connect like-minded, on the go people from all four corners of the world.
✍️ Registration
Another plus point of Skout is its effortless registration process. You can either sign up via your Facebook or Gmail account, or alternatively create a profile from scratch through the app itself.
Lengthy 'About Me' summaries are hardly necessary and a profile picture isn't even required for your registration to be complete, making it quick and easy to get up and running.
With such basic personal information requested, signing up can actually take less than a minute. On the downside, email addresses are not verified, meaning there are plenty of fake profiles about.
📱 User friendliness
Despite its numerous features, Skout is extremely easy to navigate and operate in general. You can begin your search by browsing through profiles or scrolling down the news feed, which highlights updates from your preferred location.
Uploading pictures, initiating chats and finding potential dates is simple, although every photo has to be verified by the dedicated security team first to check it adheres to their guidelines.
The site also offers a handy Skout Travel function, allowing you to connect with residents or fellow travellers in your next destination.
✉️ Contacting members
The great news about this dating app is that the chat service is available to all members free of charge.
Not only that, but unlike many other dating sites, you can message anyone who catches your eye, regardless of whether you are compatible or not.
This can, however, lead to contact from unwanted suitors. If you would prefer not to interact, you can reject the initial message request and the user will be blocked to ensure your privacy.
Contact can be made through the following features:
Shake – click the chat function and then literally shake your phone to match with a random stranger in your vicinity.
Meet – uncover a gallery of people who are looking to hook up in real life.
Buzz – enter into the community spirit and join the conversation with questions or photos in this news feed style section.
👍 The good and the bad 👎
Pros
Quick and simple registration
Location-based with handy Skout Travel feature
Earn points by using the app
Easy to use and appealing interface
Cons
No email authentication
More of a social network site than a serious dating or hook up app
The free version is overloaded with ads
🙋 FAQ
How do I delete photos on my account?
Simply head to your gallery, highlight the picture you want to remove, and tap the delete icon.
How do Skout points work?
Points are used as currency within the dating app, allowing you to purchase gifts, boost your profile, and more. They can either be bought or earned.
How do I change location?
You can filter your location to view profiles nearby or even reach out to people across continents. In order to access Skout Travel, you have to first ensure your account is loaded with sufficient points.
How do I check someone out on Skout?
Head to either the Meet or Buzz section to find people and tap the green chat box to start up a conversation.
How do I go offline?
You can log out or even delete your account at any time. If you fancy joining the party again, you always have the option of reactivating your profile.
Can Skout be used on a computer?
Of course; the app is available via desktop.
Can I change my age?
No, your date of birth is entered during registration and cannot be altered afterwards.
Can I change my name?
Yes, simply tap the pencil icon (edit button) on your profile to change your name. You can also add a Skout ID or username to help people find you with ease.
How do I get Skout points?
You can either purchase points or earn them for free by completing offers and downloading extra apps.
Is Skout good for hooking up?
The Skout dating app offers a fun and easy-going environment for finding new friends or potential dates. Those looking for something more serious should perhaps search elsewhere.
ℹ️ Company information
Founded in 2007, Skout Inc. was developing software products to improve online social interaction between people and getting to know each other better before meeting in person.
Skout has joined The Meet Group and belong to their wide network of apps and sites.
We also wrote reviews for the following dating sites
Contact: www.skout.com/contact