Academic Singles Australia is one of the most popular choices when it comes to dating apps and sites for educated singles. This app can be perfect for intellectuals as it uses a scientific matchmaking system to bring together people of similar academic backgrounds and interests, so you don't need to leave your love life up to chance. In this Academic Singles review, you can find out more about Academic Singles Australia, the registration process, its pros and cons, and prices.
🆓 Academic Singles review: free vs paid features
Here's a breakdown of what free and paid services are available on the Academic Singles Australia app and site.
Free features
Academic Singles Australia offers enough free services to get you started on your dating journey. This is what you can do for free on the Academic Singles Australia app and site:
Register for Academic Singles Australia
Take the personality matchmaking test
Browse other users' profiles (without viewing their photographs)
Send messages (free only for women)
Receive matches
Paid features
If you want to take your dating journey to the next level, you might require a paid subscription. A paid subscription can give you access to these features:
View profile photos of matches
Send and receive unlimited messages (for women and men)
See who has visited your profile
Add users to a "favourites" list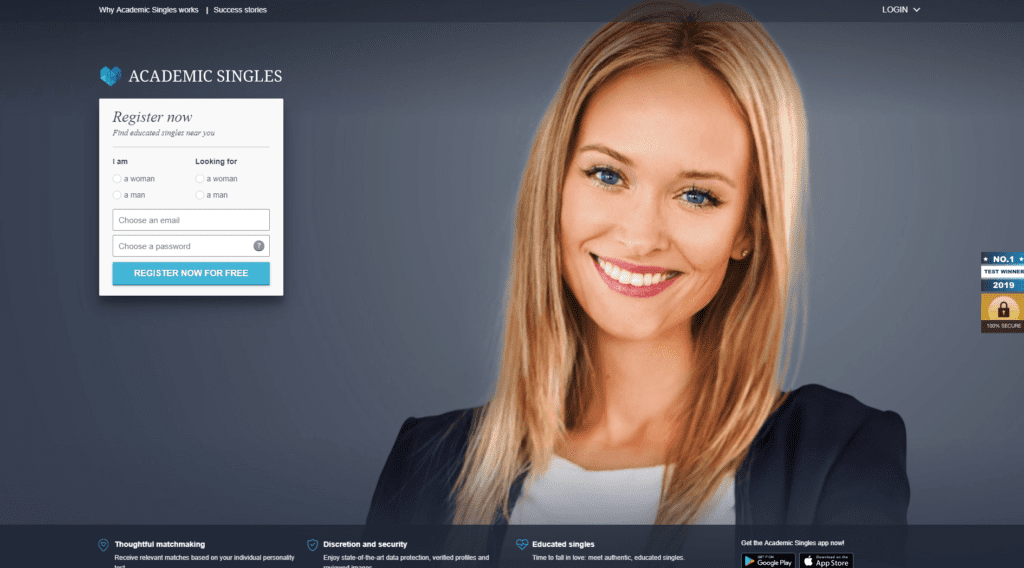 💰 Academic singles review: prices
While using the free services can be a good way to get to know the Academic Singles Australia system and see how you feel, paying for a membership can be a great way to use everything Academic Singles Australia has to offer. There are three payment plans to choose from.
| | | |
| --- | --- | --- |
| Membership option | Monthly price | Total |
| Basic (3 months) | AUD54.90 per month | AUD 164.70 |
| Classic (6 months) | AUD 39.90 per month | AUD 239.40 |
| Committed (1 year) | AUD 24.90 per month | AUD 298.80 |
*Pricing provided for illustrative purposes based on available information at the time of writing.
As you can see, there are several membership lengths, with the price per month being reduced the longer you subscribe for. The most cost-effective subscription is the Committed option, which allows you access to full app features for a year for the lowest payment per month. Keep in mind that the Committed membership is only worthwhile if you are planning to use it for a long time.
Auto-Renewal
Be aware that once you've signed up as a paid member, memberships auto-renew according to the type of package you've bought.
This means that if you've signed up for a three-month package, you'll automatically be charged for another three-month subscription unless you cancel. The same goes for the Classic and Committed membership packages.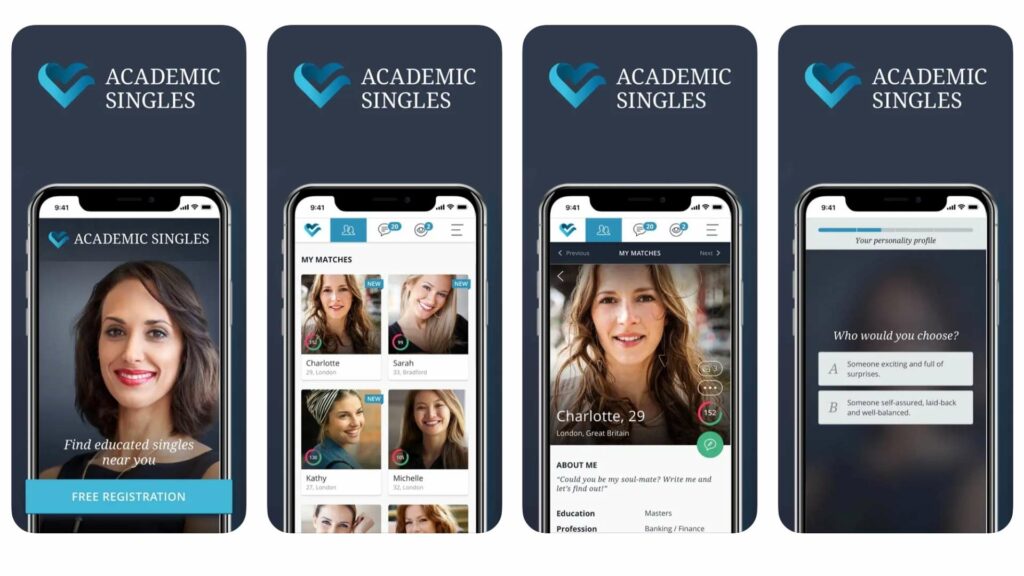 📊 Academic Singles review: users and demographics
Academic Singles Australia caters solely to educated singles looking for a match of similar intellectual abilities. As a result, you'll find that the members are typically between their 30s and 50s.
The profiles on the site are split relatively evenly between men and women, with 49% of users being female and 51% being male.
International reach
Academic Singles operates in several different countries, with around 920,000 members from Australia. Most members are Taiwanese, followed by French in second place. Using your filters, you can set the parameters of how far you'll travel to meet a date.
💡Academic Singles review: how it works
This dating site and app uses a scientific matchmaking system, a quick but thorough registration process, and a simple interface to help match people of similar levels of education who are interested in a serious relationship. Let's take a closer look at how to use the app.
Registration
Time needed: 8 minutes.
Because Academic Singles Australia aims itself at educated singles, the registration process is much lengthier than you might expect from other dating sites. It can be broken down into five easy steps:
First thing first: go to the homepage and state your gender and the gender of the match you're looking for.

Sign up: add your email address and either choose your own password or use the one suggested by the site.

Register for free: you can hit the "register for free" button first, but you can always purchase a membership after you are familiarized with the site.

Fill out the questionnaire: you'll be taken to the questionnaire, which will take around 15 minutes to fill out.

Check out your profile: once you're finished, you'll be taken to your newly-created profile page and you can begin looking for matches.
The matchmaking questionnaire
Time needed: 15-30 minutes.
Academic Singles Australia uses a scientific matching system that is based on an extensive and incisive questionnaire, designed to help you identify the kind of partner and relationship you're interested in.
The questionnaire relies on complete honesty to find you a compatible match, and your matches won't see your answers, so keep in mind that the key to finding the perfect match is answering the questions according to your honest truth.
While the questionnaire does ask about your educational and professional achievements, the majority of the questions are used to assess your personality type and that of your ideal match. Once you've answered the questionnaire, you can upload a photo and choose whether other users can see it.
In addition to the personality test, the site gives you the opportunity to choose a pre-written question, which will be sent to your matches. These range from "What makes you laugh?" to "If we met at a bar, what would happen?" and serve to add a fun element to the whole process.
Users' profiles
With such an extensive questionnaire, user profiles are far more informative than those you'd find on other dating sites. Your level of compatibility with each user is presented clearly to help you figure out which users might be appropriate matches for you.
Contacting users
Sending messages is free for women, while men must pay for the service. This is to encourage online safety and prevent women from being stalked or harassed.
If you're female or a paid-up member, messaging is easy. Click on the user's profile that has caught your eye and then select the 'chat' icon. From there, it's the same as sending an email.
The site's interface
The site and app both feature very easy-to-use interfaces. The layout is clear, clean, and simple, with everything you need to navigate your way around. Academic Singles Australia is extremely user-friendly, offering plenty of tips to help you along the way.
The Academic Singles Australia app is minimalistic, giving you an equally easy online experience.
👍 Academic Singles review: pros and cons 👎
Pros
Free registration
An intelligent personality test
Free messaging for female users
A curated pool of intellectuals
A user-friendly interface
Cons
Auto-renewal of subscriptions
Cancellation can only be made via a written letter or fax
A single method of payment
Lengthy questionnaire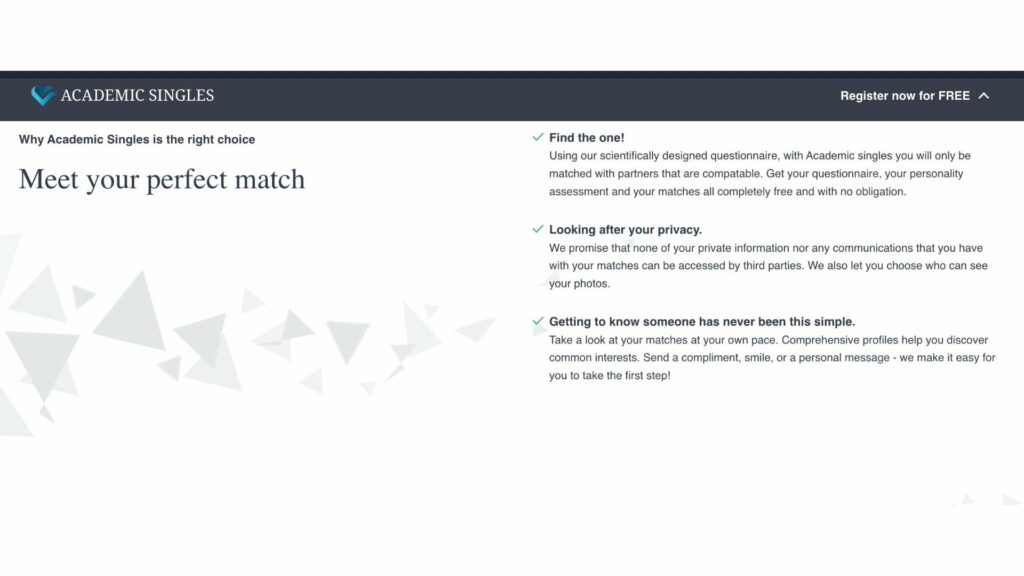 🙋 Academic Singles review: FAQs
Here are the answers to some commonly asked questions about Academic Singles.
What is the success rate of Academic Singles Australia? 
According to our Academic Singles review, the site boasts a 40% success rate, which might be the consequence of its simple interface, scientific method, and great data protection policy that all leave very little to chance.
Who is Academic Singles for?
What payment method can you use on Academic Singles?
Academic Singles Australia only offers one payment method: a credit card.
How to cancel Academic Singles membership?
Membership to Academic Singles Australia can only be cancelled by written letter or by sending a message via fax. There is no online facility through which to cancel your subscription.
How to contact Academic Singles Australia?
ℹ️ Academic Singles review: our final thoughts
Academic Singles Australia is primarily aimed at those who'd rather not leave their love lives entirely to chance. The scientific matching system might involve a longer-than-usual questionnaire, but it's the best way to ensure that the dates you're matched with are people you would actually want to meet.
The site focuses more on the quality of matches, rather than the quantity. If you're looking for a quick fix, look elsewhere. However, if you want a measured and smart approach to dating, it's well worth a whirl.
We also wrote reviews for the following dating sites