It claims to be 'Australia's best Dating Site', and has some big numbers to back its claim up, but is RSVP Dating as good as it says it is? With both desktop and mobile app options, it's certainly keeping up with its rivals and offers Aussies of all ages the chance to connect and build up a meaningful relationship. Another of its claims is that one in three couples that met online met at RSVP, although this certainly needs some verification, and we're sure there are plenty of other dating sites and apps out there that would challenge this number. However, RSVP Dating has been around for over 20 years, and in that time there's no doubt it's built up a massive following in Australia.
Launched on Valentine's Day (appropriately enough) in 1997, it now has millions of members across the continent, and has up to 30,000 new members joining every month. It puts a big emphasis on making the site as safe as possible for users and works closely with law enforcement agencies to ensure the platform is user-friendly and that women and gay members, in particular, feel comfortable and secure using the site.
It continues to go from strength to strength, and if its claims are to be believed, is by far the most important dating website in Australia.
Our Summary
RSVP dating site reviews tend to range from 'excellent' to 'poor' (as you would expect with any large dating website), but our review of RSVP dating website and app found it to be user-friendly, easy to navigate, and with a very high emphasis on personal security and data control. In an age where identity theft is rife, it's good to see such a large operation putting personal security and safety at the very top of their priority list.

With around 2 million members currently all over Australia, it's a very active site with at least three-quarters of the members logging into the app or the website every week. That makes it a very dynamic and energetic site, with plenty of chat and interaction between members. It's also a very welcoming site for newbies, and with a 50/50 split between men and women, there's no imbalance between the sexes.
🆓 Free services and paid services
Free membership entitles you to browse the site and send a 'kiss' (one of a number of template messages) to see if another member would be interested in making contact. Free members can also reply to emails, but they can't send them.
Paid-up members can also send emails and use the website's chat functions, as well as buy 'stamps', which you'll need to send emails and responses to matches. Go for a membership + Stamps package and you also get three free stamps a month, allowing you to send three free messages.
Standout membership can be used in conjunction with purchasing stamps to help your profile 'stand out' from the crowd by appearing at the top of search results, as well as accessing extra features.
Premium membership gives you all the features of a Standout membership, as well as the ability to control your profile's visibility to keep it private if you want, as well as filtering out messages and 'kisses'.
| | |
| --- | --- |
| Subscription | Price |
| Membership + Stamps | AUD 56/ month |
| Standout Membership | AUD 14/ month |
| Premium Membership | AUD 20/ month |
| | |
| --- | --- |
| # Stamps | Price |
| 3 stamps | AUD 15/ stamp |
| 6 stamps | AUD 11.67/ stamp |
| 12 stamps | AUD 7.50/ stamp |
| 24 stamps | AUD 5/ stamp |
💰 Types of membership
Free – because the initial sign up is free, this is the best way to get familiar with the site without committing to a paid subscription. You'll be able to send kisses and reply to emails, but that's about it.
Paid membership – signing up for a paid membership allows you to send emails as well as receive them. There are two types of membership – Standout and Premium.
💡 How to reduce costs at RSVP Dating
It's not easy to keep the RSVP costs right down as accounts are charged on a monthly basis. The free service is good, but unless you start buying stamps then you're not going to be able to access some of the site's features. Our top tip is to go for the Standout membership and purchase stamps as and when you need them. The membership+stamps deal is expensive and in our opinion doesn't represent the best value for money. You can pay by credit card or through PayPal.
📊 Membership structure
The split between men and women on the RSVP Australia dating website and apps is roughly 50/50, with a demographic that ranges from 18 to 55+. The majority fall into the 35-44 bracket, where it's almost exactly 50% men and 50% women. In the younger groups it tends to be more men than women, and in older groups the percentage of women to men increases.
Gay people are welcome on the site, and you can specify at the start if you're a man looking to make contact with other men, or a woman looking for same-sex encounters. The website currently has around two million members, of which around 1.5million are active every week. New sign-ups are estimated at a thousand a day, so you've got plenty of opportunities to meet someone new, although you can also get lost in the large membership base a little.
✍️ Registration
Registration is easy:
Go onto the RSVP Dating website or mobile app.
Complete the initial registration form, giving basic details such as your name, age, sex, location etc.
Answer the ten basic questions that include what you're looking for in a partner, whether you have children, your marital status and whether you're a smoker.
Upload your photos and fill out your profile.
Click done, and start browsing for free.
Once you've registered, you can continue to use the site for free for as long as you want, or you can upgrade to a paid premium membership to access other features.
📱 User friendliness
During our review we found the website and the apps (both for Android and iOS) to be very simple. There's not the usual bells and whistles to clutter up the experience, so you see well-laid-out profiles that are information-rich, and the system is intuitive and straightforward to use. Most people take a bit of care in creating good, in-depth profiles, and you can also use other features such as the Ideal Partner or Matching applications to narrow down your search (which we recommend doing, as there are so many people on the site).
If you're a little more careful about who you make contact with then the Premium Membership deal allows you to approve all matches before you proceed with first contact.
The RSVP dating app
RSVP Dating has apps for both Android and iOS, and a mobile site that basically works the same as the apps as well. While you can take your time to sign up using the desktop/laptop website, you can also sign up on the apps too, as well as create a profile, search through member profiles, make contact with other users, and manage your account on the go. This makes it a very Millennial-friendly site, which is reflected in the number of 19-25-year-olds who are members.
✉️ Contacting users
Initial contact is easy – if you see a profile you like you can send a 'kiss' to see if the person would be interested in making contact with you. If they are, then you can then start sending personalised messages, but do remember that you'll need to buy stamps to be able to do that. You'll need to use one stamp per message, but once you've sent that first message you have up to 30 days unlimited chatting. If you send a message and it's not opened within 30 days then you do get a refund on your stamp.
There is a chatroom, so if you don't mind having your conversation in public then you can use that.
Kisses are free, as is replying to a message or chat request.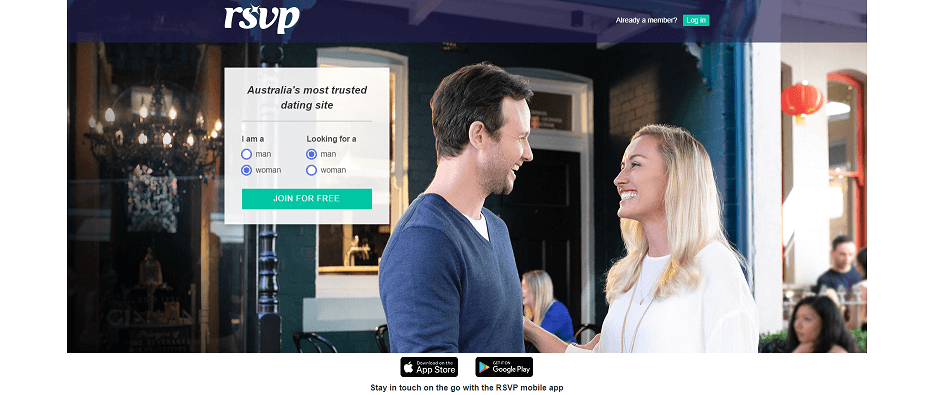 👍 Pros and cons 👎
✔️ What we like
The simplicity of the site – it's very easy to use and user-friendly
Profiles are detailed and show a lot of information about the person you're talking to
The operators are committed to creating a safe online dating experience, and the majority of profiles appear to be genuine.
You can change your profile whenever you want to
The mobile application is fast and easy to use.
❌ What we don't like
The sheer number of members can leave you lost in the crowd
It's fine for users in big cities like Sydney and Melbourne, but not so effective for those in more rural or remote locations
It's expensive if you go for a straightforward membership plus stamps.
🙋 FAQs
Australia's a big place. How do I know the matches are in my area?
If you go down to the bottom of the home page you'll see various sections by city, so 'Sydney singles', 'Perth singles', and so on. There are also various categories for Asian Dating and Chinese singles, as well as Seniors and Single parent dating groups.
How does the RSVP Dating site work?
It's a very simple, straightforward online dating site that doesn't try or pretend to be anything other than what it is – a place where singles can connect. Once you register for free, you can start using the site and search for singles in your area.
What's the Personality Report about?
RSVP Dating has put together a survey that takes around 15 minutes to complete, that gives you a five-page personality report about yourself. You can use this to see how compatible you are with other users and to create an honest, more attractive profile.
How safe is RSVP Dating?
The operators take security and safety very seriously indeed, and offer dating tips to help users stay safe. They also monitor and check all profiles and pictures.
Can I put my membership on hold?
Yes, you can use the 'Take a Break' option by going into the settings on your profile icon, and select 'Take a break' and follow the prompts. If you terminate your profile you'll lose any contacts you've stored, as well as any stamps you still have.
ℹ️ Company info
RSVP
GPO Box 506
Sydney, NSW 2001
AUSTRALIA
Website: https://www.rsvp.com.au/
Customer support: https://support.rsvp.com.au/hc/en-gb/requests/new
We also wrote reviews for the following dating sites