When it comes to online dating and hookup apps, there are many restrictions and guidelines in place to help keep users safe. One of these basic features includes age restrictions on using the dating service in the first place, which sets a minimum age you can be to join.
After all, you don't want to be swiping through matches and then accidentally swipe right on someone who could land you in legal trouble if you were to meet them. You also don't want them to be at risk of grooming, predation or worse from people who'd take advantage of them.
That isn't all there is to it though, as dating services for teens do exist. In this article we'll discuss in detail what age restrictions are, how age ranges work for both teens and seniors, and what you should know when you set your preferences. Read on to learn more!
Age restrictions and ranges, and what they mean
All dating platforms utilize some form of algorithm to determine matches between you and others. Sometimes when the settings are incorrectly set or no filter is in place these potential matches end up working in a way that would never be thought of in real life.
It's just a fact of modern dating that dating apps have drastically changed how we approach starting new relationships. We're very reliant on them working as intended, and when they don't the results can be anywhere from awkward to disastrous.
Fortunately, that rarely happens. This is partly because many websites create age restrictions to filter out younger users as they try to sign up. Most sites and apps also utilize filters for age ranges to help you match with your ideal age group. Here's our breakdown on the basics:
Age restrictions
Age restrictions are established by dating services to prevent underage users from mingling with older daters. This means that they create a minimum age that daters can be when they sign up with the site or app. If they are too young, they will be blocked from using the service.
These restrictions are determined by the location that the user is in, but may also be set to a standard of 18+ which is the baseline for the age of consent in the United States of America and many other countries.
For example, a service that also offers its use to people in Belgium might set the age restriction to 16, which matches their age of consent, whereas it would be 18 in the USA. That same service might then set it for 15 in Denmark, which is the age of consent there.
Each service has a different approach to this on whether they lower their standard age restriction to individual regions. As a rule of thumb, never expect it to be lower than your own country's age of consent and always read their terms and conditions to double check.
There are also problems with this approach. As you could suspect, some people lie about their age when signing up and can get around these safety protocols. This is also known as catfishing, and it is a serious issue.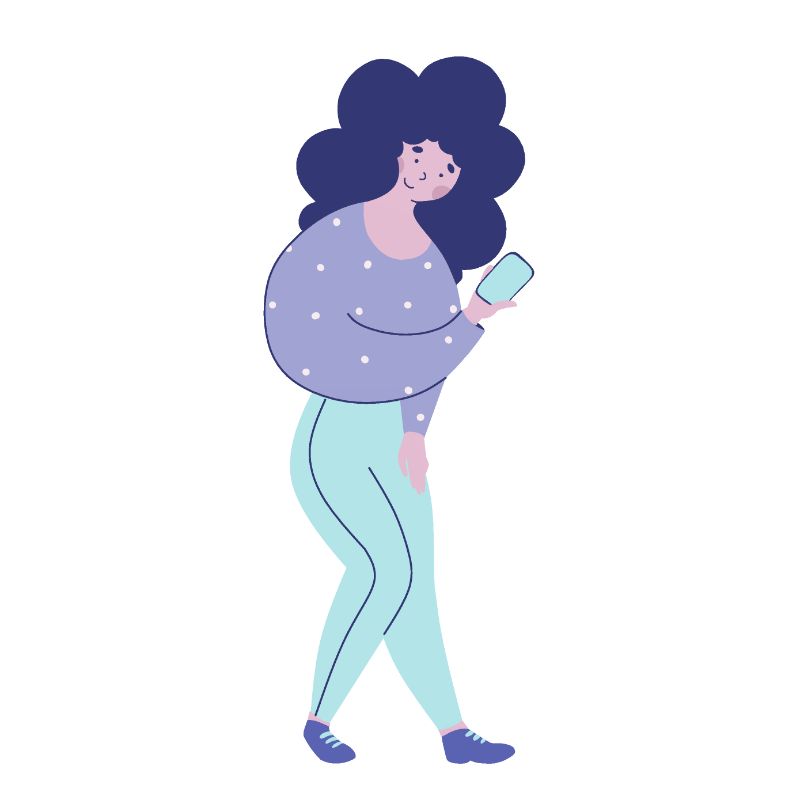 Fortunately, there are additional steps taken by many of the better services online. Some require an additional proof of your authenticity as a user by uploading a personal ID to their security staff, and others require you to take information from other social media sites.
Of course, someone could also like about their age on Facebook or snapchat, which are often used as references. The bottom line is that you should always double-check and be cautious when initiating conversations with new matches.
Finally, it should be noted that users who sign up for a website or app are essentially signing a legally binding contract with that service. If users are underage that not only puts the user at risk, but the company as well, so they tend to work hard to make sure this doesn't happen.
Age ranges
Age ranges are a different category altogether from age restrictions. Whereas age restrictions are intended to keep users safe by preventing them from joining when they shouldn't, age ranges are preferences set by users to limit searches to a specific age group of users.
What this essentially means is that people in their 20s will match with people in their 20s if they so wish, and seniors who are 50+ will match with other 50+ seniors. It can also mean that if you are 20 something and want to date someone in their 40s, you can set it up that way.
Most popular dating apps give you options to filter out the unwanted age groups that don't interest you as potential matches. This can be done either by selecting a specific age range you want to date in, or setting minimums and maximums for how old matches are.
Are there countries with age restrictions for dating?
Yes, almost all countries have age restrictions for dating based on their age of consent laws. A lot of people may be unaware of what other countries have set up based on this even if they do know their own country's age of consent.
To help you out, we are providing you with an easy to read chart that shows the age of consent and, in turn, restrictions on age for dating by country: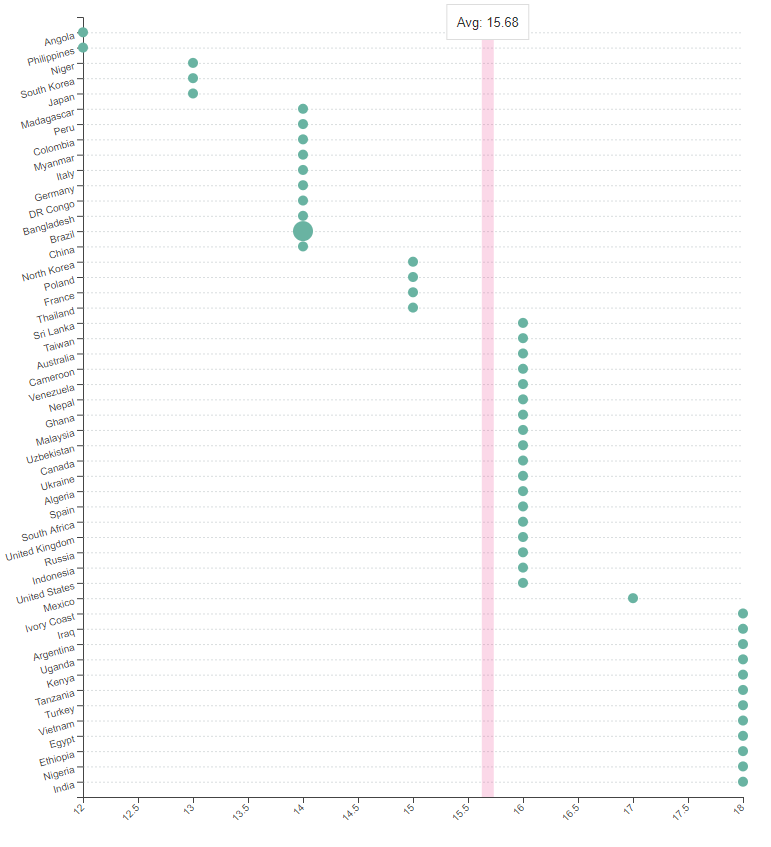 As you can see, there are a few countries without any age of consent laws. The lowest age is 12 in some countries, and the highest is 18 in others, including the USA.
Are there websites without age restrictions?
Not really. As the issue is heavily tied to legal ramifications should they facilitate meetings between minors and adults, it is typically strictly adhered to and supervised. Age preferences can be set on individual sites and the like, but they do mostly exist.
This largely applies to dating websites, though. Some websites which are focused on chatting or sharing webcams may have different approaches to this as their intent isn't to foster physical meetings between people.
However, that doesn't mean that laws don't apply to these services either. Always assume there is at a minimum an age restriction of 12 on a service that connects you with others. Even Facebook requires users to be at least 13 to sign up.
Some free dating apps may not request that users put in their age or may not verify it. This is a particularly dangerous practice if they don't. Additionally, even if they don't request it they will include something in their terms and conditions about it.
Always check the terms and conditions of a website when you sign up to verify what age restrictions are in place.
What are standard ranges of age groups on dating sites?
When it comes to offering dating services to different age groups across a broader user base on any given platform, most stick to standard ranges. This can be 20-30s, 40-50s, and 50+. Some services may cater to older people and offer additional 50-60s ranges and 60+ dating.
There are also a few dating services that once offered ranges for teens, from 13-17. Tinder is one example of a dating app which used to offer their services to teens in a specific age group of 13-17, although strictly separated. However, this was discontinued in 2016.
Which dating sites work best for which ranges?
Finding a dating app that works can already be difficult for any age range. Whether you want a hookup app to meet someone for something casual or you would like options for serious dating, the kind of service you use can impact how well you meet others in your age range.
Fortunately for you, we've created a handy infographic to give you a list of which dating services work best with each age range: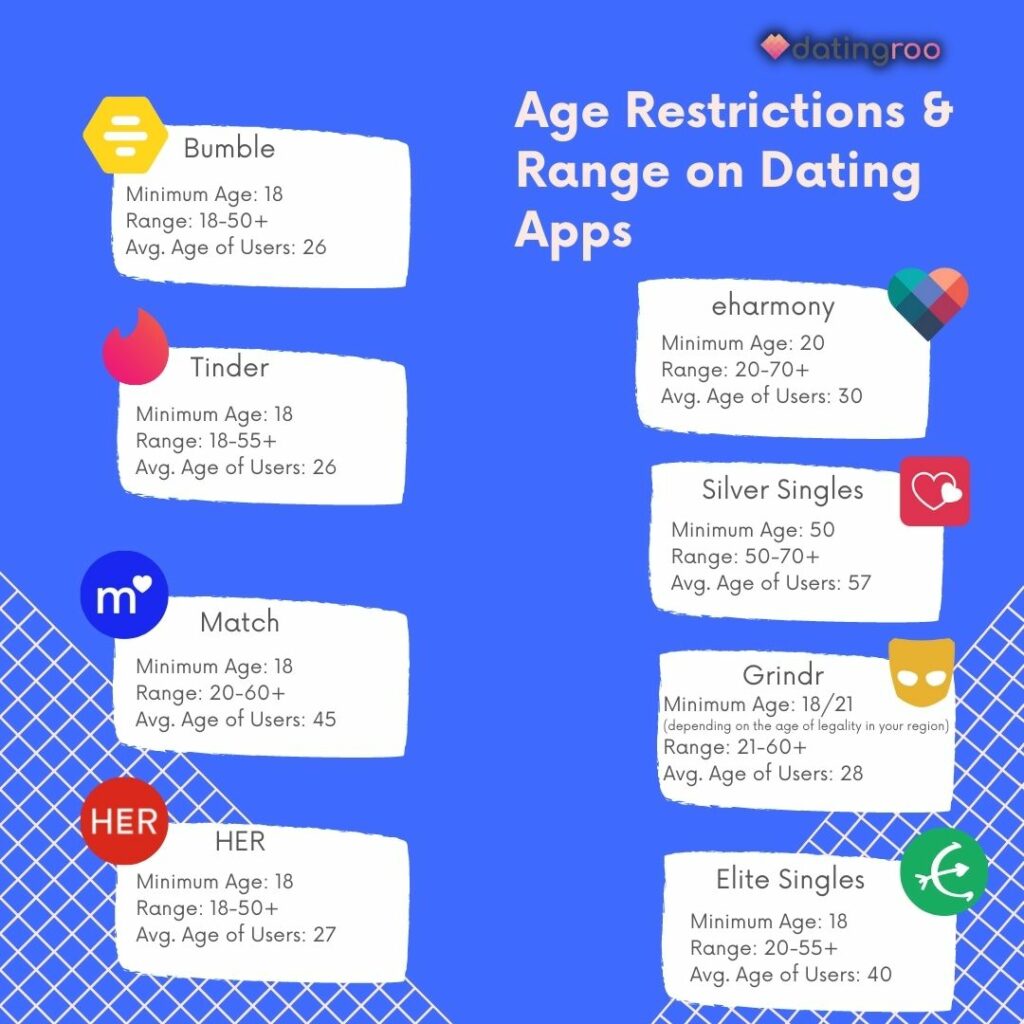 As you can see, both Bumble and Tinder offer their services generally to ages between 18 and 55, but the best age range for it is mid-twenties. Meanwhile, the best places for 40+ and seniors to get a relationship to work are Elite Singles, Match, and Silver Singles.
Best dating app recommendations
These are our top picks for online dating. Find the best options for you.
DateYourGirl
Meet real asian, european, and latino singles
Real-time communication with efficient tools
Professional dating services
eharmony
Free membership options
Meet people with genuine intentions
Trusted app globally
Ashley Madison
Best for: Singles looking for no strings attached fun
Free membership: Free registration, limited
Users: 54 million
iDates
Free to use
Meet people without delay
Browse quality user profiles
CupiDates
Large database of verified & attractive Asian and European singles
Efficient communication tools for real relationships
Our instant messaging service brings you closer together than ever before.
EliteCupid
For people who value their career and time. Date like-minded individuals!
Personality assessment for enhanced screening

Global reach. Match with like-minded singles all over the world

Smart matching finds your most compatible partners

Meet your equal in values, lifestyle, and career ambition

In-depth profiling and unlimited search means unlimited matching
OneNightFriend
Meet open-minded people
Flexible payment plans for added features
Free registration
Aussiebang
Explore your wildest fantasies with Aussiebang!
Perfect match for a sex and fuck
Easy sign up process
DateRussianGirl
Popular online communication platform with Slavic women
A variety of verified, active and up-to-date profiles
Protected by world's leading certificate authorities
DateEuropeanGirl
Women here are very easy-going
100% chances to find your perfect match
Personal Data Remains Confidential
SingleCupids
At SingleCupids, we believe that great relationships start with great conversations. Connect with like-minded individuals, share experiences, and ignite sparks of romance. Your next meaningful connection is just a chat away!
Chat & Connect: Engage in lively, meaningful chats with other singles. Whether you're sharing stories or discussing interests, it's all about building connections.
Experience Exchange: Share your experiences and learn from others. Discover the richness of different backgrounds and life journeys.
Dating Redefined: Find potential partners who resonate with your interests and values, making dating an enriching and fulfilling experience.
Virtual Events: Join exciting online events and themed gatherings to meet new people and create memorable experiences.
Privacy & Security: Your data and interactions are safe with us. SingleCupids takes privacy and security seriously to ensure a worry-free dating experience.
Eurobabes
Diverse Russian & Ukrainian Women
3000+ Profiles
Unique Matching
Flirt
Zero cost registrations
Get your flirt on almost instantly
More than a million users
SingleSlavic
There are enough online Slavic girls to interact with on the platform.
The engagement is high thanks to access messaging functions.
Create meaningful and long-lasting relationships with like-minded singles
Justrooting
Best for: Quick contact
Free membership: Free registration, limited
Users: 90,000
EliteSingles
No start up fee
Elite singles only
Trusted by Australian professionals
HotUkrainians
Casual sex encounter with HotUkrainians
Experience the thrill of online sex dating
Find your perfect HotUkrainians match
Be2
Free to get started
Compatibility based matchmaking
Meet the love of your life
Why was Bumble trying to match people with underage users?
Bumble, like Tinder and Hinge, is one of the leading apps for meeting other singles. Although it focuses more on lasting relationships, it still has the potential for casual meetups. Bumble is also a prime example of why age restrictions are important and how errors can happen.
Back in 2016, a glitch occurred in how Bumble collected data from Facebook accounts for creating a user's profile on the site. If you didn't know, Bumble takes the information on a Facebook profile and uses it for filling in information, including how old a user is.
Even if users can lie about this on a social network, the issue was that Bumble was limiting dating options for many users to others who were in the 13-17 age range.
Essentially a glitch in the service's backend (coding) would take the user's age from Facebook and misunderstand how old they were. For example, if someone states they are 31 on Facebook, Bumble would mistake them as 15 and then only allow them to match with minors.
The service is intended as a safety measure against users who lie on their dating profiles about how old they are, which is something Tinder does as well. Bumble was in hot water over this for a while until the glitch was eventually fixed, preventing much legal trouble or worse.
As of now, Bumble requires all users to be 18+, curbing potential for this problem to exist again entirely.
FAQ about age restrictions and ranges on dating apps
Although most teens may be using their androids or iOS for social media on their phones, there are still opportunities for them to check out online dating platforms. However, there are only a few that exist with lower age restrictions.
On the other end of the spectrum, seniors are also curious about what their odds are of being successful on dating apps. To answer these questions for age ranges and restrictions, we've answered some of the most frequently asked questions.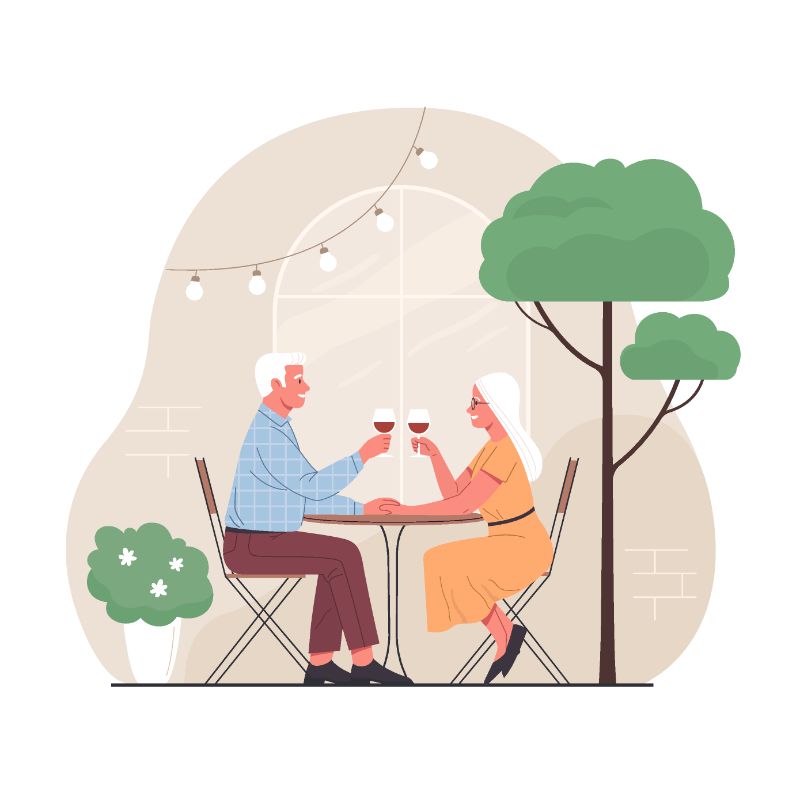 What is the age limit for dating apps?
The age limit for dating apps depends on the region you are located in and the region that the dating app's service is located in. Generally speaking, they will use your country's age of consent as the age limit.
In some cases, if it is younger than the service's host country, then it may default to the older age between the two. As an example, if the service's host country has an age of consent of 18 and a user's home country is 14, it may still default to 18 because of its terms and conditions.
The general guideline is to assume that 18 is the baseline for a minimum age limit on dating apps and websites. Check the terms and conditions and your own country's age of consent to confirm if that is the case or if it is younger.
The minimum age requirement for Tinder is 18 years old. If you've been blocked from Tinder because the birthdate you entered on signup signifies that you're under 18 years old, you'll remain blocked from the service for the amount of time specified on the login screen.
Are there dating apps for 11 year olds?
Strictly speaking, no.
However, there are a few services which pitch themselves as being teen only dating services, meaning that they cater exclusively (on paper, at least) to an age range of 13-17, sometimes 13-19.
For many users on these sites it is their first time using a platform for messaging others to start a romantic relationship. Sites like this include MyLOL, Spotafriend, Yellow, and others where teens can search online for others and chat with them.
The problem here is that despite safety measures taken by companies, it is still easy for predators to use them as sites to find vulnerable minors. This is enough of a problem that authorities warn parents away from letting their teens use these services.
As a strong rule of thumb, we would also warn against using them.
Can I get tinder at 17?
Not anymore. Prior to 2016 you could actually register a Tinder profile as someone who was under 17 years old, with a minimum age of 13. Tinder users were then separated between under and over 18 to avoid potential match-ups between the two.
However, Tinder no longer offers this kind of service for anyone under 18. This change took place in 2016 around the time Bumble's glitch connected users to under 18 users accidentally, and as such is a standard practice amongst leading dating apps to not allow minors to join.
Is 50 too old for tinder?
No, 50 is not too old for Tinder.
Tinder is undoubtedly a service that people in their mid-twenties get the most out of. After all, data suggest they match up best there out of any age group. However, many people over 50 still use it as one potential place to meet other single seniors.
More seniors are using the service, after all, and with Tinder Plus there are more options to connect with others. If you find that the service just isn't working for you, though, you might want to consider trying something like OkCupid for a more senior-friendly dating experience.