In the online dating world, finding a perfect match has never been easier. With such a variety of dating apps, everyone can choose to date someone who feels the same attraction or who shares similar values, interests and affinities.
Once when you find your perfect match using dating apps, starting a relationship with that person shouldn't be hard. You text each other all the time, go on one or more dates, kiss each other, and that's it! You are in the relationship.
Every loving relationship starts with butterflies in your stomach: we fall in love and can only see and feel our loved one. Most relationships nowadays start with dating apps and the beginnings are always beautiful. The trouble can come later and once when it comes, it seems like everything is falling apart.
Some of us choose to end it, some of us choose to stay unhappy in a bad relationship. One way or another, we keep coming back to our beloved dating apps, constantly searching for our perfect match. No matter what happens in one relationship, dating apps are always there to comfort and give us some hope.
What makes dating apps and relationships so inseparable?
The relationship goals have changed. Not so long ago people would be keen to build a serious relationship with the person they love, respect and admire. Even if there were some hard days, people would take more effort to keep their relationship and to build trust and fight for the loved one.
Today we all have become more self-oriented. We want more freedom and less commitment to relationships. Above all, we want to have fun all the time. That is why most of us are searching for casual relationships more than ever before.
Some research finds that today there are more people in a happy relationship or happily married who are actively using dating apps and still searching for something. The Statista survey "Why do or did you use online dating sites or apps?" from 2019 shows that people who are in a happy relationship are using dating apps mostly to find someone for a long-term relationship.
Isn't that paradoxical – aren't they already in one long-term relationship?
Interesting enough, the same survey shows that happily married respondents are using dating apps mainly to meet people who share their interests or hobbies, as well as to find someone for a long-term relationship or marriage.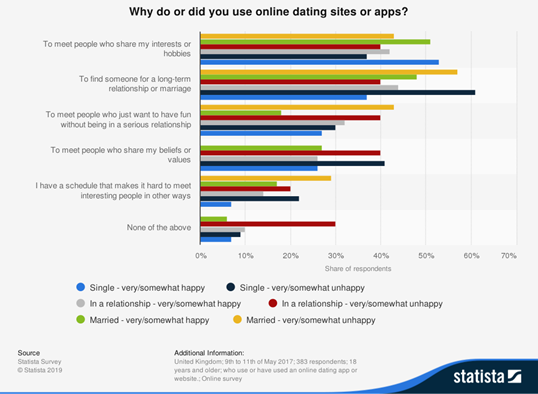 All this leads to one conclusion – dating apps are definitely affecting relationships and dating in one way or another.
But, how?
First, they can help us get into one relationship.
Second, they let us choose what kind of relationship we want to be in.
And last but not least, dating apps can help us get out of a relationship.
Best dating app recommendations
These are our top picks for online dating. Find the best options for you.
DateYourGirl
Meet real asian, european, and latino singles
Real-time communication with efficient tools
Professional dating services
eharmony
Free membership options
Meet people with genuine intentions
Trusted app globally
Ashley Madison
Best for: Singles looking for no strings attached fun
Free membership: Free registration, limited
Users: 54 million
iDates
Free to use
Meet people without delay
Browse quality user profiles
CupiDates
Large database of verified & attractive Asian and European singles
Efficient communication tools for real relationships
Our instant messaging service brings you closer together than ever before.
EliteCupid
For people who value their career and time. Date like-minded individuals!
Personality assessment for enhanced screening

Global reach. Match with like-minded singles all over the world

Smart matching finds your most compatible partners

Meet your equal in values, lifestyle, and career ambition

In-depth profiling and unlimited search means unlimited matching
OneNightFriend
Meet open-minded people
Flexible payment plans for added features
Free registration
Aussiebang
Explore your wildest fantasies with Aussiebang!
Perfect match for a sex and fuck
Easy sign up process
DateRussianGirl
Popular online communication platform with Slavic women
A variety of verified, active and up-to-date profiles
Protected by world's leading certificate authorities
DateEuropeanGirl
Women here are very easy-going
100% chances to find your perfect match
Personal Data Remains Confidential
SingleCupids
At SingleCupids, we believe that great relationships start with great conversations. Connect with like-minded individuals, share experiences, and ignite sparks of romance. Your next meaningful connection is just a chat away!
Chat & Connect: Engage in lively, meaningful chats with other singles. Whether you're sharing stories or discussing interests, it's all about building connections.
Experience Exchange: Share your experiences and learn from others. Discover the richness of different backgrounds and life journeys.
Dating Redefined: Find potential partners who resonate with your interests and values, making dating an enriching and fulfilling experience.
Virtual Events: Join exciting online events and themed gatherings to meet new people and create memorable experiences.
Privacy & Security: Your data and interactions are safe with us. SingleCupids takes privacy and security seriously to ensure a worry-free dating experience.
Eurobabes
Diverse Russian & Ukrainian Women
3000+ Profiles
Unique Matching
Flirt
Zero cost registrations
Get your flirt on almost instantly
More than a million users
SingleSlavic
There are enough online Slavic girls to interact with on the platform.
The engagement is high thanks to access messaging functions.
Create meaningful and long-lasting relationships with like-minded singles
Justrooting
Best for: Quick contact
Free membership: Free registration, limited
Users: 90,000
HotUkrainians
Casual sex encounter with HotUkrainians
Experience the thrill of online sex dating
Find your perfect HotUkrainians match
Be2
Free to get started
Compatibility based matchmaking
Meet the love of your life
Dating apps help us get into a relationship
It is quite normal these days for those who are looking for a relationship to meet people online. In general, people are not going out very regularly these days, and if they do, they prefer hanging out with their friends than having a conversation with someone random. Also, it is not very common that people meet in the neighbourhood grocery store while buying milk.
There have been numerous cases where two people lived in a neighbourhood but never crossed paths until they first saw each other's profile on a dating app.
There are also people who are happily married and have children together, who lived in different cities before and would have never met if they were not using dating apps. Some articles claim that today more than one-third of marriages start online, that's a change occurring in our society.
Simply put, dating apps give us a variety of options to choose a perfect match – geographically, educationally, based on interest, or even hobby-wise. With the help of a dating app (& a catchy Tinder opener or icebreaker, if needed), the chances for getting into a relationship are higher than ever before.
Dating apps are tailored for all kinds of relationships
The wide variety of options on dating apps brings way more possibilities for those who are looking for any kind of a relationship. Statista's research finds that the majority of people are still looking for a serious romance online in order to meet someone to love and live with the rest of their life.
However, the latest trends show that people have become less discerning and more open to a casual fling. This trend has exposed the increasing lack of commitment or responsibility among a younger generation, to the point that they shun all traditional labels. It is because they want to be in a relationship but do not want to face the pressure of commitment.
However, having plenty of possibilities to meet those who want the same through dating apps is actually helping people get together.
Looking for ways to boost your confidence while you date? Read up on how to increase your confidence and self-esteem while you date!
There are seemingly endless numbers of dating options provided by different platforms for people to meet, and there are also many different types of relationships to address all needs and wants. Besides the conventional monogamous partnership, there are also polyamorous, open, and long-distance relationships as well as the flexible "friends with benefits" partnership.
If you are looking for an explicit sexual relationship – go ahead, there are plenty of people who are looking for the same. If you are more into finding the right one to spend your life with then keep looking on such dating apps.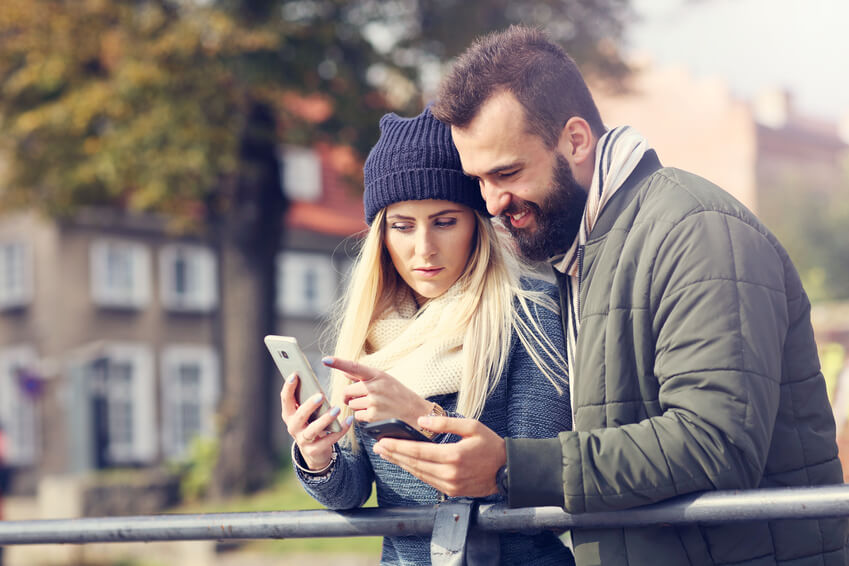 Dating apps can get us out of bad relationships
If you are in an unhappy relationship or in an unhappy marriage and you would like to have some affair, or, just out of curiosity, try forbidden fruits on the side, then dating apps are a perfect place to find what you are looking for.
There are many dating apps where you can discreetly find someone who is just looking for fun, occasional sex, or someone to flirt with. In the past, people would stay in an unhappy relationship just because they were afraid to stay alone and being lonely.
Today, with so many possibilities to find someone on dating apps, it is easier to make a decision to end a toxic relationship or marriage.
A study made by London firm GlobalWebIndex finds that more than four in ten people who use Tinder are already in a relationship.
The same study finds of all the women who are using Tinder, more than 40% are married. In this study, lawyers in this law firm recently have seen an almost 50% increase in enquiries triggered by married people who have caught their spouses browsing dating apps such as Tinder.
So, yes, thanks to a dating app we can get into any kind of relationship we want, and we can also get out of one whenever we want to.