If you are not sure how to start a conversation on dating apps, what to say or talk about, and if texting on dating apps is not really your cup of tea, we have to tell you – stop overthinking! While you are worried about things like should you text first or should you rather wait for a message, your potential date is already having conversations with someone else or even going on the dates without knowing that you exist. We don't want that to happen, right?
Do something! Get a dating app and start texting, there are numerous possibilities for you.
Datingroo dating experts have the ultimate guide on how to write messages on dating apps. Apply this the next time you are about to start a conversation on the best dating apps. We promise you'll get some interesting messages back, and of course some nice dating nights too.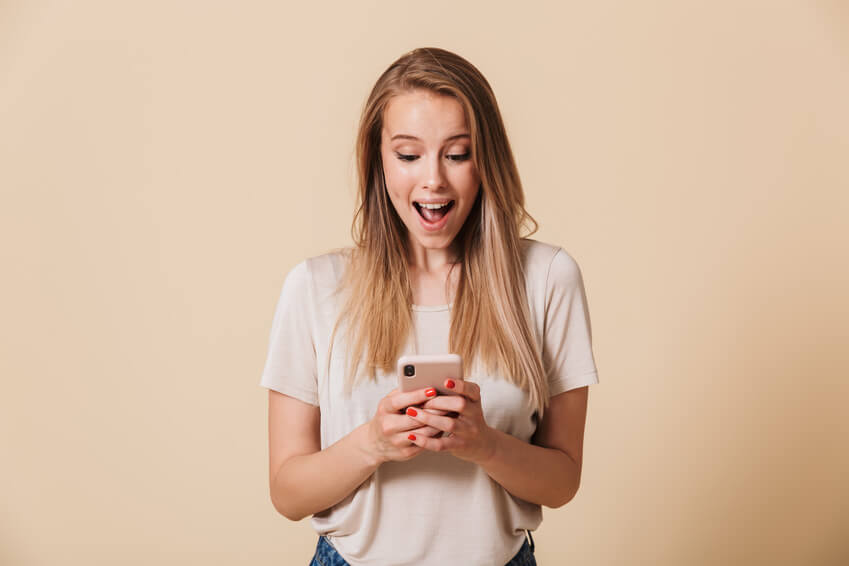 Here are the top 8 tips and tricks:
1. Never, ever start the communication on dating apps with something sexual!
Even if it is a casual dating app, never start a conversation by making some sexual comment or asking for sex or sending a photo of your genitalia. That is the No.1 rule for catastrophe! Sex talk is fun, but definitely not for the first conversation.
Don't exchange sexual messages before a first meeting! Why? Just imagine how you would feel to get a genitalia photo of someone you don't know. Creepy, right?
Wanna know how to start a conversation on Tinder and other Dating Apps? We've collected the best Tinder opening lines you can use!
2. Always be polite.
In general, everyone likes to have polite conversations, even when texting on dating apps. It is just something that makes you a nicer person to date and to have a relationship with. How do you be polite?
It is a natural talent that everyone has: don't use rude words, don't swear, don't write about disgusting things, and don't put several exclamation marks at the end of your sentences (it will look like you are shouting, and no one likes that!!!!!). Be nice and sweet and surely you won't be ignored.
Example:
YES: I am not in favour of that place because I didn't have the best experience with the service there….
NO: I hate that place!!! Waiters are morons there!!!!!
Do you understand the difference now?
A rude way to reject people on dating apps is to simply ghost them. If you want to know how you can respond to and get over being ghosted, we've got you covered.
3. Keep it short.
You might be a philosopher in real life who likes to talk a lot about some very interesting topics, but in the online dating world you should never text long messages. Keep it simple, short and straight to the point. If you want to find out something, simply ask. If you want to comment on something, keep it easy, and if you have an opinion on certain topics, keep it short.
Example:
YES: I would really like to go on a date with you this week.
NO: I haven't been on a date for a long time. I mean, it is not a big deal, it doesn't bother me at all. I am waiting for the right one to go on a date with. It is not easy to find a good match these days. Now, when I saw your profile, I am totally into going on a date with you. Something tells me you are a good person, and interesting, and funny, and sexy of course. What more could I possibly ask for?
So many "and" don't you agree? Keep it simple.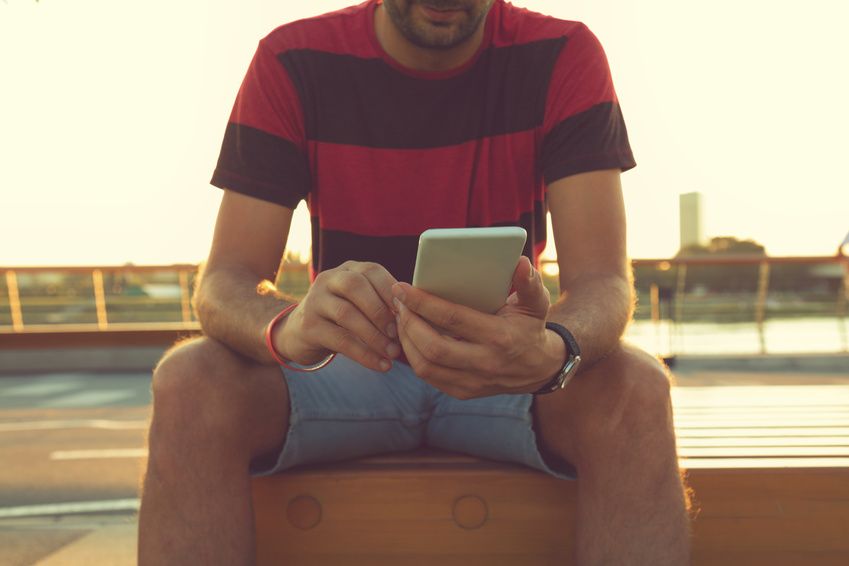 4. Be interesting and unique, choose good topics.
Before you even start a conversation on dating apps, go to the profile of the person you are attracted to. Try to find out as much about this person, such as their hobbies, work, studies, pets, kids, books … anything interesting.
If you are struggling to decide what to talk about just make a reference to their bio or something on their profile. This will be a good sign to them that you are not copy-pasting the same messages to everyone on dating apps. And if you share the same interest for something, they will probably find you to be a very interesting person.
Example:
YES: Hi Ines, I see you like nuclear physics. Me too 🙂 Have you read the article about particulate nuclear fusion? I can send you the link if you want.
NO: Hi!!!!
5. Show some sense of humour.
People who have a sense of humour are pretty irresistible. Everyone likes to hang out with them, or at least to have a conversation on dating apps with them. So, if you don't know what to say on dating apps, humour always works.
Even if you are not a very funny person and prefer to talk about serious stuff, you can try sending some funny GIFs as an addition to your messages. Research shows that emojis and GIFs in a message boost response rates by 30% and the resulting message exchange is likely to last twice as long.
If humour is something that comes naturally to you, then just keep playing on that card and you should be fine.
Examples:
YES: Where does an 800 lb gorilla sit? Anywhere it wants!
NO: Hi.
Simple as that, isn't it? 🙂
6. Be aware of the timing.
Timing is everything in online dating conversations. Try to think about what is the best time to send a message that will likely get a response. You will never be wrong if you text someone on a dating app in the late afternoon or early evening. But don't always expect a response later than 11 pm.
Also, when it comes to responding to the message, don't act as the busiest person on the planet. If you get the message and don't want to or can't answer immediately, try to answer within an hour or two. Waiting a few days to answer the message won't get you anywhere! Also, remember to be polite!.
7. Don't be afraid to get refused.
You send a message to someone you liked on a dating app and that person didn't respond. So what, it isn't the end of the world! Don't take it personally. It's their loss. There can be numerous reasons why they didn't answer.
You can either try just one more time to send a light-hearted, funny follow up message a day or so later, or just ignore it and move forward. Don't let a refusal discourage you!
8. When you have doubts, change the subject or ask questions
It starts all good with texting; you both are funny and the conversation is going smoothly, but suddenly there is nothing else to talk about. If you don't want the conversation to die, change the subject. Ask questions. If you are not sure what to ask and how to transit from one topic to another, add some comments and just ask "How about you?" This will certainly help to keep the communication going.
Example:
YES: Last week I was at the movie theatre that I haven't been to in years. How about you? Do you like cinemas?
NO: ….
Those would be the basics of messaging in dating apps. By just changing things in these simple ways with your online dating communication on dating apps, we are sure you will have more dating opportunities. Also make sure you're using the dating apps that work.
Which dating apps you use for applying the following tips, does not matter at all. In fact, you can check out our list of the best free dating apps on the market. Furthermore, you can get right to it and utilize the following information in the field! Get it, start it and enjoy!
Best dating app recommendations
These are our top picks for online dating. Find the best options for you.
DateYourGirl
Meet real asian, european, and latino singles
Real-time communication with efficient tools
Professional dating services
eharmony
Free membership options
Meet people with genuine intentions
Trusted app globally
Ashley Madison
Best for: Singles looking for no strings attached fun
Free membership: Free registration, limited
Users: 54 million
iDates
Free to use
Meet people without delay
Browse quality user profiles
CupiDates
Large database of verified & attractive Asian and European singles
Efficient communication tools for real relationships
Our instant messaging service brings you closer together than ever before.
EliteCupid
For people who value their career and time. Date like-minded individuals!
Personality assessment for enhanced screening

Global reach. Match with like-minded singles all over the world

Smart matching finds your most compatible partners

Meet your equal in values, lifestyle, and career ambition

In-depth profiling and unlimited search means unlimited matching
OneNightFriend
Meet open-minded people
Flexible payment plans for added features
Free registration
Aussiebang
Explore your wildest fantasies with Aussiebang!
Perfect match for a sex and fuck
Easy sign up process
DateRussianGirl
Popular online communication platform with Slavic women
A variety of verified, active and up-to-date profiles
Protected by world's leading certificate authorities
DateEuropeanGirl
Women here are very easy-going
100% chances to find your perfect match
Personal Data Remains Confidential
SingleCupids
At SingleCupids, we believe that great relationships start with great conversations. Connect with like-minded individuals, share experiences, and ignite sparks of romance. Your next meaningful connection is just a chat away!
Chat & Connect: Engage in lively, meaningful chats with other singles. Whether you're sharing stories or discussing interests, it's all about building connections.
Experience Exchange: Share your experiences and learn from others. Discover the richness of different backgrounds and life journeys.
Dating Redefined: Find potential partners who resonate with your interests and values, making dating an enriching and fulfilling experience.
Virtual Events: Join exciting online events and themed gatherings to meet new people and create memorable experiences.
Privacy & Security: Your data and interactions are safe with us. SingleCupids takes privacy and security seriously to ensure a worry-free dating experience.
Eurobabes
Diverse Russian & Ukrainian Women
3000+ Profiles
Unique Matching
Flirt
Zero cost registrations
Get your flirt on almost instantly
More than a million users
SingleSlavic
There are enough online Slavic girls to interact with on the platform.
The engagement is high thanks to access messaging functions.
Create meaningful and long-lasting relationships with like-minded singles
Justrooting
Best for: Quick contact
Free membership: Free registration, limited
Users: 90,000
HotUkrainians
Casual sex encounter with HotUkrainians
Experience the thrill of online sex dating
Find your perfect HotUkrainians match
Be2
Free to get started
Compatibility based matchmaking
Meet the love of your life