It's quirky, it's fun, and it's decidedly tilted towards friendship rather than dating. The wonderfully-named Coffee Meets Bagel dating site is laid back and very relaxed site, whose closest comparison is probably eHarmony. However, unlike that barnstorming international site, Coffee Meets Bagel is lower key and definitely more of a social event rather than simply a dating or hookup site. While it does generate plenty of potential matches for users, there's no pressure to dive head-first into a potential relationship, and you can take things at your own pace.
Alternatives to Coffee Meets Bagel
Originally launched in 2012 in New York City by three sisters, Arum, Dawoon, and Soo Kang, it quickly established a foothold in key North American locations including Boston and San Francisco. After receiving a considerable amount of funding from various investors, Coffee Meets Bagel went global and gained a particularly strong foothold in Australia, where its relaxed approach to online social interaction and emphasis on friendly encounters rather than online dating was a big hit.
Today, the site continues to grow, spreading into the European market and rivalling larger, well-established sites such as eHarmony.
As a dating site, it works well and it has a higher-than-average number of women using the site. With a variety of features that help users to streamline their criteria, the matching process is effective and much more targeted than you may find on other, more generic sites. The result is that it's an easy-to-use, effective, and popular serious dating site that sees itself as an 'anti-Tinder' alternative.
Our Summary
The first thing that really strikes you about Coffee Meets Bagels or CMB Dating, as it's also known, is just how user-friendly it is. That's verified by the sheer number of users the app version in particular has, and the number of matches it generates. There are claims that since the app launched in 2012 it's generated 2.5 billion introductions, and more than 50,000 couples are now together because of Coffee Meets Bagels. While this may be a little hyped, our Coffee Meets Bagels review uncovered that this is probably the biggest serious dating website and app you've never heard of.

Don't let that low-key level of exposure fool you, though – CMD is big. It launched in Australia in 2015 and Coffee Meets Bagel Australia was widely welcomed by Sydney socialites and young professionals, who found it easy to use, friendly, and surprisingly comprehensive for a serious dating site. While there have been a couple of bumps along the way, including a data breach in 2019 that affected around 6 million profiles, the overall security and data protection aspects of the Coffee Meets Bagel dating app has been good.

There are plenty of good points to look at, including the number of 'bagels' a user is exposed to on a daily basis. The fact that the app has so many users makes it highly likely that you will find at least some matches in your immediate area, but only if you're in a big city. If you're on CMB dating out in the Outback, or in a part of the world where the app hasn't reached its full potential market penetration yet, then you may find that your 'bagels' are a long way away, and the closest you're going to get to any kind of a relationship is via emails.

What we can say, though is that CMB definitely works hard to create a positive, and user-friendly online experience, and is regularly voted as one of the best dating apps currently available. It's particularly popular with women, who make up the majority of the users, and with new features constantly coming online it's an exciting, interesting, and very satisfying experience that really demonstrates to the 'big boys' like Tinder and eHarmony how a dating app should be done. Our opinion? Coffee Meets Bagels is a definite hit.
🆓 Free services and paid services
As with most dating apps, sign-up is free, but bear in mind that does mean you'll get very limited access to the site's various features. However, it's a good place to start, as you can easily navigate your way around and do a bit of 'window shopping' to start with.
The services work in a very similar way to Tinder initially, and once you've signed up for greater access you'll be sent 'bagels' (their term for matches) that you can either like or pass on. You'll get the chance to find out more about your likes and start chatting.
The paid upgrade opens up a host of features, and really lets you delve deeper into the site, as well as taking advantage of forums, online chatting and messaging.
Because the system uses algorithms that piggy-back social media activity such as Facebook, it will try and match you with people with whom you share at least one Facebook friend. Don't worry if you're not on FB, though, as you'll still get those 'bagels' on a daily basis. To boost your ability to chat, open up more bagels and to generally spread the love you have the chance to purchase 'beans' (this is where the Coffee part comes in). You earn these through regular use of the platform, or by buying beans in increments of 100, 2000 or 3000.
💰 Prices
If you decide to upgrade to a paid membership it will cost you:
| | | |
| --- | --- | --- |
| Period | Monthly Price | Total |
| 1 month | $35 | $35 |
| 3 months | $25 | $75 |
| 6 months | $20 | $120 |
If you want to buy beans to use on the site rather than earning them, they will cost you:
| | |
| --- | --- |
| Credits | Price |
| 100 beans | $1.99 |
| 2000 beans | $23.99 |
| 3000 beans | $24.99 |
So if you're going to be particularly active on the site and also want to open up even more bagels or use those beans for other activities, our advice is to buy a batch of 3000 beans, which will save you a whopping 60% compared to buying them in blocks of 100.
📊 Membership structure
Coffee Meets Bagels is big. Much, much bigger than you might first think. They claim to have generated 2.5billion introductions since the launch in 2012. Looking at the numbers for this CMB review, that's not an unreasonable assumption.
CMB is designed for singles who want to break out of the Tinder-style swiping approach to online dating, and prefer a 'slow dating' approach that generates meaningful connections and ultimately, serious, long-term relationships.
According to SurveyMonkey, more than half of users fall into the 30-49 age group, while around 36% are aged 18 to 29, with the medium demographic falling within the 20-35 bracket. Percentage-wise, women make up the majority, with a 60:40 split between the sexes. There is no data to suggest how many lesbian and gay users there are online, but it would seem that the majority of users are heterosexual.
Type of membership
This is a very simple section to explain – you're either free, or you've paid up to the premium service. It's that easy. When we started our Coffee Meets Bagel review, that was one of the aspects that really stood out for us. The Kang sisters have deliberately kept the model straightforward to ensure that the user is the focus of attention and that everyone gets the same experience once they've paid their membership fee. The ability to purchase beans, either through regular usage or by paying for them, is the only additional concept within the basic membership structure. If you just want the minimal experience then you can simply sign up to the free Coffee Meets Bagel dating app, but for the extra few dollars a month you have an access-all-areas pass for the entire site.
Premium membership on Android gives you:
Activity reports on members
Message read receipts
6,000 free beans
If you take out Premium membership on an iOS platform you get:
8 additional "Takes" in Discover
Activity Reports on members
Message read receipts
15% more beans when you restock your supply
💡 How to reduce costs at Coffee Meets Bagel
The easiest way to keep costs to a minimum is to stick with the free sign-up, but if you want to enjoy everything that's on offer, then paying for membership is the way to go. Our advice is if you like what you see then start off with a single month and then go straight to the six-month deal, which will save you a substantial 43% compared to the standard monthly fee. If you just want to dip your toe in the water, a three-month sub will save you 29% on the standard monthly charge.
✍️ Registration
Registration is very easy:
Go to the website or the online app stores. You can sign in either with an email or log in with a phone number.
Complete your dating profile. The set-up screens walk you through the process. Enter your first and last name (your surname is kept private).
Add your email address, birthdate and the gender you identify with (currently just male or female).
Upload up to nine pictures.
Then share your location and enable notifications, and you're ready to go.
Our top tip: Make sure you complete the profile page's three statements: "I am…" "I like…" and "I appreciate when my date…" to increase the chances of people discovering your profile. You have a character limit of 276-characters on each section, so make it punchy, to the point, and engaging.
📱 User friendliness
Coffee Meets Bagels dating website and app goes out of its way to make life easy for users, especially women (hence the hashtag #ladieschoice). Once you get your head around the concept of beans and bagels, there's not a lot else that you really need to worry about.
Accessing the profile screen is easy, and allows you to set your search criteria with just a few taps. We recommend using the app rather than the website, as CMB has been app-centric from the outset, and is far more responsive when used on a smartphone or tablet.
There are a few aspects of the site that you may not be familiar with at first glance – but it's really a matter of the terminology that this specific site uses, and once you understand it, things get much easier. For example:
Skip The Line – this is a feature that lets your profile be shown first to users who have a lot of profiles in their like/pass queue. Spend a few beans and your profile pops up first, as well as sending the recipient some virtual flowers. That will increase the possibility of a user seeing your profile by up to three times.


Priority Like – the same as a Super Like on Tinder, it lets someone know that you're really interested in matching.


Take – this is simply liking a bagel. If you're a paid-up member you get eight free 'takes' a day.


Beans – the in-app currency, which can either be bought or earned.


Activity Reports – sign up to premium membership and you get more specific data about a user, such as whether they've been active in the last 72 hours, how quickly it takes them to respond, and whether they're likely to send the first message.


Suggested – these are your daily bagels and are suggested matches that the app's algorithm has identified.


Discover – a feed of profiles of singles that are in your local area that may not appear on your Suggested list.
Don't worry if all that sounds overly complicated – once you've used the system a few times it becomes quite intuitive, although you may stumble around for a little while before you really get to grips with it.
The App
What puts CMB head and shoulders above many of its rivals is that it was originally launched as an app, and much of the development in the last seven years has been focused on making the mobile portal as good as it can possibly be. While the PC/laptop site hasn't been completely abandoned, it is very much a social contact site for the smartphone generation and has found particular popularity in the 20-35 demographic.
During our CMB review, we found that the download time was minimal, so there's no waiting around, and the navigation on a mobile device is easy and straightforward. We did notice that the site itself has some grammatical errors and typos, which for such a high-profile site is a little disappointing, but overall the app is responsive, clean, and easy to use. It's available for both Android and iOS, and depending on the operating system you use, the initial free sign-up will offer slightly different packages.
✉️ Contacting users
When you get your daily bagels, you can look through them and either like or pass (you have 24 hours to decide). If you like a profile then you can send a message at the same time. You can then start chatting through the CMB texting platform, but remember that unless you extend the chat time by spending some of your beans, you've only got eight days to get to know your match.
You can also use Discover if you want to widen your search, and while these matches may not be as targeted as your daily bagels, they will generally be in your area.
👍 Pros and cons 👎
✔️ What we like
You're not overwhelmed with random matches or unwanted responses, so you can be more selective about your responses.
CMB profiles are not searchable, which makes them more private and less likely to be spammed
Membership deals are straightforward – you're either paid up as a premium member or you use the free service
The app-focused approach makes it very easy to use on a mobile device or smartphone
The targeted daily matches are less likely to promote ghosting as both parties have more in common than other, more generic site matches.
❌ What we don't like
You only get a very limited number of matches each day, so while you're not swamped, you may miss out on local matches that might be more relevant.
Matching is based on a limited number of criteria, and even those are a little vague such as height and religion.
Because the algorithm accesses your Facebook account and searches 'friends of friends', there's a possibility that it could end up matching you with an ex-girlfriend or boyfriend!
Outside of large cities, the number of users drops dramatically, which considerably reduces the number of matches you may get.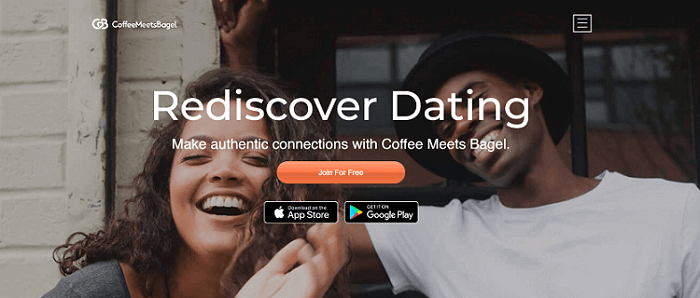 🙋 FAQ
How does Coffee Meets Bagel work for women?
CMB is biased towards women users and has a 60:40 ratio of women to men. At noon each day, women users are presented with profiles of men who have already 'liked' them. Women can then tap 'like' as they want, resulting in an instant match. This way, so the site's developers claim, women can minimise the possibility of time wasters or matching with men that they are not compatible with. These are known as #LadiesChoice matches.
How does the Coffee Meets Bagel algorithm work?
CMB accesses your Facebook information (including likes, political views and mutual friends) to create a profile of your preferences. The algorithm then builds a graph based on your second and third-degree connections. You will have to enable the algorithm to access your data, so if you're not keen on cross-platform data sharing, this may not be the site for you.
How does Discover work on CMB?
Discover lets you find matches in your local area that wouldn't necessarily come up on your daily bagels list, so they may fall outside your usual list of preferences and are based purely on location, rather than compatibility.
How does Coffee Meets Bagel work?
CMB is not a hookup site, and was developed as an 'anti-Tinder' alternative to prevent ghosting and quick-swiping. It provides users with daily bagels (those who have expressed an interest in your profile) which you can then choose to contact or discard.
What's the time limit all about?
You do need to move fast on any matches that are sent. You have just 24 hours to pass or like on a match, and chatting is only available for eight days, after which you need to use some of your beans to keep the lines of communication open for up to 30 days.
How do I delete my Coffee Meets Bagel account?
You'll need to put your account on hold before you're allowed to delete it entirely. Do this through the Settings > Membership field by clicking Deactivate and selecting 'Indefinite'. Once you have done this you can then go back into the settings page and delete your account permanently.
ℹ️ Company info
Head office:
San Francisco (HQ), CA
JPMorgan Chase Building, 560 Mission St, San Francisco, United States
Phone: +1 (917) 439-3770
Press inquiries: [email protected]
Email: [email protected]
Online help centre: https://coffeemeetsbagel.zendesk.com/hc/en-us
We also wrote reviews for the following dating sites