E-Hookups is an adult-dating site where open-minded singles and swinger couples can meet for no strings attached casual sex. The site is for straight singles and couples, bisexuals, homosexuals, lesbians and transgender people, giving many people a chance at a fast fling!
Alternatives to E-Hookups
The main draw of this casual sex dating service is how easily it overs you a local hookup for a one night stand. Because you can immediately start browsing other members as soon as you join, you will find all the quick flings you could want in no time at all.
We particularly like how open and inclusive the services are to the LGBT community, as many gay and transgender members often feel excluded from these kind of casual dating sites. Instead, this offers a little something for everyone.
To show you why we think E-Hookups deserves the praise it gets, we review its members, the user-friendliness of the site and the mobile app, and its prices. Read on to learn everything you need to know about their services!
Our Summary
Overall we have to say that E-Hookups offers users of any kind of orientation a quick and easy way to find casual sex partners. The site is great at what it sets out to do, which is get locals together for a no-strings attached fling, and for that alone is worth a look.

One of the best things about this site is that it gives you the ability to look at each members' account and pictures for free, although some pictures will be blurry. Still, if you are looking to see some risqué photos, you can easily find them here, and without paying a cent.

One of the major issues we had was that eventually, the cost of coins that you might spend sending messages could be a little expensive for you. However, this was neatly offset by the ability to earn free coins so long as you completed certain goals.

All in, we would say that it is well worth your time to give E-Hookups a look. Registering doesn't cost you anything and is quick to do, and you will be able to browse profiles and pictures right away. Why not sign up today to see if it works for you?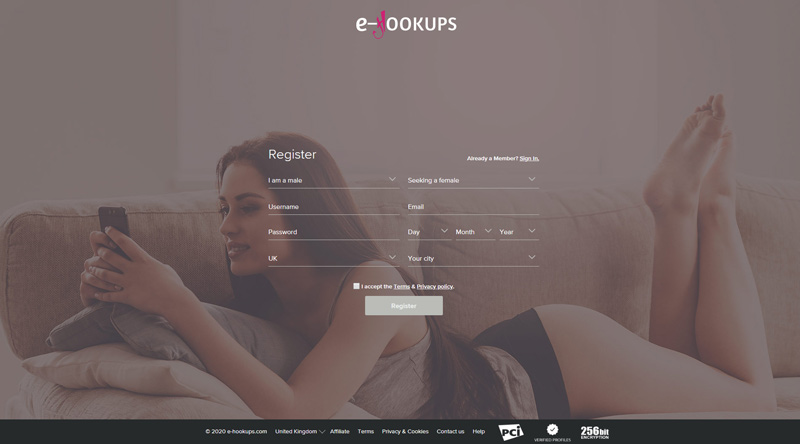 🆓 Review of free features
Search by age, location, or interests
Browse most photos freely
💰 Coins – what they do and how to earn them
Coins – bundle costs
When you pay with either Visa or Mastercard, the following bundles are available for purchase:
| | | |
| --- | --- | --- |
| Type | Coins | Price |
| Intro | 200 Coins | AUD 13 |
| Basic | 300 Coins | AUD 29 |
| Standard | 900 Coins | AUD 76 |
| Premium | 2000 Coins | AUD 154 |
| Ultimate | 6000 Coins | AUD 329 |
If you pay with a Paysafecard, the above bundles are available, as well as an additional two packages:
💡 How to reduce costs
Earn free coins
You can earn free coins to use on the site by completing a variety of activities. Below are the ways that you can get these free coins:
| | |
| --- | --- |
| Daily Login | 10 coins |
| Verify Profile | 100 coins |
| Add Profile Photo | 20 coins |
| Add 3 Gallery Photos | 20 coins |
| Select 5 interests | 20 coins |
| Login 7 days in a row | 40 coins |
| Refer your friends | 10 coins |
📊 Membership structure review
How many users in Australia?
Over 20,000 members are from Australia looking for casual hookup dating.
✍️ Registration process and profile creation review
You can register for the website in a matter of moments but filling out the rest of your account's information will take just a little more work. Find out everything you want to know about signing up here:
Signing Up

Start by selecting whether you are male, female, a couple, or transgender. Then, select whether you are interested in a hookup with men, women, a couple or someone transgender.
You will now need to provide a username for the site, as well as a password to accompany it. It is required to include a valid email account as well for verification purposes.
Afterward, you will have to give your date of birth and your location in order to both verify you are of age, and to determine which hook-ups can be found in your area. Accept the terms and privacy policy to continue.

Verify email account and write about yourself

Verify your account through your email to not only earn some coins but to start filling in your data. Afterward, you will have the option to write a bit about yourself and try to explain why someone should click on your profile.

Upload some photos

This may be the most important part of your account creation process, as it will give interested users a visual idea of what you look like and what they can expect. When it comes to a hookup site, pictures will always be the first thing members look at.
Make sure you take photos that are done with good lighting and show off the best side of you. Retake them until you feel happy with what you are showing off. They aren't afraid to show a little skin, so you shouldn't be either!

About Me

You will now get to fill in the 'About Me' section, which includes information about your physical features, lifestyle habits, relationship status, whether you have kids or not, and if you have any body art.

Select your interests

This isn't really in the sense of a hobby, but more like 'what kind of sexual interests do you have'? There's a long list of kinks and the like that you can select to show your interest in, so select everything that applies to you to look for ideal matches.
📱 User friendliness review
Dating website review
Registration
For sites like this, you will find a streamlined and practical approach toward creating an account and registering that users everywhere can appreciate. Especially amongst other hookup sites, E-Hookups.com feels much cleaner to use.
Navigation
The sites most efficient approach to navigation help it stand out as a very user-friendly service, allowing you to browse and match with other people looking to enjoy a sexy experience.
Profile
You can modify your account data from the sites' main page and any of the other sites pages by just clicking on your picture in the left-hand toolbar. It's easy to do and takes moments.
Dating app review
There is a mobile version of the website that includes all the major features you know from the main sites features. You can send and receive messages, update your profile, edit your favourites, and browse profiles and photos.
Registration
This is the same as the main website, giving you the simple kind of registration that people want to use to sign up.
Navigation
This is identical to the main site, but with the added benefit of using a touch-screen interface for easier browsing.
Adjusting profile
As with the main site, this can be done at any time just as easily.


✉️ Contacting users with E-Hookups chat
You will need to use coins in order to send messages, meaning you will want to either take advantage of earning free coins or purchasing them.
How to contact another user:
Click on a member you want to chat with
Click on the chat icon below their main picture
Type out your message in the text box and click 'send'
👍 Pros and cons 👎
✔️ What we like
Free to browse other members, including most photos
❌ What we don't like
Costs can build up after messaging enough
No specific app, just a website for mobile
People may just want to use the site to contact others for sex chatting


🙋 FAQs
What is E-Hookups about?
E-Hookups offers people a chance at casual dating for your personal entertainment, meaning that you can contact either men, women, couples, or transsexuals in your area or other locations who interest you. You can also be contacted by them as well!

The purposes for getting in touch with one another usually relate to sexual fulfilment for either party, but that doesn't mean you can't look for friendship, a cyber-affair, a friendly chat, or even someone special that shares your interests. Anything is possible!
Is this a subscription service?
No, it is not! Users can register 100% free to the website, meaning that they can create their own account and browse through other members pictures and data. This means no recurring charges and no commitments!
Is my financial information safe, when making payments through the site?
Yes, your financial information will be safe when making purchases here. All details regarding your payment will be processed through secure servers and no sensitive data is ever stored.
How can I improve my ranking?
You can improve your search ranking by promoting yourself, which means anyone looking for someone like you will find you sooner than later. This results in people who are looking sending you more messages and views.

This feature can be activated for 24 hours when you click on the button below your account's main picture, which reads "Promote my profile".
How do I find other users?
You can utilize the "Smart search" function, which gives you two options to find members that match your preferences:

Basic Search – find chat partners based on their age, location or interests, accessible from the upper-right corner of the website search page

Advanced Search – filter users by their online status, users from other countries or by username
Is it possible to filter users who are online?
Yes, you can do this pretty easily! Simply go to the "Advanced Search" option by clicking the three vertical dots on the top right corner of the page and select the "Online now" optiobn under "Profile".
What are coins used for?
Coins are used for a variety of things on the website, which includes the following:

Send messages
Send photos
Improve your website ranking.

You will start off with a batch of free coins to use and can earn coins later by completing certain objectives. You can also purchase additional coins online at any time using their secure payment gateways.

Keep in mind that coins expire 90 days after your last log off date, so make sure to keep these coins in mind and use them up! Free or promotional coins may be invalidated at any point according to the website's Terms & Conditions.
What are the costs for sending messages?

Sending either a single (1) message or (1) photo will cost you 40 coins. Each message has a maximum limit of up to 400 characters. However, receiving messages and photos is free.
ℹ️ Company info
This is a company that is owned by Svippy Limited, a company which operates dating services for a wide range of media partners around the world.
Related Reviews