Uberhorny is an adult casual sex app that helps horny singles and couples meet with nearby individuals and other couples looking for local hookups, a casual fling, and spontaneous meet ups.
Uberhorny has had a lot of success helping its active user base meet their physical urges with a no strings attached casual sex meet up service that is based on casual personals and an advanced algorithm for helping you to find the closest compatible match possible.
Adults around the world are in love with the casual dating scene that Uberhorny offers, giving them exactly what they need and want when it comes to finding the right hookup or giving unique features to enjoy.
To show you why we think Uberhorny deserves the praise it gets, we review Uberhorny and look at its members, the user-friendliness of the site and its prices.
Our Summary
Uberhorny offers a great way for people who are looking for casual fun to get exactly what it is they want or need out of a no-strings-attached hookup scenario. It's a casual dating site that makes casual dating accessible with plenty of features to enjoy.

The site is successful at helping you connect with others for the casual hookup you were hoping to find, but it does require you to pay a little to enjoy the full experience that you may have been looking for.

You can register for the site for free and explore some of the profiles and members on there, so why not check Uberhorny out today and see if you can't enjoy some casual fun yourself?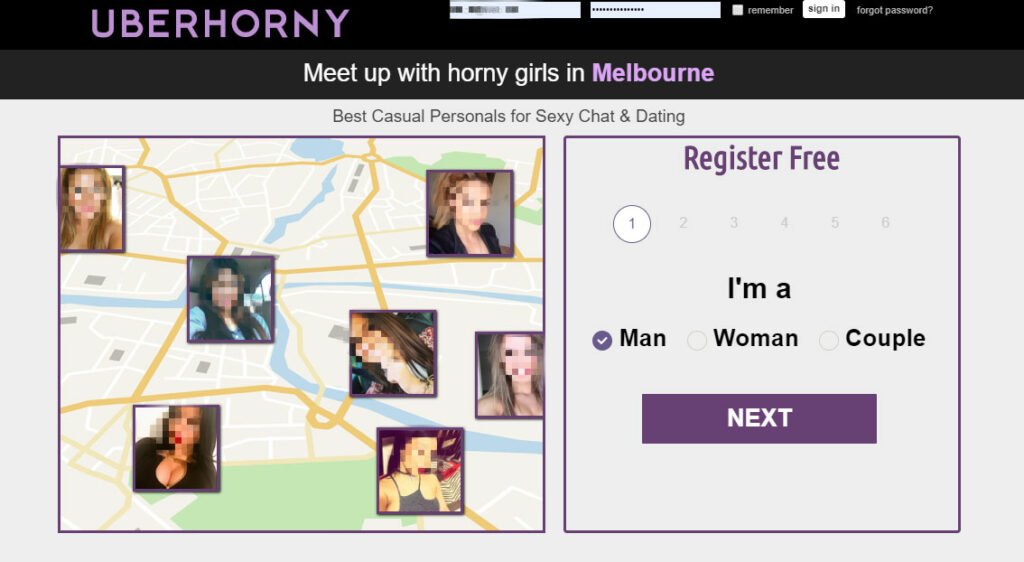 🆓 Free profile vs paid profile review
Free membership
Adding users to favourites
Use of advanced search filters
Post on Trending Now page
Paid membership
Participating in adult private and group chat
💰 Types of membership review
Premium monthly plans
Prices are listed in USD :
| | | |
| --- | --- | --- |
| Duration | Monthly Price | Total |
| Gold 7-day trial | 09.95 $ / Week | 09.95 $ |
| 1-month Gold | 34.95 $ / Month | 34.95 $ |
| Gold 6 months | 11.66 $ / Month | 69.95 $ |
| Gold 12 months | 06.67 $ / Month | 80.04 $ |
📊 Membership structure
How many Uberhorny users in Australia?
There are over 50,000 members looking for casual dating in Australia with Uberhorny's site.
Uberhorny's demographics of love
22% of the site is female
Number is skewed as there are also couples
Over half the member-base comes from the United States of America
✍️ Registration process and profile creation
The registration process is quick and easy to do, and you can finish your profile at a later time if you would like although you are flexible with doing this.
Signing Up

Select whether you are a man, a woman, or a couple. Then select whether you are looking for a man, a woman, or a couple. Then type in your location to find locals near you. Then provide your age and a valid email address for verification purposes.
Finally, provide a password you will use with the site.

Upload Photos

Although optional, it is recommended that you upload at least a profile picture to see more results. This is because there is a feature that filters out profiles without pictures. It also shows people that you are more likely a real person.

Narrow your search

You can now narrow your search down. This includes filtering for profiles with pictures only, as well as for people near to you. You can also set an age range and filter based on other factors, such as race, hair colour and body type.

Choose a premium plan

You will then be asked to select a subscription length for a premium adult membership at Uberhorny. However, this is optional, so if you don't want to you can skip this by clicking on the Uberhorny logo at the top of the page.

Send Winks

Finally, you will be shown a collection of images of users that you can select to show who you think is attractive. This will be the start of your matching process, as you can already send 'winks' to them, which let's them know you are interested!
📱 User friendliness review
Uberhorny dating site
Registration
Registration was very fast and did not require much information to complete, although there wasn't a lot of room for variety in what you need to put in. The site did give us access quickly, which was good.
Navigation
The site was fluid to navigate and worked well when going from one area to another.
Profile
Profiles were a little sparse and what information was there wasn't particularly descriptive. Still, for a casual dating site it got the job done.
✉️ Contacting users with Uberhorny chat
You can either group chat if you are a premium member at Uberhorny, or you can send private messages for free. Free members unfortunately cannot reply.
Click on a user's profile
Click on the chat icon below their profile pic
You can type up your message and click 'send' to send it
👍 Pros and cons 👎
✔️ Pros:
Search page is divided into helpful categories
Freely send winks and likes
❌ Cons:
The most useful features require payment
Mostly dominated by men looking for women
Profiles not so informative
🙋 FAQs
Membership
What is Uberhorny.com?
Uberhorny is an online casual dating platform for people looking to meet other members, singles or couples, for a hookup or no-strings-attached sex. This includes discreet, safe, and fun sexual encounters based on region.
How much does Uberhorny.com cost
Uberhorny ranges between a few euros or pounds to larger sums. Cost reflects duration of subscription. Keep in mind that the subscription will auto-renew unless you choose not to.
Is Uberhorny.com really safe?
Yes, but it is important to be clever and not to reveal personal identifiable information unless you are comfortable with the person you are talking to. For first dates always meet in a public place. Use your best judgement before meeting someone in person.
Never send money to someone online.
How do I make my profile discreet?
You can select to have your profile come up as 'Discreet' in your profile menu. This means only friends can see your information.
How do I read messages?
Messages will show up in your user home and in your messages area. You can check these at any time, but only premium members can reply.
What does hotness mean?
Hotness checks to see how often you use search tools, update photos, and message other members. It essentially measures how active you are on the site, and inactivity will drop your hotness rating.
How do I use video chat?
1. Click 'Video Chat' on the toolbar
2. You should see a list of available chat rooms.
3. Click on the room you would like to enter
4. Click the 'Join Selected Room' button.

You can see other people in the chat room by clicking on their name in the room list. You can also create your own video chat room by clicking on the 'My Public or Private Room' button.
Do I need a web cam to use video chat?
No, you do not. That said, using a web cam will improve your responses from others.
ℹ️ Company info
Uberhorny is owned by Worldwide Connect Partners, LLC and Global Personals, which focuses on creating online dating communities and has been in operation since 2003. Global Personals is located in Miami Beach, Florida, USA.