My Transsexual Date is one of the few quality transsexual dating sites, which stands for transgender dating. This means that men who are looking to meet a trans date such as a cute ladyboy, then they can find plenty of options to choose from here!
Alternatives to My Transsexual Date
The site has seen a lot of success in connecting men who want to date a transwoman with interested transgender people looking for dating across the world. They even combine their searches with a sister-site that focuses itself as a lady boy site, giving you more options.
To show you why we think My Transsexual Date deserves your attention, we review its membership, the user-friendliness of the website, and its prices. Read on to find out more!
Our Summary
If you are new to transgender dating, then My Transsexual Date offers a quality entry point into the world of trans dating. There is a thriving dating community for both local and international transgender dating.

One of our favourite things about dating on the site is that it really emphasizes romantic serious dating for the transgender community, avoiding the pitfalls of casual hookup sites for transgendered people. They also strive to keep the community positive, which is nice.

The only downside to the site was the requirement for a premium account to really make use of the messaging features for dating. In terms of actual costs though, it isn't that expensive, and you don't have to worry about auto-renewing subscriptions either.

All in all, My Transsexual Date is a great website to start dating trans people, and registering is free, so why not try it out for yourself today?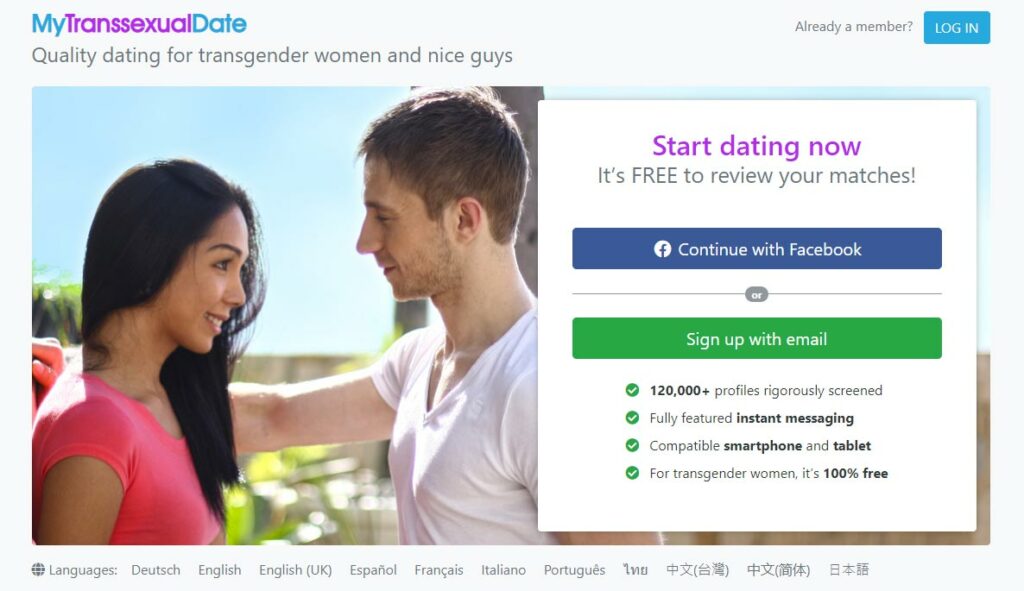 🆓 Free profile vs paid profile review
Free membership
Browse other users and photos
Be visible in search results
Upload a maximum of 16 photos
Paid membership
Can send & receive messages
Appear in Featured Profiles
Unlimited photos to upload


💰 Membership subscription costs
Premium monthly plans
| | | |
| --- | --- | --- |
| Duration | Monthly Price | Total |
| 1 Month | USD 29.90 per Month | USD 29.90 |
| 3 Months | USD 22.90 per Month | USD 22.90 |
| 6 Months | USD 16.90 per Month | USD 101.40 |
| 1 Year | USD 10.90 per Month | USD 130.80 |
📊 Membership structure
How many My Transsexual Date users in Australia?
There are over 100,000 transgender men and women in Australia looking to start dating at My Transsexual Date.
My Transsexual Date's demographics of love
Over 700,000 men and transgender women looking for dating around the world
60% identifies as a transgender woman
Most users are looking for love and serious relationships when dating on the site
✍️ Registration process and profile creation
Registering for My Transsexual Date is quick and easy to do, and you have the option of linking your Facebook account to speed the process up even more! Sign up today to start dating quality trans women and transgender people right away!
Signing Up

Select whether you would like to either link your Facebook account or if you would prefer to register by email. If you want to register with an email account, you will have to create an account manually.
Begin by selecting the gender you identify as. There are only two options, either a 'man' or a 'transexual woman'. You will then need to select your age and provide both your approximate location and a valid email for verification purposes.
The activation link will be sent to this address. You can then add your preferred first name and a password to use for the site. Click on the confirmation that you are over 18 to proceed.

Confirm your account

To go on further, you must not confirm your account through the email you provided. Click on the link in the email sent to you by My Transsexual Date to be taken to the next step in the registration process.

Upload your photos

You will now have the option to upload a picture of yourself. You can just go on with using the site now but having one picture at least will help you tremendously with meeting quality new dates. Filling out your profile will help even more!
Just click on the link to upload a photo and choose one that shows your face. Follow their guidelines and a moderator will approve your photo.

Set your preferences

When you go to edit your account, you will have the option of selecting who you are interested in. The options provided include:
Pre-ops, or people who didn't have a sex change yet, but want to do it later
Post-ops, or people who already had a sex change
Non-ops, or people who didn't have a sex change and don't want to do it
Transvestites, or people who live as a woman only part-time
You can also select what kind of relationship you are looking for, ranging from some casual fun to a relationship that leads to marriage.

Talk about yourself

As a final part of your profile, you can add information about yourself, including general info about who you are and what you do, as well as what your interests are, your appearance, lifestyle and sexual orientation and experience.
You can also write a paragraph or so about yourself to give prospective dating interests something to read. From here, you can go on to start dating trans and transgender people in the community to find the love of your life!
📱 User friendliness review
My Transsexual Date dating site
Registration
Registering to start transgender dating at My Transsexual Date is easy and can be done in a matter of minutes. They do require a valid email for verification, and it seems like moderators put in a lot of effort to ensure that fake accounts are filtered out, which is good.
Navigation
The site is easy to navigate through and going from one transgender user to the next took little to no time.
Profile
These are usually well filled in and you can read a lot about the transgender people who use the site for dating.
✉️ Contacting users with My Transsexual Date chat
To send and receive messages with My Transsexual Date, you do need to be a premium member.
How to contact another user:
Click on a member's account
Beneath their picture is a 'Message' button, click it
Type out your message in the text box that appears and click 'Send'
👍 Pros and cons 👎
✔️ Pros:
Emphasizes dating trans women and transgenders for love and romance
Browse others and their pictures for free
Quality guidelines that help the trans community feel stronger and keeps it positive
❌ Cons:
Website is a little barebones in terms of what you can do
Sending and receiving messages requires a premium membership
Dating trans women and transgendered individuals is hard without a membership
🙋 FAQs
Membership
How much does my transsexual date cost?
On My Transsexual Date, there is no cost to create your profile, review matches or browse profiles and photos. Your account will not expire either.
Women (trans women) will have full access to the site for free.
Men need to upgrade to a Premium membership in order to access the full features of the site, including sending messages. This is about USD 29.90 per month and is cheaper if you subscribe for longer.
Will my Premium membership be automatically renewed?
No, premium memberships are not automatically renewed. This means that when your premium membership expires, your account will return to a standard membership. To renew, you will have to upgrade again just as you originally upgraded your account.
How do I delete my account?
1. Go to Account settings
2. At the bottom of the page click 'To deactivate and/or delete your account'
3. Follow the instructions provided
Deleting your account is a permanent removal of all your pictures and data. If you prefer to disable your account temporarily, there is that option too.
How do I know if a member is genuine?
Unfortunately, there is no sure-fire way to do this. It is advised that you follow some safety tips to ensure your security and protection online.
My Transsexual Date does use a system to automatically spot scammers, fakers, duplicate accounts, and more, and the moderation team works every day reviewing profiles and photos to make My Transsexual Date as safe as possible for dating transgender women.
Never send money to somebody online. Report any requests and they will be banned right away. Note that if you report this after sending money, both of you will be banned. Look for profiles of trans women and transsexuals that are completed, as this is a good sign.
What is not allowed on My Transsexual Date?
1. My Transsexual Date has designed community guidelines to ensure every member can enjoy 2. My Transsexual Date safely and responsibly. These are the guidelines to keep in mind:
3. Do respect other members – Respect other people's beliefs, interests and decisions.
4. Do send original messages – Rather than copying and pasting the same message to everyone you like, read their profile, see what they're into and send an appropriate message.
5. Do report any concerns to the moderators – They are always happy to help and make your experience on My Transsexual Date better.
6. Do not reply to someone who violates community guidelines – block the person and report him/her.
7. Don't verbally abuse other members – You should behave the same way on My Transsexual Date as you would in real life. Be nice to people you meet online, like you would be face to face.
8. Don't pretend to be someone else – It's in your best interest to show the real you. Don't post fake photos, don't lie about your profile info.
9. Don't post your contact details in public – Don't include contact details or any other identifiable information in your profile or in your initial communications.
10. Don't be sexually explicit – Don't post sexually explicit photos. Do not start a sexual conversation if it is not consensual.
11. Don't solicit other members for sex – There are places you can go to look for sex, but My Transsexual Date isn't one of them.
12. Don't spam other members – Don't send unwanted or irrelevant messages.
13. Don't ask for money or gifts and don't send money – Don't ever ask other members for money or gifts. You will be automatically banned and blacklisted for life.
14. Don't respond harshly to rejection – Nobody likes rejection, but you shouldn't lose your cool.
On what services is my profile visible?
You will be visible on the related sites to My Transsexual Date, which includes mytranssexualdate.com and myladyboydate.com.
Why can't I log into my account?
If you forgot your password, use their password recovery page.
If this does not work your account may have been closed by moderators. If you are banned from our server, you usually get a notification by email explaining the reason.
What does it mean when a profile is "unavailable"?
1. Member has suspended his/her account
2. Member has deleted his/her account
3. Member blocked you
4. You blocked the member
ℹ️ Company info
MyTranssexual Date is a dating site for transsexual women and men. The site and service were created by an original trans couple. My Transsexual Date is owned and operated by Building Bridges Limited, Hong Kong.
Other related review