For people who are plus sized daters, trans, or generally standing out from the crowd, they're no strangers to harmful comments online as they date. Body shaming is an unfortunate reality of social media, public online forums, and yes, even online dating.
It's also a very real threat to a person's mental health, well-being, and even safety.
In recent years major dating services, like Bumble for instance, have been taking a stronger stance against unsolicited comments that can be offensive, even going so far as to ban users.
In this article, we'll discuss how body shaming can impact people and who is a victim to it, as well as what you can do to counter or deal with these hurtful comments. Read on to learn more about body shaming, and how you can stop it in its tracks.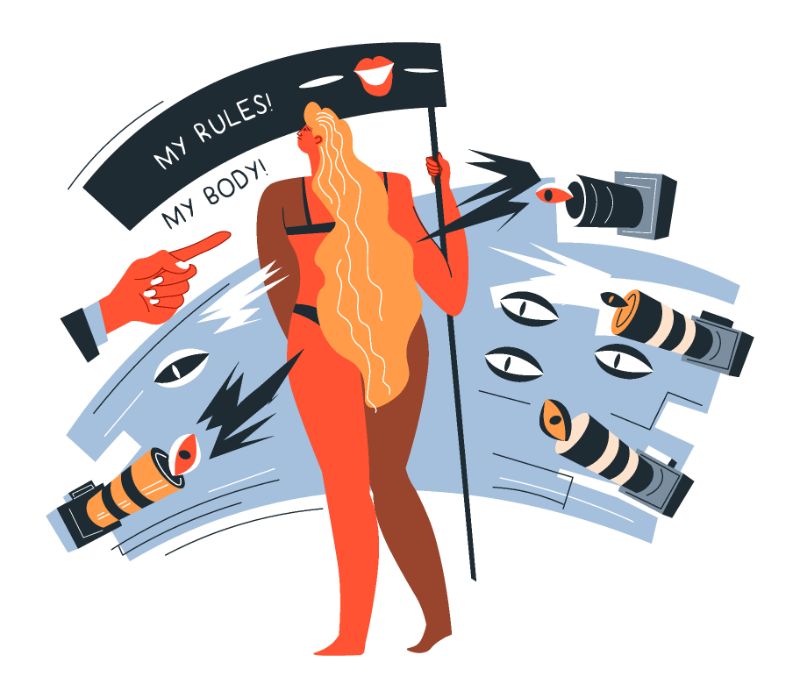 Who is a victim to body-Shaming on dating apps?
Derogatory comments are ever the bane of people who don't exactly feel comfortable with the way they look. These can be people who are overweight and don't fit the societal beauty standard, or people who don't consider themselves as attractive, as well as people in the trans community struggling to learn their identity, and more.
These are the people who are most often targeted for body shaming attacks. These people are most vulnerable to being victims of bullying and can have insecurities that prevent them from trying to date after such an attack.
Whether you feel comfortable shirtless or not isn't really the issue here, though. Identifying specific victims of verbal abuse via body shaming doesn't quite address that in truth anyone can be a victim of body shaming.
Even if some people are targeted more often, anyone can be bullied for being different in some way shape or form, even if they may seem perfect on the outside. They might still have insecurities that hold them back, and leave them feeling vulnerable.
What does body shaming language look like on dating apps?
There are a number of ways that body shaming can look like online, in particular on dating apps and websites. No matter if they are transphobic, fatphobic, or homophobic, they amount to the same hurtful comments about one's appearance.
These kinds of attacks are focused on surface level details about a person, highlighting something that they often want to hide. Whether it is their weight or something else about how they look, verbal assaults are meant to draw attention and criticize that.
That can mean belittling the person to make them feel ashamed of how they look, discouraging them from trying to date or telling them that no one will ever want to be with them.
It can often come across in messages or chats sent to people as a way to push them away, or to target them as a way of making fun of others to make themselves feel better. You can also rarely see body shaming in profiles, although it is mostly in messages.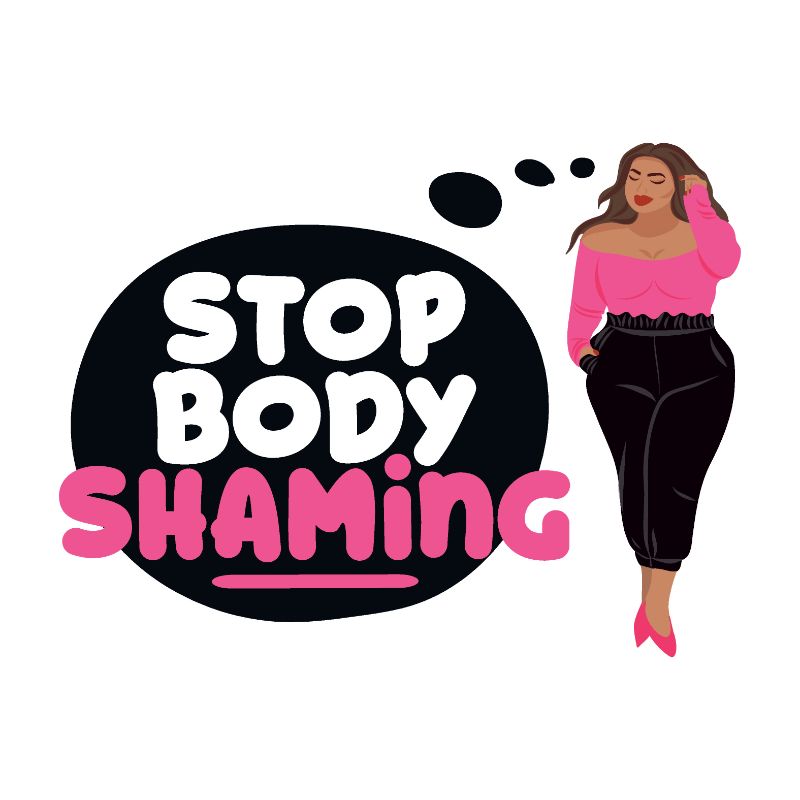 How online dating is different for plus sized daters
People who are plus sized and confronting body shame over their own body shape often have to deal with both body shamers who want to insult them and make them feel bad, and people who fetishize them for their weight.
On top of that, they have their own insecurities to confront as they date, although that isn't true for all plus sized daters. But many do have to deal with a culture that seems to want them to feel ashamed for being overweight, and that can translate negatively to dating.
It's true for many plus sized daters around the world, from Texas to Ireland, as they work to build up the self-confidence to meet someone online for dating. How people react to larger people can differ on what is average for size on a local level, but the issue remains the same.
People who struggle with these issues can also have trouble getting back into dating after they were either spurned or shamed about their weight. On top of that, some people make them feel as if they ought to be grateful for the chance to date someone at all.
Building up your confidence and self-respect to date isn't an easy feat, and shouldn't be taken for granted by people who don't struggle with their own problems trying to find romance.
Curious about how you should flirt with a plus sized single? Check out our guide to learn tips and tricks to improve your game!
Dating app Bumble bans body-shaming
The popular dating app Bumble isn't an exclusive dating app for plus sized dating, but it is a stand out service for ensuring that its users feel safe and respected as they try to find romance.
That's why they have recently taken steps to ensure that body shaming is a banworthy action, especially on the app's chat function where it is most likely to show up. As the app states, this means forcing your opinion of a 'good body' onto others. In so many words:
We're doing this by updating our terms and conditions to explicitly ban unsolicited and derogatory comments made about someone's appearance, body shape, size, or health. This includes language that can be deemed fat-phobic, ableist, racist, colorist, homophobic or transphobic.

Body shaming is not acceptable on or off of the Bumble app. For those who may not know, body shaming means forcing your opinion of a 'good body' onto others. It can come in the form of sending a message to someone that's critical of their body or health, or by stating in your Bumble bio that a certain kind of body is unacceptable or undesirable. Body shaming includes fat shaming, health shaming, criticizing skin or hair, thin shaming, unsolicited opinions, and mocking someone's physical features.

~Bumble Wellness
They rightly believe that one's physical features shouldn't be used as a means to attack or harass an individual. As they correctly state, it has no place on or off any dating platform.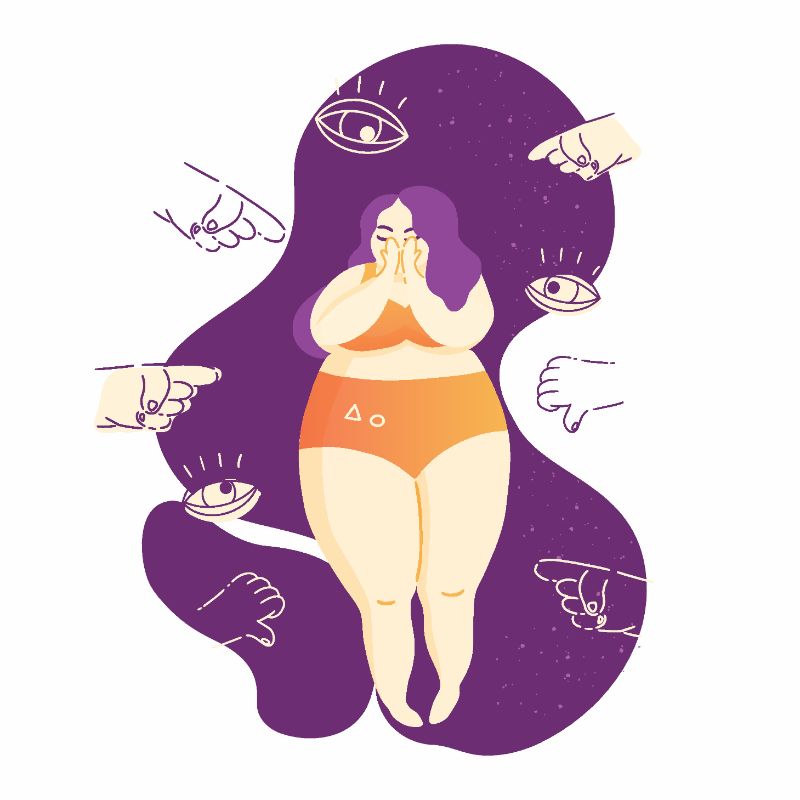 Tips if you encounter body shaming on dating apps
If you encounter inappropriate behaviour coming from body shamers, you should immediately contact a human moderator to report the offense. Automatic detection of offensive language isn't always ideal, so it is best to make the first move.
Don't feed the trolls! You should also not engage with the person in a conversation either, unless you feel as if it was done unintentionally. If you feel like they did it as a mistake, correct them and then you can swipe left on them or see if they are willing to try again.
The important thing to do after reporting the incident to get them banned is to not take what they say as truth. Hurtful comments take obvious statements about yourself and twist them into something negative, when really they should be positive features about yourself.
Take pride in who you are and be confident that someone who is ignorant and just looking to feel better about themselves by belittling others isn't worth your time. Respect yourself, be confident, and keep moving forward until you find someone truly special.
Remember, not all men who want to date plus sized women are doing it as a fetish. Many simply do find them more attractive, and appreciate their personality and charms over other features. 
Plus-size dating online
These are our top recommendations. Pick the right one for you.
eharmony
Get started free
Find the BBW of your dreams
True love awaits
Be2
Free limited profile
Find genuine connections
BBW are waiting for you
Ashley Madison
Best for: Singles looking for no strings attached fun
Free membership: Free registration, limited
Users: 54 million
CupiDates
Large database of verified & attractive Asian and European singles
Efficient communication tools for real relationships
Our instant messaging service brings you closer together than ever before.
EliteCupid
For people who value their career and time. Date like-minded individuals!
Personality assessment for enhanced screening

Global reach. Match with like-minded singles all over the world

Smart matching finds your most compatible partners

Meet your equal in values, lifestyle, and career ambition

In-depth profiling and unlimited search means unlimited matching
OneNightFriend
Meet open-minded people
Flexible payment plans for added features
Free registration
Aussiebang
Explore your wildest fantasies with Aussiebang!
Perfect match for a sex and fuck
Easy sign up process
DateRussianGirl
Popular online communication platform with Slavic women
A variety of verified, active and up-to-date profiles
Protected by world's leading certificate authorities
DateEuropeanGirl
Women here are very easy-going
100% chances to find your perfect match
Personal Data Remains Confidential
SingleCupids
At SingleCupids, we believe that great relationships start with great conversations. Connect with like-minded individuals, share experiences, and ignite sparks of romance. Your next meaningful connection is just a chat away!
Chat & Connect: Engage in lively, meaningful chats with other singles. Whether you're sharing stories or discussing interests, it's all about building connections.
Experience Exchange: Share your experiences and learn from others. Discover the richness of different backgrounds and life journeys.
Dating Redefined: Find potential partners who resonate with your interests and values, making dating an enriching and fulfilling experience.
Virtual Events: Join exciting online events and themed gatherings to meet new people and create memorable experiences.
Privacy & Security: Your data and interactions are safe with us. SingleCupids takes privacy and security seriously to ensure a worry-free dating experience.
Eurobabes
Diverse Russian & Ukrainian Women
3000+ Profiles
Unique Matching
Flirt
Best for: Finding your local flirt
Free membership: Free registration, limited
Users: over 1 million
SingleSlavic
There are enough online Slavic girls to interact with on the platform.
The engagement is high thanks to access messaging functions.
Create meaningful and long-lasting relationships with like-minded singles
Justrooting
Best for: Quick contact
Free membership: Free registration, limited
Users: 90,000
DateYourGirl
Meet real asian, european, and latino singles
Real-time communication with efficient tools
Professional dating services
HotUkrainians
Casual sex encounter with HotUkrainians
Experience the thrill of online sex dating
Find your perfect HotUkrainians match
Body shaming and what to do FAQ
We can't cover everything that has to do with body shaming, as it is a fairly personal and nuanced subject. However, we do hope that this has been informative to you, and in addition have answered some of the most frequently asked questions about body shaming for you.
How can I deal with someone who tries to body shame me online?
If you come across repeated incidents on social media or on a dating service, don't just rely on some algorithm to detect it. Make the first move and report the user to the website or app's moderators using their security services as soon as possible.
Don't interact with the user or message them any further. Wait for a moderator to deal with the situation. If you can block the person, do so immediately. They are not worth engaging and unless it was a mistake, will only try to belittle you further.
You should also ignore any hateful comments they have for you. Focus on your own comfort and well-being, and remain confident in you and who you are. Don't let them get to you.
Are there any safeguards to prevent body shaming online?
Yes, although in a limited manner. If you are particularly self-conscious about your body, you can refrain from using any trending mirror selfies from your iPhone that reveal more than you would like. Stick to pics that are flattering of yourself but aren't trying to hide who you are.
You can also stick to services that are exclusive to the type of plus sized dating you want to enjoy. This is true too for any other kind of dating you might prefer, whether it is trans, plus sized, by ethnicity, or anything else.
Be honest and upfront in your profiles, and make it clear that you won't tolerate any hate speech or body shaming directed at yourself or others.
Is body shaming online now more common?
Yes, in a roundabout way, although much has changed in our culture to address this. Thanks to the coronavirus pandemic, more people now than ever are online dating, and those increased numbers mean generally more people dating.
That's more plus sized daters and unfortunately more people looking to body shame them for their own amusement.
On the other hand, awareness of body shaming and efforts to counteract and prevent it are also more common, and have been growing in strength as well. This is a great counter-balance to the hate online, and will hopefully make it a thing of the past in the near future.