A great profile can make a world of difference on dating sites and dating apps. That can mean finding a soulmate who just clicks with everything you are and want to be. For seniors who want to date with online services for the first time, it can be a big time saver to do it right.
Lucky for you, our dating advice team has come up with some great senior profile examples to help get you started. We'll also give you a quick run-down on what to keep in mind as you build your profile up, and what are some excellent places to start looking for a relationship online!
5 Examples of Senior Profiles to take to heart
If you are the kind of person who wants a perfect match through online dating sites, you'll need a great first impression. For this, your profile is the key. It's an opportunity to clearly state your interests, what you want out of a relationship, and set yourself up for a wonderful first date.
To give you a good start, here are some online dating profile examples to point you in the right direction: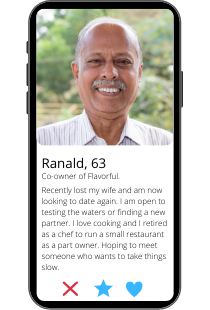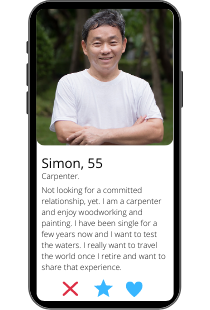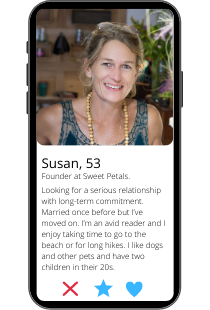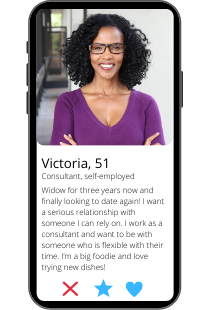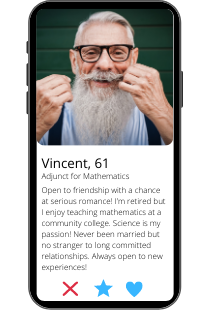 How to Build a Dating Profile When You're Over 50
Now that you have some examples, here are some profile tips to fine-tune your bio. The first thing you want to do when you start building your online dating profile is to find a profile photo that wows suitors. All services, including senior dating, rely on a good picture to have success.
You'll next want to focus on what your goal in the relationship is. After people see your picture, they'll next look to see what kind of relationship you want with that special older guy or woman. This is why you need to be clear with your intentions here.
If you want the best dating profile possible, your next focus will be on creating a story about yourself that engages other users. Don't just list facts about yourself. Draw others in and give them reason to be interested in you.
If space allows, talk about the different things that you are passionate about. Always try to list at least one thing that can help you match with someone for a new relationship where you both share the same hobbies.
Finally, try to be clear about what kind of person you are looking for and who you don't want to date. This can help to weed out any potential poor matches.
As a general rule of thumb, don't sweat the small things like typos or being brief with some of the things you are passionate about. People are more interested in your honesty and it will go a long way toward helping you to find a partner that is just right for you. 
Wonder what the chances of finding love over 50 are? We've got all the important stats for you.
Spicing up your bio and giving them something catchy
Do you have a sense of humor but are worried that it might hurt your dating life? Not to worry! Online daters love someone who knows how to tell and take a joke, or lives life a little differently.
For men and women over 50, life can be vastly different from one person to the next. These experiences can culminate into a very interesting person! Your bio should try to cover that person to let others know that you aren't just a static character.
Here are some different styles you can use for your profile bio. You can try to work each of these elements into your profile, or emphasize just one. It's up to you:
Funny – Adding some humor to your profile is an excellent way to show people that you aren't overly serious or a buzzkill. It also tells them that you are approachable, friendly, and human.
Short – This just means that some people prefer to get straight to the point and trim all the fat. It's entirely up to you whether you expound on some ideas or keep it short. An argument for keeping it trimmed is that less to read means more people will for sure read through the full bio. However, we feel that the more you tell people, the better.
Generic – A generic profile just means that you try to keep certain parts of your bio general. While it is good to include a lot of colorful bits about yourself, you also want to keep it under control. Then again, you are really free to let loose here if you want, but just know that some people might feel intimidated by a lot of extraordinary information right off the bat. Maybe it's better to weed them out though.
Clever – It never hurts your profile to be clever. One of the better dating tips we can give you is that you want to let your potential partner know that you are more than just a pretty face.
Catchy – Make sure to leave an impression! Even if you want to go with the most generic biography, at least either end on a high point that will catch their attention or put in something really amazing. After all, you're here to catch someone's eye!


How to take a good online dating photo
As we mentioned, your pic is one of the most important parts of your profile, no matter how funny or catchy you make it. For hookups or serious love, if you want to get a potential date to notice you, you're going to have to prioritize making your photo the best it can be.
There are a few options for what you can do here. First, focus on headshots. You can include as much of your body as you want as long as it is tasteful, but really use a picture that captures you from the shoulders up. You want them to see you so they know who they are talking to.
If you feel comfortable about your own photography skills, feel free to take the picture yourself. Of course, in real life not everyone is a professional. A bad profile picture is a red flag for many daters, so make sure it looks good.
If you are like many others and not a great taker of pictures, not to worry. You can either ask a friend or family member, or consider using a professional relationships photographer to take your profile picture for you. They know what they're doing already, which helps a lot.
In any case, make sure the picture captures your best side. You want to see warm, inviting, and sympathetic, but also reliable. Senior profile pictures also work best when they project a certain strength and capacity for love and life.
Spend some time looking in the mirror to better learn what your best side is. If you can't tell, ask a good friend!
Where to take your new profile
Now that you know what you want to do with a dating profile, where to go? There are many excellent services that have large 50+ and senior communities. For example, Match.com remains one of the most used platforms for meeting singles who want committed relationships.
Other great options include Ourtime and SilverSingles, both of which offer excellent match-making services and include robust profile creation services. These will give you the most room to work with as you build your ideal profile.