Filipino Cupid is one of the most successful and well-known niche dating sites for connecting people, most men, from Western countries with beautiful Filipino women from both the islands of the Philippines and around the world.
The site boasts helpful translation tools and a Filipino to English translator to help users meet and chat with exotic partners in the hope that they can find an Asian beauty to be a life-long companion and soulmate, and even a potential bride!
Alternatives to Filipino Cupid
Although English proficiency feels like it may be a problem in the long run when you try to meet a new love interest, rest assured! The services Filipino Cupid provides will help you with your tagalog language in getting interested women to communicate with you.
The website also offers exciting and new ways to keep up-to-date with Filipino dating customs, as well as advice on dating Filipino women.
If you have ever thought about dating Filipino women, then read through our review of Filipino Cupid's programs, costs, features, user-friendliness and more!
Check out our ranking table for the best dating sites for Asian singles out there!
Our Summary
When it comes to finding love with a woman from the Philippines, then Filipino Cupid is absolutely a site that you should consider giving a try. It provides a functional and direct way that is safe to meet and contact Filipina women and offers a large userbase to boot!

The big benefit to using Filipino Cupid is that they offer a verified user program which is a way of safeguarding against potential fraudulent behaviour. There are also a decent number of features given to you if you decide to upgrade, which helps your chances greatly.

The only downside to this then is that, if you really want to get some traction meeting someone from the Philippines, you will have to upgrade to either the Gold or Platinum user. This means that standard users cannot send messages, which is a bummer.

However, you can still read messages, so with a catchy-enough profile you can easily get someone's attention, and that may be all you need to find love here. Registering is free, and overall the site is great for the niche of Filipina dating, so why not try it out for yourself?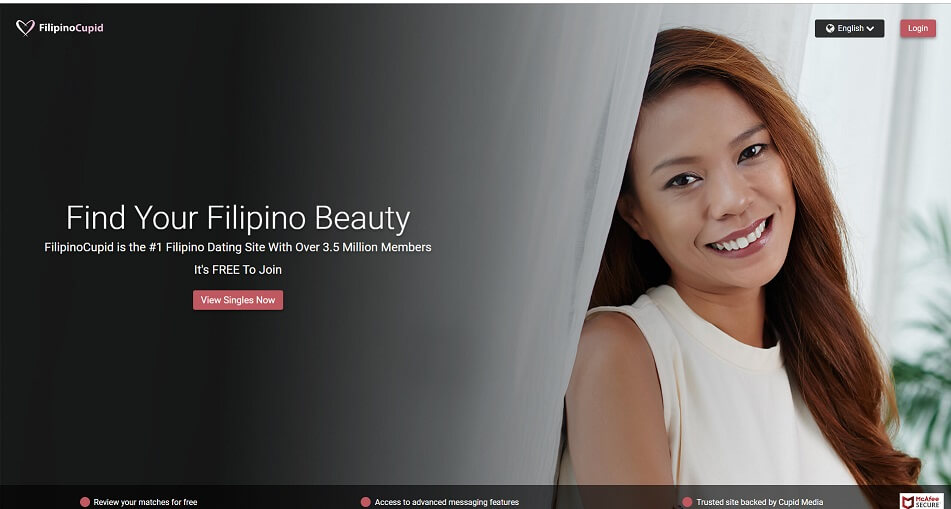 🆓 Free profile vs paid profile review
Are you curious about what the exact differences are between the free standard account and the premium tier service? We compare the two to show you how the paid and free Filipino Cupid dating experiences measure up!
Free membership review
Registration
Profile creation
Basic matching
Send Interest
Communicate with paying members
Paid membership review
Live chat with instant messenger
Send and receive messages
No ads
Hide your profile and browse anonymously
Rank above other members
Double your profile space
VIP profile highlighting
Exclusive search features
Advanced matching algorithms
Translate messages into your language
💰 Types of membership review
There are two kinds at Filipino Cupid, the Gold and the Platinum. Platinum offers you additional services over the Gold tier while also incorporating that tier's features.
All paid subscriptions will auto-renew, so keep that in mind when you sign up.
Premium monthly plans
Gold Membership
| | | |
| --- | --- | --- |
| Duration | Price / Month | Total |
| 1 Month | 34.99 AUD / Month | 34.99 AUD |
| 3 Months | 23.33 AUD / Month | 69.99 AUD |
| 12 Months | 11.67 AUD / Month | 139.98 AUD |
Platininum Membership
| | | |
| --- | --- | --- |
| Duration | Price / Month | Total |
| 1 Month | 39.98 AUD / Month | 39.98 AUD |
| 3 Month | 26.66 AUD / Month | 79.99 AUD |
| 12 Months | 13.33 AUD / Month | 159.99 AUD |
💡 How to reduce costs
Take advantage of their payment plans
We recommend that you take the time to really test out the standard version of the site before you upgrade. Make sure that this is where you want to try your hand at dating before you commit, and when you do, consider doing a 1-month gold subscription.
This will help keep your cost down while you really explore and get under the hood of the website and its services.
📊 Membership structure review
How many Filipino Cupid users in Australia?
There are over 20000 users from Australia, and a grand total of over 3.5 Million users worldwide! That gives you a great chance at meeting someone special here!
Filipino Cupid's demographics of love
There are many men and women who are interested in Filipino Cupid around the world! Here are some general demographics to give you an idea of the site's userbase.
Most female members are from the Philippines
Male users are usually from Western countries
Most users come from the US and the Philippines
Users are often looking for love and relationships
✍️ Registration process and profile creation review
Registering for Filipino Cupid only takes a minute or two to do, and a lot of the steps are optional. However, we think you might want to spend the time to fill in the data they ask for, as it will pay off for you in the long run!
Signing Up

To begin with, you will be asked to provide a username, a valid email address for potential verification purposes, your gender and the gender of your ideal partner, your age, and a password to be used exclusively on the website.


Upload your pictures

You will immediately be taken to a section of the sign-up process that asks you for a picture. This is optional, but you really should consider adding a quality profile picture to give anyone looking at your info a face to put it all to.

Write about yourself

The next section is also optional and asks you to write a heading for people to first read whenever they click on you. It's always worth the time it takes to come up with something that sums up who you are, so we recommend taking the time for this.

Afterward, you will have a larger text field to work with where you can write a paragraph or two about yourself. Feel free to give people some insight into who you are, what your interests are, and what kind of relationship you are hoping to have.

Describe your ideal partner

Much like the previous section, you will be asked to describe what your ideal partner would be like. This includes his or her figure, their age, occupation or income, and general personality.

People on Filipino Cupid tend to want serious relationships, so make sure that you emphasize something which is intended for a long-term romance. Don't include anything crude, as chances are you won't have much luck that way.

Optional account verification

You are now ready to use the site! There is an optional verification which you can do that will show other members that you are who you claim to be.

This involves uploading personal ID and showing it to the website moderators and support staff. Once you have followed all the necessary steps and have been verified, a badge will show up next to your name.
📱 User friendliness review
Filipino Cupid dating site
Registration
The registration process is fortunately quick, and it also has a lot of optional material for you to fill out. Doing so will almost always help you get better results when trying to match, so keep that in mind.
Navigation
The website is generally good with offering a user-friendly experience, allowing users to quickly go from one area of the site to the next fluidly.
Profile
While registering is quick and has a lot of optional information, this does also mean that you will encounter profiles that are sparse on actual info about the user. Be a little wary of these!
Filipino Cupid dating app
The app functions identically to the website, although at the time of this writing there is no iOS available.
Registration
This is the same as the website, and just as quick and easy to do.
Navigation
Navigating is a little slicker than the website thanks to the direct and straightforward design of the app, which is a big plus for user-friendliness.
Adjusting profile
This is simple and can be done at any time by going to user settings and clicking on 'Edit Profile'.
✉️ Contacting users with Filipino Cupid chat
Chatting with other users is a snap and can be done from any search or profile page. However, keep in mind that only premium users can send messages.
How to contact another user:
Find a user that you like
Click on the 'Message' icon next to their picture
A message box will appear where you can fill out your message
Type out what you want to say
Click 'Send' to send your message


👍 Pros and cons 👎
✔️ What we like
One of the most popular Filipina niche dating websites
Many active Filipina women users
No account verification needed
Users can earn a verified badge after completing a verification process
❌ What we dont like
App not available on iOS
Sending messages is strictly for premium members
🙋 FAQ
Is FilipinoCupid an international marriage broker?
No, FilipinoCupid is just a dating website and should not be considered as a marriage arrangement service.
Can I make an account even if I am not a Filipino?
Yes, anyone of any nationality is welcome to join FilipinoCupid.
How do I contact other members as a Standard member?
Standard members can communicate with other members in the following ways:

Send interest to members
Send messages to members
Read messages from premium members
Use the Instant Messenger with premium members
I'm having technical difficulties with my payment. What can I do?
If your payment was successful but you are still not able to use the premium service, FilipinoCupid recommends that you logout and then login again to start a new session.

Further, FilipinoCupid requires certain programs and internet browser settings to work correctly. If you are receiving an error, or are still unable to use FilipinoCupid successfully, please contact their support staff.
What payment methods are available?
FilipinoCupid offers the following payment methods:

Credit Card
Debit Card
PayPal
Bank Transfer
Vouchers
Cash
Other country-specific payment methods

Please note that not all methods are available in each country.
How do I translate profiles?
The "Member Overview" and "Seeking" sections of profiles are automatically translated for you. The translation is based on your language preference and the language preference of the member you are viewing.

For example, if your language preference is English and you view the member whose language preference is Russian, the member's info will be automatically translated for you.
However, if the Russian member has their language preference set to English, but writes their stuff in Russian, the information will not be translated.

Please note that as this is an automated system, if the member's profile contains spelling or grammar errors it may not translate correctly. For a list of languages available for translation, please check the site for more information.
What are the membership options available?
There are three user tiers on FilipinoCupid: Standard, Gold, and Platinum.

Standard is free and allows you to send interest to other members and communicate with Gold and Platinum users.
Gold users can communicate with all people on the site, regardless of their tier.

Platinum users have access to all site features, including advanced matching features, message translation services, and Profile Notes.
How do I report abuse?
You can report another member from several different areas of the site:

Messages: click the "Report Abuse" (represented with the ! icon) while reading their message

Member Profile: click the "Report Abuse" (represented with the ! icon)

Instant Messenger: Click the "More" menu (represented with 3 dots) and then click "Report Abuse"

You will be asked to select the reason of your report and provide your supporting information, then click the "Submit" button. Please provide as much information and evidence as you can so that support can thoroughly investigate your report.
How do I cancel my auto re-billing?
Your subscription will be automatically renewed. You can opt out of auto-renewal at any time. If you have not opted out, then the subscription will be auto-renewed for the periods stated.

You can cancel auto-renewal by:
1. Choosing "Billing" from the Settings menu (represented by a gear icon)
2. Click on the slider next to "Your membership auto renewal is ON"
3. You will be asked to confirm your choice: click "Confirm"
4. Your automatic renewal will now be switched off for the current period. You can change this option back to "On" at any time.
5. To ensure your choice is processed correctly by our system, we recommend you make any changes to your auto-renew settings at least 48 hours before your subscription is due to expire.
6. Please note that if this option is not visible in your Settings, auto-renewal is not available for your current subscription and will NOT be auto-renewed.
How does FilipinoCupid's matching algorithm work?
FilipinoCupid can tailor its match suggestions by using the match criteria you filled out and matching you with users who fit your preference. Similar likes and interest will find you connecting to people, and dissimilar interests will be cut out.
Is FilipinoCupid a legitimate dating website?
FilipinoCupid is owned by Cupid Media who is known to be a legitimate company based in Australia.
Can I temporary deactivate my FilipinoCupid account?
You can choose to delete your FilipinoCupid account and reactivate it by logging into the site and filling out the short Request Membership Reactivation form. This does not take long to do and can be done at any time.
ℹ️ Company info
Filipino Cupid was established in 2000 and is owned and operated by Cupid Media Pty Ltd., which is based in Australia.
We also wrote reviews for the following dating site