ThaiCupid is a dating site that is run by Cupid Media and is intended to give western men a chance to meet beautiful Thai women as well as exotic women from South-East Asia. The site has helped people meet the perfect match for their Asian Fantasy the world over!
ThaiCupid has found the most success through its focus on serious relationships, helping Thai women looking for marriage to establish long distance relationships with people in western countries so that they can have a meaningful partnership.
If you have ever considered looking for a Thai wife, then look no further. ThaiCupid gives you the browsing option you always wanted to meet the person of your dreams. Dating someone abroad has never been easier.
To learn everything that you would want to know about ThaiCupid's dating platform, read our review of their different features, costs, user-friendliness, and the pros and cons of their site.
Check out our Ranking table for the best Thai dating sites!
Our Summary
One of the things that we can appreciate about ThaiCupid is just how focused it is on connecting you with Thai women for dating. This is to say that everything about the site is meant to help you meet people from Thailand to start seriously dating as soon as possible.

Which isn't to say that other dating sites don't offer a similar focus, just that ThaiCupid, which is already focused on a niche market, has the tested expertise of Cupid Media's experience backing it up to ensure users find the most success when looking for dating.

There are a few things that could be improved upon in the site which may have made dating a little more enjoyable, although these are minor. For one, it seemed as if profiles might suddenly be deactivated by admins without warning. This was annoying but fixable.

This did require contacting support, but we were able to verify our account. Secondly, the app felt a little dated in terms of design, so it wasn't as optimal as using the site. Finally, member profiles could sometimes be lacking data, which wasn't always ideal.

Still, we felt that the experience on ThaiCupid was enjoyable and that there was a live community constantly active on the site. Overall, it was fun to use! Messaging was easy and signing up was free, so we encourage you to give the site a try for yourself!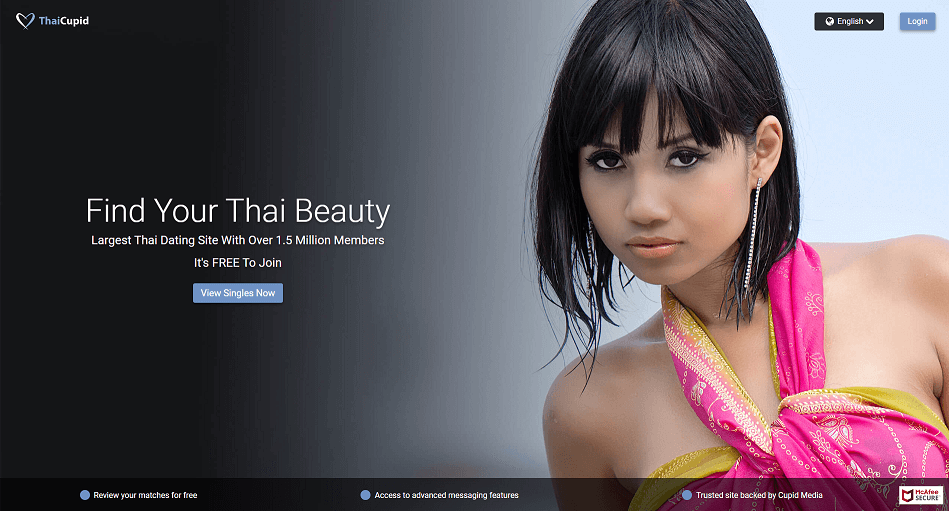 🆓 Free vs paid profile review
The standard account that you get when you automatically join is free of charge and even gives you access to chatting, which is great. From there, the different tiers offer more and more. Here's how they compare:
Standard membership
Basic matching
Send interest
Communicate with paying members
Gold membership
Includes all Standard features
Communicate with all members
Live chat with instant messenger
Send and receive messages
No ads
Hide your account and browse anonymously
Platinum membership
Includes all Standard and Gold features
Rank above other members
Double Your Profile Space
VIP profile highlighting
Exclusive search features
Advanced matching algorithms
Translate messages into your language
💰 Prices
There are two kinds of paid subscriptions that you can join when considering ThaiCupid's premium dating service. Each gives you three different options for how long you would like to subscribe to them.
Premium monthly plans
This subscription will be automatically renewed once it expires. This will ensure continuous access to all the benefits of a premium account so you can enjoy uninterrupted communications with all your potential matches.
You can opt out of auto renewal at any time.
Gold Membership
| | | |
| --- | --- | --- |
| Duration | Price per Month | Total |
| 1 Month | 39.98 AUD / Month | 39.98 AUD |
| 3 Months | 23.33 AUD / Month | 69.99 AUD |
| 12 Months | 11.67 AUD / Month | 139.98 AUD |
Platinum Membership
| | | |
| --- | --- | --- |
| Duration | Price per Month | Total |
| 1 Month | 44.99 AUD / Month | 44.99 AUD |
| 3 Months | 26.66 AUD / Month | 79.99 AUD |
| 12 Months | 13.33 AUD / Month | 159.99 AUD |
💡 How to reduce costs at Thai Cupid
Take advantage of their payment plans
A good thing to always do when first testing out a dating site is to explore its free, standard version fully before considering whether you want to upgrade to a paid account. There's a few things you can do with the free version of the site, such as chatting, that you can try.
After that, we would recommend giving the 1-month gold membership a try. You will still have to cancel your subscription to prevent it from auto-renewing, but this is the best way to dip your feet into the ThaiCupid dating waters without investing too much money.
📊 Membership structure review
How many Thai Cupid users in Australia?
There are currently over 90.000 Australian people looking to start dating people in or from Thailand, and up to 3,000 logins regularly.
Thai Cupid's demographics of love
The majority of Thaicupid's dating demographics tend to suggest that the majority of the site's users are men. However, this data can be a little misleading, as there is also a considerable number of 'lady-boys' who use the site from Thailand.
Here is some more concrete info:
Over 1.5 million registered members
85% of the members are male
Site's frequent visitors are from the United States, Thailand, Germany, France, and Australia
✍️ Registration process and profile creation review
ThaiCupid offers a quick and easy registration for new members who want to start dating women from Thailand, giving you the best access as soon as possible.
Signing Up

The first thing that the site would like to know about you when you first sign up for dating is your name, a valid email address, your sex and the sex of the partner you want to date, and a password to use for the site.
Once you have put this basic information in you can begin to start dating, it's that easy! But before you do, there are some optional things you can add that people will want to know about you.



Editing your profile – basics and appearance

Although you are free to start meeting women from Thailand and to start dating already, people would still like to know as much about you as they can. That means going to the upper-right of the navigation bar and clicking "edit profile".
The first thing that will come up is basic information about yourself that you can edit. This includes your age, name, and location. Below this you can change information about your physical appearance.
This includes info about your hair, body type, what your best feature might be, and what sort of physical art you might have on you, such as tattoos or piercings.

Adding more – lifestyle and background / cultural values

This is a good opportunity for you to let people know some more intimate details about your personal life, including your drinking and smoking habits, religious beliefs, pets you have, your occupation, and what kind of relationship you want.
Below this you can add in some information about your cultural heritage and ethnicity, the number of languages you speak, and some fun bits about yourself like your Chinese sign and your star sign.

Write about yourself

Like with any good dating website, ThaiCupid gives you the opportunity to write about yourself in a short paragraph. This is one of the best ways to give possible dating partners a clear message about who you are before they send a message.

Upload your photographs

Research shows that dating profiles with photos stand the best chance of meeting a potential partner for any kind of dating. That is no different when it comes to using ThaiCupid for finding women from Thailand to start dating!
Try to use pictures of yourself which highlight your best features. A good way to send the right message through your pictures is to use a shot of your head and shoulders, be smiling, and to have clear lighting.
📱 User friendliness review
Thai Cupid dating site review
Registration
The good thing about registering for the website is that everything which is mandatory is quick to do, so you won't have to spend long setting up your account. You are free to add as much or as little as you want later, and even then, it won't take long.
Navigation
This site is a little basic to use, but we can confidently say that it is easy to navigate and user-friendly when it comes to locating members and switching between different pages.
Profile
We really appreciated that the website gave us the option to go and change our profiles at any time, although the usual problem that comes up with optional data is that many other users will have little information about themselves.
Thai Cupid dating app review
The app is essentially the same as the website, which is good for general use, although it does lack any defining feature that sets it apart from other apps and can feel a little basic at times.
Registration
This is just as good as the website and takes little time to complete with all the optional data you can add later being both appreciated and an issue when looking at other users.
Navigation
The app can be a little outdated in its design, but for the most part it was simple to use and offered a functional user-friendly experience.
Adjusting profile
This is something that could be done at any time with just a quick tap onto your account.
✉️ Contacting users with Thai Cupid chat
The good thing about chatting on ThaiCupid is that it is very similar to chatting on Facebook's website. When you click on a user to message them a similar message box will pop up where you can chat. Chatting is available to anyone.
How to contact another user:
Go to the search results page or in the member's profile
Click on the text box icon beside a member's picture
A message box will open up
Type out your message
Click 'Send' to send your message
👍 Pros and cons 👎
What we like
Site is available in multiple languages
1-minute registration process
No email verification needed
Has Facebook registration and login
Instant Messenger can be used by everyone
Available on Android and iOS
App is free to download on Google Play and App Store
What we dont like
Admin deactivates profiles sometimes without warning
Limited usability on Standard Members
Other members' profiles are not completed
App has an outdated design
🙋 FAQs
How do I add a photo to my profile?

ThaiCupid offers many different options for adding a photo to your profile. You can access your Photo Management page by:

1. Choose "Photos" from the member menu (represented by your profile photo or the photo placeholder next to Setting menu)
2. You can add a photo directly from your computer
3. You can also copy photos from your Facebook account

If these options aren't suitable for you, you can click the "Can't upload photos? Try these alternatives »" link to view your additional options.
How do I translate profiles?

The "Member Overview" and "Seeking" sections of profiles are automatically translated for you. The translation is based on your language preference and the language preference of the member whose data you are viewing.

For example, if your language preference is English and you view the profile of a member whose language preference is Russian, the member's account will be automatically translated for you.

However, if the Russian member has their language preference set to English, but writes their profile in Russian, the profile will not be translated.

Please note that as this is an automated system, if the member's profile contains spelling or grammar errors it may not translate correctly.


What is thai cupid?

ThaiCupid.com is a specialist dating and matchmaking website that assists people from Thai and Western backgrounds to find their perfect match.

The site offers friendly service combined with sophisticated search and messaging facilities that will make your search for true love fun and enjoyable.
How much does Thaicupid cost?

ThaiCupid's premium accounts costs as little as 11.67 AUD a month for a year-long subscription, and range in price between the two premium subscription services, Gold and Platinum, and again with how long you choose to subscribe for: 1, 3, or 12 months.
How do I cancel my auto-rebilling?

Please remember that your membership will be automatically renewed. However, you can opt out of auto-renewal at any time. This means that if you have not opted out, the subscription will be auto-renewed for the periods stated.

You can cancel auto-renewal by doing the following:

Choose "Billing" from the Settings menu (represented by a gear icon)
Click on the slider next to "Your membership auto renewal is ON" and switch it "Off"
You will be asked to confirm your choice: click "Confirm".

Your automatic renewal will now be switched off for the current subscription period. You can change this option back to "On" at any time.

To ensure your choice is processed correctly by ThaiCupid's system, we recommend you make any changes to your auto-renew settings at least 48 hours before your subscription is due to expire.

If this option is not visible in your Membership Settings, auto-renewal is not available for your current subscription / account. This means it will not be auto-renewed and you don't have to worry. Always make sure to check though, just to be safe!
What payment methods are available?

Thaicupid offers the following payment methods:

Credit Card
Debit Card
PayPal
Bank Transfer
Vouchers
Cash

Other country-specific payment methods

Please note that not all methods are available in each country. To see which payment methods are available in your country, please check the site for further information.


What are the membership options available?

There are three grades of accounts on ThaiCupid: the Standard, Gold, and Platinum tiers.

Standard accounts are free and allow you to send interest to other members and communicate with Gold and Platinum members. This is fantastic for just testing the waters and getting to see if you really want to try the site's paid features out.

Gold members can communicate with all members of the site, regardless of their member grade. There are more features available here and you can get a much better feel for how everything works. Your chances of dating also go up significantly here.

Platinum members have access to all site features, including advanced matching features, message translation services, and Profile Notes. This is the highest tier on ThaiCupid and promises to give you the best chance possible to start your Thai dating adventures.
How do I report abuse?

1. You can report another member from several different areas of the site:
Messages: click the "Report Abuse" (represented with ! icon) while reading their message
2. Member Profile: click the "Report Abuse" (represented with ! icon)
3. Instant Messenger: Click the "More" menu (represented with 3 dots) and then click "Report Abuse"

You will be asked to select the reason of your report and provide your supporting information, then click the "Submit" button. Please provide as much information and evidence as you can so that support can thoroughly investigate your report.
ℹ️ Company info
ThaiCupid is owned and operated by Cupid Media Pty Ltd, an Australian registered company.

Cupid Media was launched in April 2000 by Andrew and Emily Bolton. Primarily it started with one dating site AsianEuro.com, which is now known as AsianDating.com.

Nowadays, Cupid Media operates 35 niche dating websites which are based on ethnicity, lifestyle, religion, countries or special interests. The services are available in multiple languages.

In 2013, they had a database accident. Its password database had been breached and a section of its user base had been affected. However, affected users were contacted and additional security measures being put in place.
Cupid Media now boasts a robust and modern security system to protect the privacy and guarantee the security of its users.
We also wrote a review for the following dating site