PinaLove is a dating site that caters to men who are looking to make friends and find love with girls from the Philippines. Over 300,000 women from Cebu, Manila, and across the Philippines have profiles on PinaLove and are looking for the best love of their life!
PinaLove fills in the niche of giving easy access to Filipina girls from around the world, allowing members to email, chat, and message them at any time. This means that if you are looking for a Filipina romance, then PinaLove will give you everything you want.
No other dating site offers opportunities for dating Filipina girls like PinaLove. With over 500 new daily members, you're sure to start a new and exciting relationship with Asian singles.
To show you why we think PinaLove stands out, we review PinaLove and look at its members, the user-friendliness of the site and the PinaLove mobile app, and prices.
If you are interested, go ahead and check out our ranking table for the best Asian dating sites available!
Our 2019 Summary
If you would like to start dating women from Manila, Cebu, or somewhere else in the Philippines, then PinaLove is the dating site for you. There are plenty of features to give you good odds at meeting Filipino singles and women, especially compared to other sites that offer this.

However, the site is a little basic in its layout and won't offer you much to do beyond finding Filipino women. There is also a concern for fake profiles, but we did not see any that gave us reason to believe they weren't legitimate. That doesn't mean there aren't fake profiles though. But do you need more than being able to email and message women from Manila, Cebu, or anywhere else in the Philippines to start your dating adventures? PinaLove cuts to the point and focuses on dating and helping you to start dating, which is enough.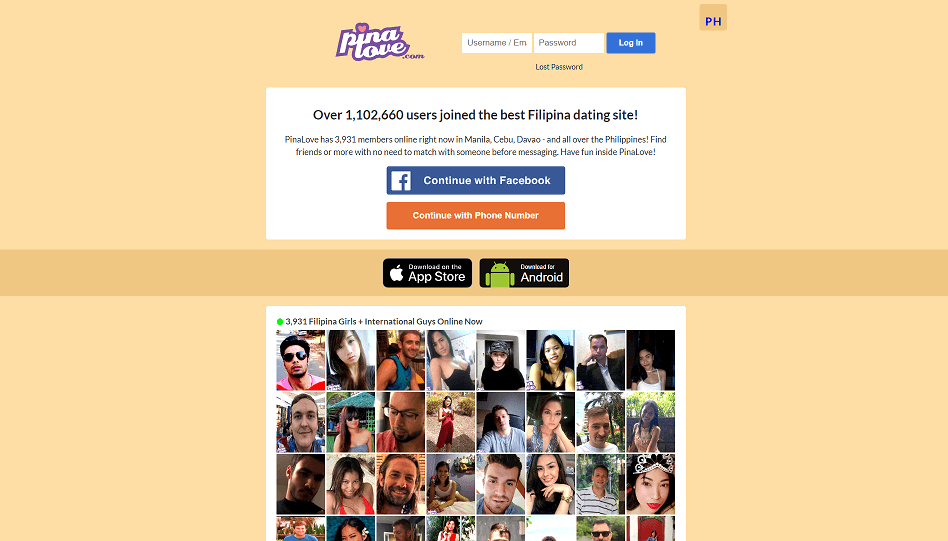 🆓 Free profile vs paid profile
Both the free and premium dating platform service at PinaLove offer you a good chance at meeting someone you can be happy dating, but the premium plan will really open the site's accessibility to you. So how do the paid and free PinaLove dating experiences measure up?
Free membership
Add to favourites
Show interest
Upload photos
View photos
Send one message every ten minutes
Add profile notes
Utilise basic search filters
Paid membership
Unlimited messaging
Advanced search
Control your privacy
Receive more messages
More information
Access to lists
💰 Types of membership
PinaLove has an easy and upfront premium dating plan:
Premium monthly plan
There are 4 different monthly plans for PinaLove. Premium monthly plans are payable in USD only.
| | |
| --- | --- |
| | Premium |
| 1 month | $24.95 |
| 3 months | $49.95 ($16.65 monthly, billed annually) |
| 6 months | $69.95 ($11.66 monthly, billed once) |
| 12 months | $99.95 ($8.33 monthly, billed once) |
30 day and 90-day subscriptions automatically renew. If you do not want to renew you can cancel at any time online and remain a premium member for the remainder of the term you paid for.
💡 How to reduce costs?
Explore the free version of the site
If you want to meet Filipina girls and start dating, you can make contact freely on the site as long as you are patient.
You can send 1 message every 10 minutes for free and reading messages is free.
📊 Membership structure
How many PinaLove users in the AU?
PinaLove has approximately 90,000 members in Australia.
PinaLove's demographics of love
There are mostly male users on PinaLove, approximately 60% of members. However, there are also a significant number of ladyboys on the site, so this percentage is a little skewed.
✍️ Registration process and profile creation
Time needed: 4 minutes.
The registration process for PinaLove requires you to either use Facebook or your phone number. You will be required to fill out your profile to give you the best odds at finding girls.
Signing up

You will need either a Facebook account or a phone number to begin the registration process for PinaLove. If you register with Facebook, your profile data will be taken from there.

If you register via phone you will be sent a six-digit code via SMS or WhatsApp that you must then enter the site.

Selecting a username

When you sign up you will have to create a username. Keep in mind that only premium members can change their usernames.

Building your profile

You will then be asked to fill in information about yourself. Only some of the fields are mandatory, such as language and age, but you can come back later to fill out anything you leave for later.

Select your search preferences

Once your account is set up you can begin to search for potential matches. As a free user, you can search based on Gender/Identity (Filipina Girls, Ladyboys, Filipina Girls and Ladyboys, and Filipina Men), Location, Age ranges, Education, and If they have children.

As a premium member, you can also search by height and weight.

Chatting with Filipina Girls / Ladyboys

Select a profile that catches your eye and a message box will be to the right of their profile picture that you can fill out and send to start chatting.
📱 User friendliness
PinaLove dating site
PinaLove offers a user-friendly registration process that is quick and simple to do, best done with Facebook to import your profile and save you time.
Navigation
PinaLove is an easy to navigate site, albeit a little simple in its layout and design. There isn't much in terms of what you can do, but it does what it is supposed to.
Profile
Your profile is a straight-forward thing that you can add to, requiring verification for photos to ensure legitimacy and compliance with rules. You can add to this anytime.
Chatting
As with the navigation of the site, the chatting features of PinaLove are a bit basic but nevertheless functional.
PinaLove app
PinaLove offers an app on Android phones or Apple phones. The app gives you the best accessibility for messaging, coming off as a better browsing experience.
Beyond this nice improvement, the app functions identically to the website.
Registration
This is the same as the website.
Navigation
The app offers a smoother experience for browsing, so if you are finding the website to be lacking, consider giving the app a try.
Chatting
A bit nicer looking than on the website, but it still has the same user-friendly experience.
Adjusting profile
This is the same as the website and can be done anytime.
✉️ Contacting users with PinaLove Chat
The chat options are simple and easy to use, although some may find them undeveloped.
How to contact another user:
PinaLove has a very simple and direct chat feature. This is fine though, as it does what it is supposed to do.
How to contact another user:
Click on a profile that interests you
Click on the message box to the right of the profile picture
Type and send your message
Keep in mind that free users can only send 1 message every 10 minutes.
Premium users will have unlimited messages
👍 Pros and cons 👎
Pros
Available for non-Filipino speakers
Considered to be one of the biggest Filipino singles dating sites outside of the Philippines
Perfect for travellers in the Philippines
You can upload an unlimited number of photos
The site doesn't promote nudity, photos must be approved
Profiles are checked and verified
Cons
Registration through Facebook or telephone number
Sending messages every 10 minutes (on free account)
Profiles contain only basic info about members
Site's security is not as strict as it could be
No match suggestions


🙋 FAQs
What is PinaLove?
PinaLove is a Filipina dating website allowing international men to meet Filipina ladies from around the Philippines.
How do I temporarily deactivate my PinaLove profile?
1. Go to the account page
2. Confirm your password
3. Select 'Close account'

Your profile will look like it has been deleted but you can reopen it by logging in at any time.
How can I see those who visited my account?
Yes, if you are a premium member you can check the 'Visited Me' list to see who has visited your profile.
Can I browse through PinaLove without creating a new account?
No, you will need to register with either a phone number or your Facebook account.
Does PinaLove do profile validation and background checks?
Yes, PinaLove tracks activity information such as access times and browser profiles. This is done to see if information and profiles are fraudulent.
ℹ️ Company information
This site/app is operated by Oxixo Private Limited. – a company registered in Singapore in 2014. It also operates Datesy and ThaiFriendly.
Mail: [email protected]

Address:
30 Raffles Place #17-01
Chevron House
Singapore
048622
We also wrote reviews for the following dating sites