Meeting men for Gay Dating
Whether you are just out of the closet or were openly gay, meeting gay men for dates can be a tricky thing, as you can read in our 5 reasons why gay dating is so difficult article. However, from political events to gay book clubs and online dating, there are plenty of places to meet gay men!
Opportunities can feel especially hard to find if you really aren't aware of what kind of communities are in your area that are a part of the LGBTQ+ crowd. This is true for men who are recently open about their homosexuality and also for guys who have just moved or aren't as outgoing.
That's why we have put together an article for you on how to meet gay men, including information on what you should know about meeting gay men if you are new to gay dating, where you can start to meet gay men, and why online dating may be the best way to meet gay men.
Read on to get a better idea on what you need to know for dating gay men and what kind of dating apps gay guys use to find the best way possible for meeting your next gay date!
What to know about meeting gay men if you just came out of the closet
If you have only just come out of the closet you are probably feeling a little overwhelmed with your recent announcement. For many men this is a moment of reidentification that demands an evaluation of their life, living habits, and social circles.
One of the first things you should remember about getting started with meeting gay men is that you aren't entirely a new person. You are still you and there's no reason to think that your life has been switched into something different like it was controlled by an on / off switch.
This can be the case for some men, but realistically the feeling that everything is different is a purely psychological one based on your recent announcement. You still have the same tastes in foods, same hobbies, same favorite music and movies and books, and more. You are still you.
What this means is that you shouldn't pretend to be something you aren't or go over the top to try and fit an image of what a gay man should be in order to start dating other gay men. Focus on being yourself and making yourself comfortable both socially and psychologically before you begin.
Once you are ready, you can rest assured that meeting gay men as someone who is confident and sure of who they are will lead to more fulfilling results in your dating life.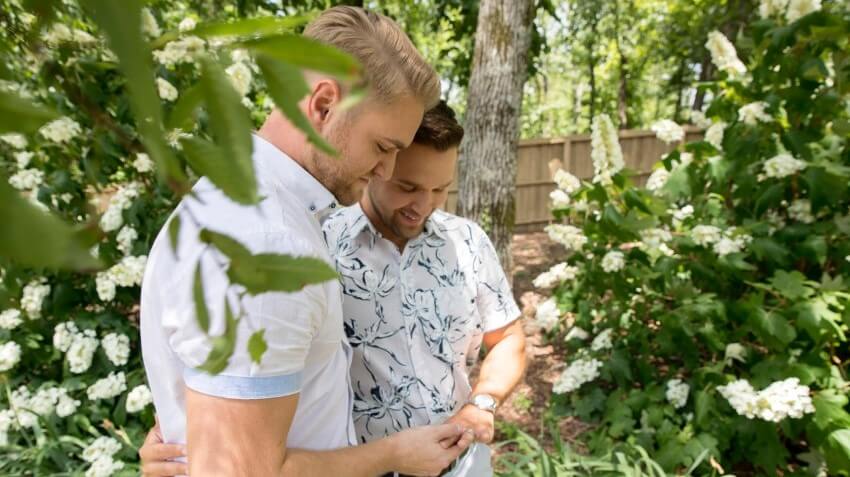 Where can you start to meet gay men?
Once you feel like you are personally ready to start dating men, the next thing to do is find out where the local gay community likes to meet. Naturally, you will find LGBTQ+ in all walks of life everywhere, but here are a few recommendations for finding specific gatherings of gay men:
LGBTQ-friendly churches and faith-based groups – you may not immediately think of these groups when you first think of gay communities, but there are many churches and other faith-based organizations that support the LGBTQ+ community, and work as a great place to find gay men who may share your own spiritual beliefs.


Political events – you can also start to meet other gay men at events where political activism pushing for social rights of the LGBTQ+ community is a priority. This is a great way to meet both likeminded individuals for lasting friendship, as well as single gay men. From your local chapter of GLAAD, to your local LGBTQ community center, you can meet more people than you may have thought were in your area who would be interested in dating!


Gay book clubs – if you are looking for someone who may be a little more shy and not as outgoing as other gay men, but is still looking to interact at an intellectual level, then a gay book club is the perfect place to meet other gay single men. Not only that, but you can get your head into literature about gay living, experiences, and more.
Of course, these are fine ways to meet gay single men, but none of them really hold a candle to the world of online dating and what it has opened for many gay men around the world in terms of opportunities.
Gay Dating online
These are our top picks for online gay dating in Australia.
eharmony
Sign up for free
Detailed profiles
Trusted matchmaking process
EliteSingles
Create a profile for free
Meet like-minded singles
Local dates
Be2
Get started free
Meet local singles with serious intentions
Easy user interface
Academic Singles
Free accounts
Professional singles
Meet someone close by
MyDailyFlirt
Free registration only takes seconds
Male profiles needed
Chat 24/7
Search and View profiles
Guaranteed match
Ashley Madison
Best for: Singles looking for no strings attached fun
Free membership: Free registration, limited
Users: 54 million
Friendswithbenefits
Pay nothing to register
Join hundreds of other Aussies
Start chatting with someone near you now
iDates
Start for free
Connect with fun people
Unlimited chat feature
OnlyFlings
Simple sign up process
Find people looking for flings only
Flings made easy
CupiDates
Large database of verified & attractive Asian and European singles
Efficient communication tools for real relationships
Our instant messaging service brings you closer together than ever before.
DateYourGirl
Meet real asian, european, and latino singles
Real-time communication with efficient tools
Professional dating services
Online dating and meeting gay men
Online dating has become one of the most common ways for people to meet others for either casual or serious dating. For anyone who is looking to meet gay men, for example, it is the perfect modern way to socialize and meet other interested single men for whatever you are looking for.
Some sites, like Grindr and Planetromeo, are more aligned with casual hookups and one night stands, while sites like eharmony, Match, and Zoosk are better suited for helping you to meet other gay men interested in a long-term relationship.
Online gay dating has all the benefits of giving you immediate access to a large community locally and abroad, as well as giving you the freedom to still explore alternative ways to meet other gay men in person.
No matter how you go about starting to meet gay men, remember that the best thing to ensure you have a good experience is to be comfortable with your situation and yourself, and to not try to be something you aren't.