With 270 million dating app users worldwide in 2020 according to the Business of Apps site, it's clear to see that online dating has made a significant impact on how people might meet their significant other. With that many users, there is a large diversity of people with different ethnicities, beliefs, gender identity, and sexual orientation.
For transgender people and other members of the LGBTQ+ community, there is a concern about being able to properly show their authentic self on their profiles.
If a dating app doesn't have an inclusive selection of gender identity options, it can make it difficult and even impossible for a trans person to show their identity to potential matches before they are able to chat and make a proper connection.
In this article, we will share our recommendations for the most inclusive dating apps and explain what makes each of them not only LGBTQ+ friendly, but also unique in their own way.
Before dating someone queer, you probably want to know more about the different terms and their defintions regarding gender identity – We've got you covered!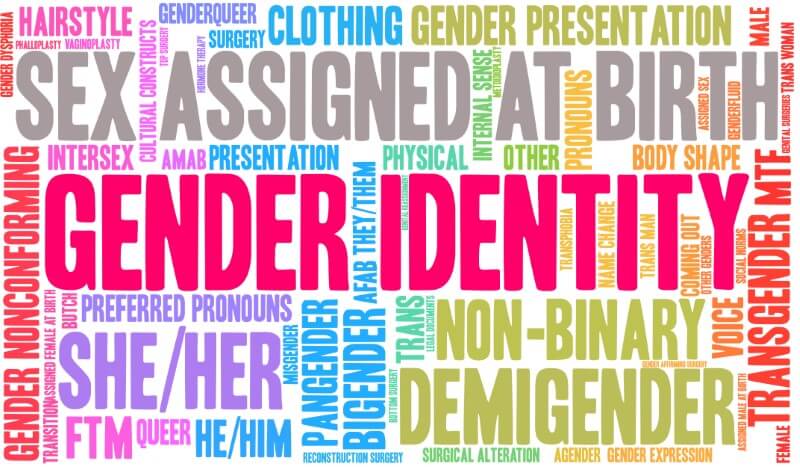 Most inclusive dating apps for transgender and non-binary people
If you're looking for the apps with the best identity options for transgender and non-binary people, check out our recommended list below.
Tinder: Arguably one of the most famous dating apps worldwide, Tinder has worked on improving their inclusivity options in recent years. In their 'I Am' section under their 'more' options, you now have the ability to type in your own gender identity rather than having to choose from a pre-determined list.
The sexual orientation options on Tinder are fairly inclusive and include sexualities such as asexual and queer, but you cannot type your own in and have to choose from the list that has been provided on the app.
Bumble: This dating app is very similar to Tinder. It provides a pre-made list of gender identities to choose from, but it also has an option to type in your own on the 'suggest another option' section at the bottom of that list. You also have the option to choose if you want your gender identity to display publicly on your profile.
OkCupid: This app claims to be the first dating app to provide the option for users to display their pronouns. OkCupid now has 22 gender identity and 12 sexual orientation options, but doesn't let you type in your own suggestion.
A unique feature of this app is an option to answer some gender and sexuality questions that will appear publicly on your profile. Some examples include, "when did you come out?" and "are gender and sexuality labels important to you?"
Hinge: This is another dating app that allows you to type in your own gender identity and choose whether or not to display it on your profile for other users to see. A feature unique to Hinge is you can select who is able to see your profile.
For example, you can choose if you want the other person to be looking for a man or a woman. Hinge recognizes this option doesn't currently include all genders, but it's an interesting feature.
All of these dating apps are available for iOS and Android, and all but Hinge is also available on desktop.
LGBT Dating Online
These are our top recommendations for LGBT dating online. Check them out and pick the one that works best for you.
eharmony
Science based matchmaking
Proven results
Trusted by the LGBT community
Start for free
OnlyFlings
Register free of charge
Your local fling awaits
Adult dating made simple
Meet fun-loving people looking for easy going good times
iDates
Memberships are free
Start connecting instantly
High-quality, verified profiles to browse
Dating made simple
Ashley Madison
Best for: Singles looking for no strings attached fun
Free membership: Free registration, limited
Users: 54 million
EliteCupid
For people who value their career and time. Date like-minded individuals!
Personality assessment for enhanced screening

Global reach. Match with like-minded singles all over the world

Smart matching finds your most compatible partners

Meet your equal in values, lifestyle, and career ambition

In-depth profiling and unlimited search means unlimited matching
OneNightFriend
Meet open-minded people
Flexible payment plans for added features
Free registration
Aussiebang
Explore your wildest fantasies with Aussiebang!
Perfect match for a sex and fuck
Easy sign up process
DateRussianGirl
Popular online communication platform with Slavic women
A variety of verified, active and up-to-date profiles
Protected by world's leading certificate authorities
DateEuropeanGirl
Women here are very easy-going
100% chances to find your perfect match
Personal Data Remains Confidential
SingleCupids
At SingleCupids, we believe that great relationships start with great conversations. Connect with like-minded individuals, share experiences, and ignite sparks of romance. Your next meaningful connection is just a chat away!
Chat & Connect: Engage in lively, meaningful chats with other singles. Whether you're sharing stories or discussing interests, it's all about building connections.
Experience Exchange: Share your experiences and learn from others. Discover the richness of different backgrounds and life journeys.
Dating Redefined: Find potential partners who resonate with your interests and values, making dating an enriching and fulfilling experience.
Virtual Events: Join exciting online events and themed gatherings to meet new people and create memorable experiences.
Privacy & Security: Your data and interactions are safe with us. SingleCupids takes privacy and security seriously to ensure a worry-free dating experience.
Eurobabes
Diverse Russian & Ukrainian Women
3000+ Profiles
Unique Matching
Flirt
Best for: Finding your local flirt
Free membership: Free registration, limited
Users: over 1 million
SingleSlavic
There are enough online Slavic girls to interact with on the platform.
The engagement is high thanks to access messaging functions.
Create meaningful and long-lasting relationships with like-minded singles
Justrooting
Best for: Quick contact
Free membership: Free registration, limited
Users: 90,000
Friendswithbenefits
No cost to get started
Browse wide range of profiles
Find a naughty friend near you
HotUkrainians
Casual sex encounter with HotUkrainians
Experience the thrill of online sex dating
Find your perfect HotUkrainians match
Be2
Free membership types
LGBT friendly
Start matching today
Over 30m global users
DateYourGirl
Meet real asian, european, and latino singles
Real-time communication with efficient tools
Professional dating services
CupiDates
Large database of verified & attractive Asian and European singles
Efficient communication tools for real relationships
Our instant messaging service brings you closer together than ever before.
Academic Singles
Get started at no cost
Meet educated singles near you
Find friendship and love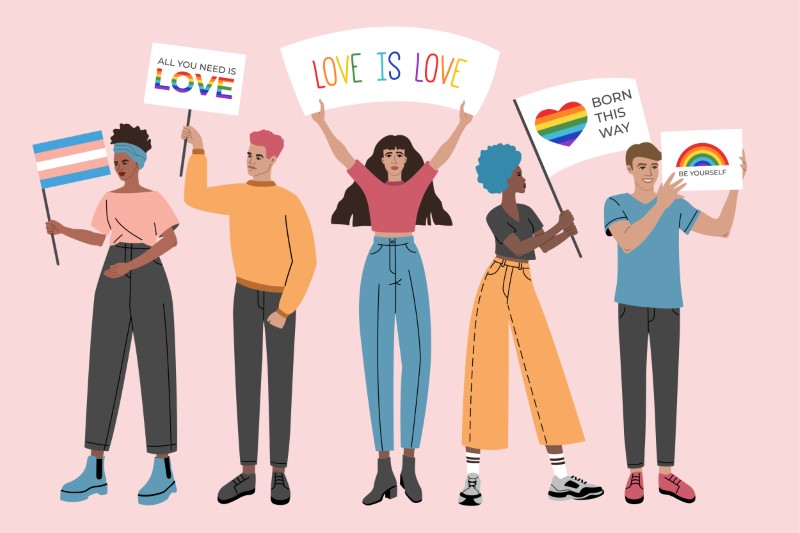 Tinder gender identity options
Tinder has had their More Genders feature since July 2020 and had first tested it in parts of Europe in 2017 and in Australia in 2018. Tinder claims that they have worked with organizations such as GLAAD to help provide an inclusive atmosphere for trans people.
As already mentioned, this feature allows users to type in their own gender identity without being restricted to a list that is provided by the app.
Users also have the option to be shown in searches that best reflect their gender identity as well as choose to display their identity on their profile.
Bumble gender and sexuality options
Bumble's gender identity options function very similar to Tinder's, where you have the ability to type in your own identity. Bumble also has an extensive list of genders to choose from that include genderqueer and two spirit.
However, there is no option to choose a sexuality label to display on your profile. The only option available is whether you would like to be shown to users looking for men or women, which is not as inclusive as other dating apps.
Bumble was created with a messaging system where a person identifying as a woman can message their match first, which may be why they aren't as inclusive as other apps.
Transgender symbols on Bumble
If you identify as transgender and choose to display it on your Bumble profile, there will be a tag with the corresponding symbol added among other tags such as your height or astrological sign.
This feature can be useful for people that are comfortable with being more open about their gender identity and are looking to make it more visible to potential matches. Because the symbol is included next to other notable information about you, it will be difficult to miss if another user decides to take a look at your profile.
Wonder which one of the two most popular dating apps is better? Check out our article Bumble vs. Tinder for a definite answer!
OkCupid gender identity options
OkCupid is one of the dating apps that doesn't have an option to write your own gender identity, so what are the options that it provides?
This is a list of their 22 genders:
agender, androgynous, bigender, cis man, cis woman, genderfluid, genderqueer, gender nonconforming, hijra, intersex, man, non-binary, pangender, transfeminine, transgender, trans man, transmasculine, transsexual, trans woman, two spirit, woman
Here is also a list of the 12 sexual orientation options:
asexual, bisexual, demisexual, gay, homoflexible, heteroflexible, lesbian, pansexual, queer, questioning, straight
At a glance, the gender and sexuality options on OkCupid are rather inclusive, but with the inability to type your own identity in, it may be excluding other people that are not included in both lists.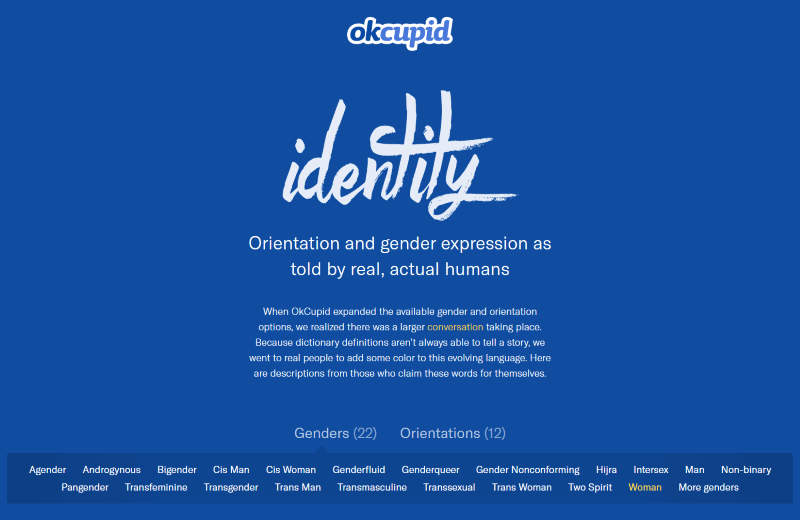 Hinge gender identity options
On Hinge, you have the ability to type in your own gender identity, but it also suggests genders as you begin to type in a word. For example, if you type in 'trans', some suggestions that appear include; trans man, trans woman, trans person, and transfeminine.
If you simply click on the 'how you identify' line without typing anything, Hinge offers more suggestions such as; third gender, non-binary, intersex, and genderqueer.
Beyond the gender options, you also are able to choose if you would like to be visible to people looking for a man or woman. Unfortunately, this feature is lacking in inclusiveness like Bumble, but hopefully it can be updated to be more inclusive in the future.
Facebook's dating app
It may be unexpected that a social media site makes its own dating app, but Facebook has done exactly that. Although you of course need a Facebook account to join their dating app, Facebook says that your dating profile will not appear on your main account.
Despite the claim that your dating profile is separate, there is no separate Facebook dating app. It's already part of the original Facebook app and simply exists as a feature to opt in to. This fact raised concerns in Europe and delayed the launch of the dating feature to take a closer look at the security behind it.
Facebook Dating is already part of Facebook which makes creating a profile very simple as it can fill your profile with information that you have already provided on your main account. Besides it pre-filling your information, it seems you also have the option to update or change it to your liking.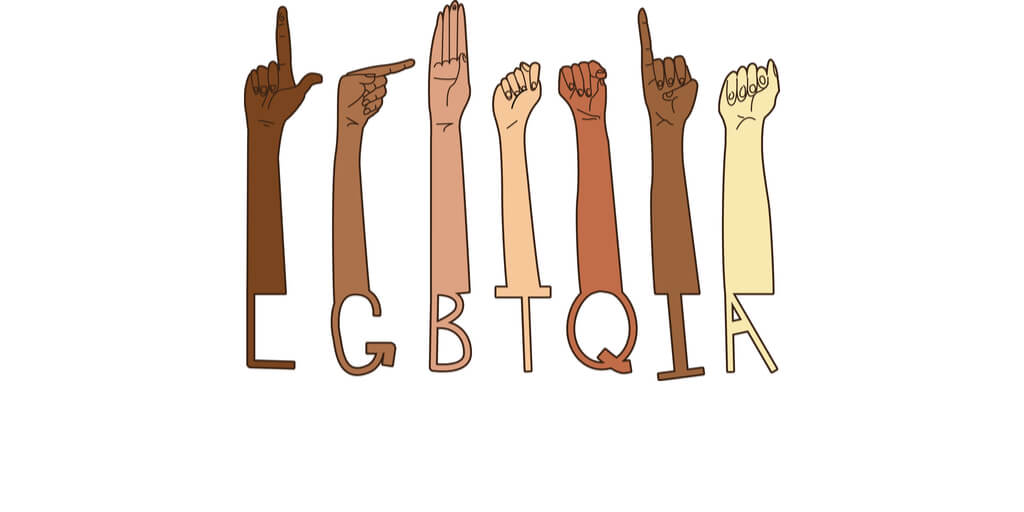 Some other features of Facebook Dating include:
Personality questions such as "The song that always gets me on the dance floor is…"
A completely free service with no pay wall
Connects to Instagram and other Facebook services
Profiles are easy to build
The notable pros of Facebook Dating include the fact it is one of the lgbt dating services that's completely free to use, and it's easy to build a profile when it pulls information from your main Facebook account.
Of course, no app or feature is perfect. The cons of Facebook dating include not providing a desktop version and the obvious requirement of needing a Facebook account to use the service.
There are many different dating apps to choose from and everyone should choose whatever app feels best for them. With our descriptions of some of the most popular apps, we hope that it has given you insight on what dating app you would like to try.
It's always up to you to make the best decision for yourself and do things in whatever way you feel the most comfortable.