Only Lads is a high quality and hassle-free gay dating, social networking and gay chat service that you can use either via their website or their mobile app. Only Lads prides itself on being built by gay men, for gay men and has over 3 million registered users worldwide!
Alternatives to Only Lads
As a gay dating service for men, Only Lads makes it easy to search nearby for hookups and casual encounters. It even offers a gay dating app that is easy to use! The ease of both the website and its app saw Only Lads' growth into a recognized and reliable service.
Only Lads has been built from the ground up by gay men looking to provide a top-quality service to other gay men means that Only Lads is designed to fulfil the expectations of new users coming to the site and to keep them around.
Millions of people the world over enjoy the site for this reason, along with its affordable prices and slew of features for both free and premium users.
Whether you like to contact guys from the comfort of your home or while you are on the go, the Only Lads website and app will give you access to people in your area who are eager to enjoy some of the best gay dating services on the market.
To show you why we think Only Lads is one of the best gay casual dating sites around, we review Only Lads and look at its members, the user-friendliness of the site and the Only Lads mobile app, and its prices.
Our Summary
Only Lads offers a gay dating service that gives you a straightforward way to connect with other gay and bisexual men for fun, casual dating, and even something more serious. Even without the unique features you might want out of other apps or sites, there is a lot of opportunity to ensure that your dating experience is successful. Free members will have plenty of chances to use and experience some of the site's best chat perks.

You will enjoy the site's features for a limited number of times with the free membership, but you still get a lot of uses out of each feature for the site. We found this to be more than enough for men who are looking for friendship or any kind of relationship through gay dating apps. The only real downside to the site and its app was that profiles don't need to be finished to show up, meaning there were a fair number of members with almost no information. Still, this is a streamlined service that will ensure you enjoy yourself.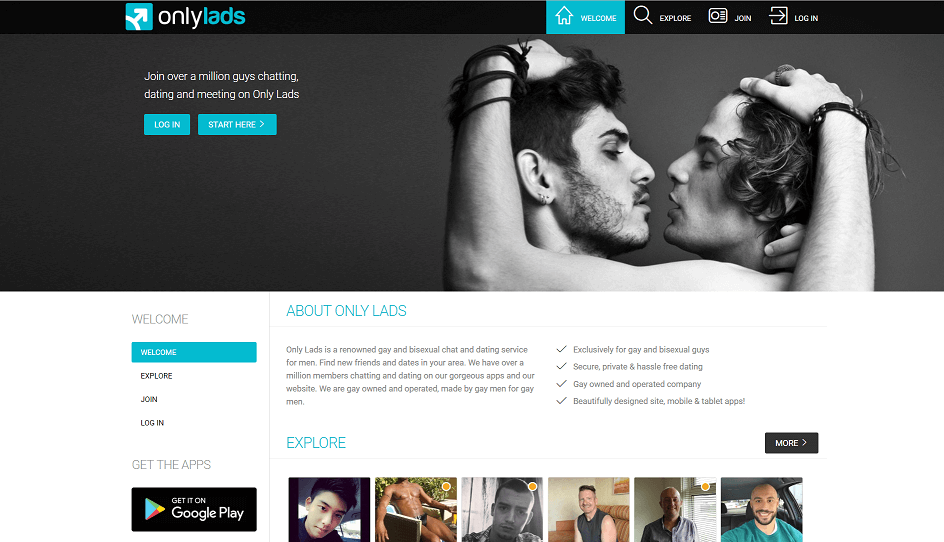 🆓 Free profile vs paid profile review
You will find that the free membership gives you a lot of options to start your gay dating experience but may be restricted for some users. In this case, you might want to upgrade, but how do the paid and free Only Lads dating experiences measure up?
Free membership
Sending 'Icebreakers' (a wink, a smile, a wave, or a poke)
Adding users to 'favourites' (maximum 20 users)
Chatting – sending maximum 3 messages per day
Adding friends (maximum 10 users)
Browse a maximum of 50 profiles per day
Access a maximum of 10 pages of search results
Paid membership
Unlimited number of messages sent per day
Unlimited number of members in your 'Favourites' and 'Friends' lists
Unlimited number of 'Icebreakers'
Browse an unlimited number of profiles per day
Unlimited access to search results
Control websites adverts which mean you can turn off/on them
Create advanced searches
💰 Types of membership
Only Lads offers a single type of premium dating membership on a monthly subscription service. New users who have just registered will get to try the premium dating service for free automatically.
Premium monthly plans
Premium membership is a monthly/quarterly/bi-yearly/yearly subscription charged between AUD 11.27 – AUD 94.66. Prices can vary depending on promotions and deals that Only Lads is offering, which is quite frequent. These discounts can range between 30% to 46%.
| | |
| --- | --- |
| Subscription plans | Monthly prices |
| 1 – 12 months | AUD 11.27 – AUD 94.66 |
The average cost on a monthly basis is:
• 1 Month AUD 15.15
💡 How to reduce costs?
1-day free premium membership at registration
When you first register with the site you will be given a free 1-day premium membership. This will really let you explore the site's features to their fullest to see if you want to upgrade later.
Free version of the site
The free version of the site, while limited in the number of times you can do various things, still gives you time to try out all that the site has to offer and can be more than enough to chat and meet with other guys. Really give this a try to see if you want to upgrade!
Take advantage of offers and deals
We feel that Only Lads offers a very affordable monthly membership, especially over other sites. To top it off, Only Lads also frequently offers deals to lower the cost further, so if you really want to, wait for an offer to save a few pounds! You won't regret it!
📊 Membership structure
How many Only Lads users in Australia?
Only Lads currently has over 1 million users worldwide, with almost 100.000 million registered users in Australia alone.
✍️ Registration process and profile creation
Time needed: 3 minutes.
Only Lads has two options for signing up, with the first being a traditional sign-up using your email account and the second being registration through Facebook. If you register through Facebook your profile will have all the information taken directly from your Facebook account.

If you register through email, the registration process is quick and easy to do, and you can finish your profile later if you would like.
Signing up

Select whether you want to sign up with either Facebook or with an email address. See above for the benefits of either option.

Create your profile

You will be asked to create a username with either your first name or a nickname. You will also be asked to select whether you are gay or bisexual.

Your details

This includes a valid email address for verification later, a password for the site, your age and your location.

Building Your profile

You will now be able to create your profile across 5 different pages. The first asks for photographs, the second asks for a description of yourself and details about your physical build and what your personality is.

The third page will ask for a description of what you are looking for in a partner, their age range, and what kind of activities you would be interested in. The fourth page asks about your lifestyle and hobbies, and the final page asks for a cover photo.

You can then preview your profile. You can skip all of this when you register and come back to add to it later.

Start chatting

You can now browse through profiles that catch your eye and meet guys for chatting. You have a lot of options for contacting other users, including icebreakers and normal chat messages.
📱 User friendliness review
Only Lads dating site
Guys who like the best gay dating services will be able to find a great online home with Only Lads. The site is easy to understand and simple to register with, giving you options with how you want to do it.
The easiest method is with Facebook, which will fill in a lot of information.
You can also manually put your data in at any time after you have verified your account. Guys will find it best to fill out their profile immediately though to give other users something to look at right away.
Navigation
The site is very direct in giving you options to begin to chat with other members and to meet someone new. The interface is simple but easy to understand and will only take you a moment to learn how to navigate.
It is also modernized in a way that is effective and pleasing to look at, which is nice for any guys chatting.
Profile
The profile is easy to fill in and robust enough to feel complete. You can update this at any time. Just simply click the 'Update Profile' found on your 'Home' page or in the drop-down menu under your name. This is very convenient and great for users.
Only Lads dating app
Unlike many other gay dating apps, Only Lads enjoys giving you the best that it can with either its website or its app. This means that the app is very similar to the site and you can expect the same type of smooth experience.
Registration
Like many other dating apps, this is a quick process and resembles the website that it is based off.
Navigation
This is a slightly simpler view of the website and works the same way.
Adjusting profile
You can adjust your profile at any time just like you can on the website. Follow the same steps.
✉️ Contacting users with Only Lads chat
Only Lads' contacting features are basic for both gay dating websites and apps. However, what makes it different from other gay dating sites and apps is that it offers many perks to its free members. There are 5 different contacting features on Only Lads:
Icebreaker – sending either a wink, a smile, a wave, or a poke to other members
Chat – send messages to other users
Favourites List – contains interesting members that you have favourited
Friends List – the members you approved to be part of your Friends list or who have approved your friend requests
Search nearby – displays nearby members
If you just want to send another member a quick message, it's very simple:
Click on the profile you like
You will see the different contact options here
Select 'Chat'
Type your message and click 'Send'
👍 Pros and cons 👎
Pros
You can set your cover photo above your profile picture
One-day premium membership trial
Fast registration max. 3 minutes
Creating your network of friends
Advanced preferences set – the possibility of search for eg. workout partner, friendship, group casual, travel partner, relationship etc.
Set up your profile later
Clear user interface
Free account allows you to interact quite well with other users (generous perks)
Cons
Lack of features that stand out from other sites and apps
Profiles are shown to you depending only on location (nearby or localisation you set)
Many profiles without photos
🙋 FAQs
Is Only Lads only for gay men?
Yes, the dating site is exclusive to gay and bisexual men.
Does Only Lads offer premium membership?
Yes, the dating site has one type of premium membership that can last for a month at AUD 15.15.
Can I temporarily hide my Only Lads profile?
Unfortunately, there is no option to temporarily hide your dating profile.
Does Only Lads offer refunds?
Under no circumstance are refunds offered to members who decide to cancel their premium dating membership.
What is an 'Icebreaker'?
An 'Icebreaker' is a quick contacting feature of Only Lads that you can send for free. You can send either a wink, smile, wave, or poke. This is good to start gay and bisexual chat.
ℹ️ Company information
Only Lads is owned and operated by 'Rocketware Limited'. Only Lads was founded by entrepreneur Jimmy Forrester-Fellowes. Only Lads is gay owned and operated to boot.
Rocketware is a young company that builds and runs online and mobile products and services. Their main product is Datingnode, a contemporary mobile optimised dating platform that powers numerous popular and market-leading dating brands.
We also wrote reviews for the following dating sites