With many adults around the world suffering from clinical depression, it's not uncommon to find yourself dating someone with depression. But depression doesn't have to get in the way of having a healthy and fulfilling relationship.
Much as in other relationships, a relationship with someone who struggles with depression can require thought, care, and balancing each of your individual needs. The more you know about depression and what your partner is experiencing, the more prepared you can be for any challenges along the way.
Read on to learn more about how depression may affect a relationship, signs of depression, what it is, as well as some tips for dating someone with depression.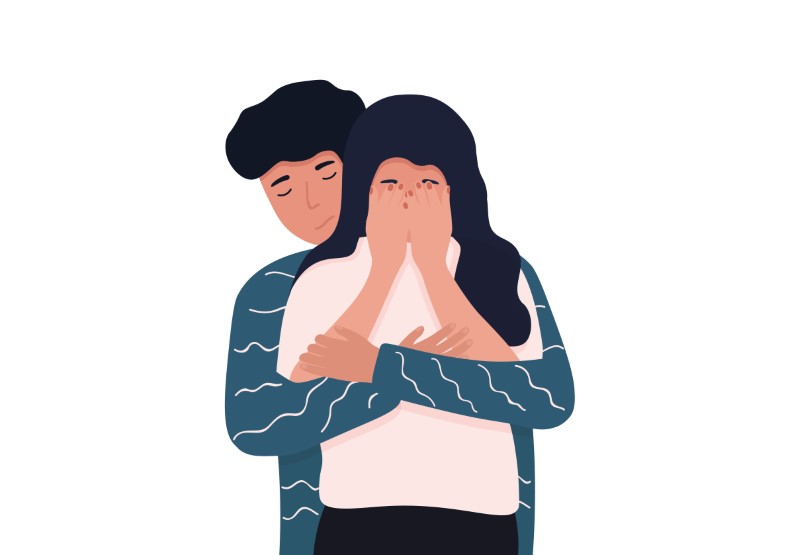 How to know if you are dating someone with depression?
The experience of dating someone with depression can vary between relationships, each with its own unique strengths and weaknesses.
If you're in a relationship with someone with depression, you may notice that some challenges can be unique to the beginning of the relationship, while others may appear later. Understanding these challenges can help you keep your relationship healthy.
Early challenges
If you've recently started dating someone with depression, earning their trust might be an early challenge. Some people who experience depression may find it difficult to enter the dating world and be vulnerable to another person, as it might lead to rejection and judgment.
Communicating openly with your partner about how you feel and listening to their needs may help you create a safe and trusting environment.
Long-term challenges
When dating someone with depression, like in any relationship, some challenges and patterns may rise later in the relationship, which can lead to distancing between partners.
When one partner experiences a depressive episode, they may spend more time alone, limiting quality time together. You may feel like your partner is not mentally present, even when they are with you physically. This can create loneliness in the relationship and—combined with lowered libido sometimes caused by depression—may make the relationship feel fragile.
Despite all of this, it is very possible to have a healthy relationship with a depressed partner. With the right approach to helping your partner and yourself, and with a willingness to learn, many challenges related to depression can be managed or avoided altogether.
What is depression?
Learning about depression may help you create a healthy relationship with your depressed partner.
Depression is more than just sadness or a lack of motivation—it is a mental health condition that makes it hard to enjoy life fully. People who struggle with depression may often feel empty, numb, and lifeless.
While there are ways to treat depression, there is no one-size-fits-all cure. For many, depression comes and goes in waves over time. This means that if you're dating someone with depression now, they might have some depressive tendencies or episodes in the future, too.
Keep in mind that the person you're dating is defined by much more than their depression.
Signs of depression
There are several common signs and symptoms of depression, including:
pervasive negative thoughts
low energy and/or motivation
sleeplessness or oversleeping
sadness, irritability, and/or a feeling of emotional numbness
a lack of interest in usual hobbies, goals, and activities
trouble concentrating
new body aches, pains, and/or fatigue
hopelessness and/or suicidal ideation
Signs of depression can vary from person to person and can range from mild to severe. Some people may mask their depression, turning to overworking, using substances, or just faking a smile to hide what they're actually experiencing.
Causes of depression
Depression can be caused by a variety of events and factors:
Past events: Some causes of depression are external, such as experiencing trauma or past abuse. These might affect your partner's attachment style and make it challenging for them to feel comfortable in a relationship.
Low self-esteem: Low self-esteem can cause or exacerbate depression. If your partner views themselves negatively, they may avoid getting close to others, leading to loneliness and worsening depression.
Physical health: Depression can be caused by biological factors. Hormones, genes, chronic pain, and even some medications may trigger depression in certain people.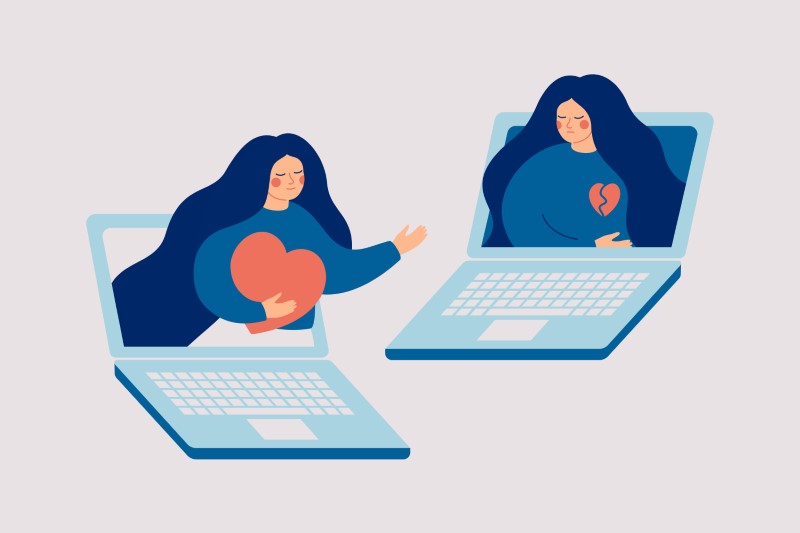 How to help: tips for dating someone with depression
While encouraging your partner to seek professional support can be the best way to help, there are many ways for you to support them, which may also improve your relationship.
Learn and ask questions
Not everyone experiences depression the same way, and not every depressed person wants the same kind of support. Offer compassion, stay curious, listen and learn, and ask what would actually help them when they're feeling down.
Create a safe space
When inviting your partner to go out or spend time together, try to let them know that they can decline, without creating guilt or shame since it might make them feel like they don't live up to your expectations.
Focus on them
Sometimes, well-intentioned partners and loved ones may use their own feelings and concerns to encourage others to get help for their depression.
For example, phrases like "I'm worried about you. Seeing you down like his makes me feel down too" may make your depressed partner feel like a burden for negatively affecting people around them.
Focusing on your partner's feelings and experiences when trying to offer help can go a long way.
Be present
Being present with your partner may often be a powerful way to help someone with depression. You can try to consistently offer support and let them know that you're there for them, even if they isolate themselves. At the same time, try not to overwhelm them.
Encourage professional help
If the person you're dating isn't already seeing a mental health professional, like a psychotherapist, encourage them to do so and offer practical help. Offer to help them find a therapist nearby, and ask if you can walk or drive them to their first appointment.
You can help them find a therapist nearby, offer to walk or drive them to the appointment, and give them the number of the local hotline or an organization that can help.
Seeking help can be difficult, but your support can make all the difference.
Self-care when dating someone with depression
Having a healthy relationship with yourself can be important for maintaining a healthy relationship with a depressed partner. Self-care, a healthy mindset, and balancing your needs with theirs can help your relationship thrive.
Date yourself
If you haven't started dating yourself yet, now is a great time.
While you may be spending a lot of time and energy focusing on your partner's mental health, try to keep in mind that your mental health and well-being matter too. Spend time learning about yourself, get to know your own emotional needs, and don't feel guilty for taking the time to treat yourself.
Have a support system
Having your own friend group and support system—outside of the romantic relationship—can help keep you grounded and help you recharge during challenging times.
While you may want to share all of your relationship experiences with your friends, use your judgment and try not to share information that your partner might wish to keep private.
Check your expectations
Dating someone with depression can be draining if you don't have realistic expectations. Ultimately, you may not be able to help your partner by yourself, and hoping to "cure" them may result in disappointment.
Don't take it personally
It can be possible to take your partner's depressive episodes personally, which may lead to arguments. Try to keep in mind that their depression and its symptoms aren't personal, and even if your partner may seem distant, it might not reflect how they truly feel about the relationship.
However, depression is never a reason for someone to hurt you or act in abusive ways.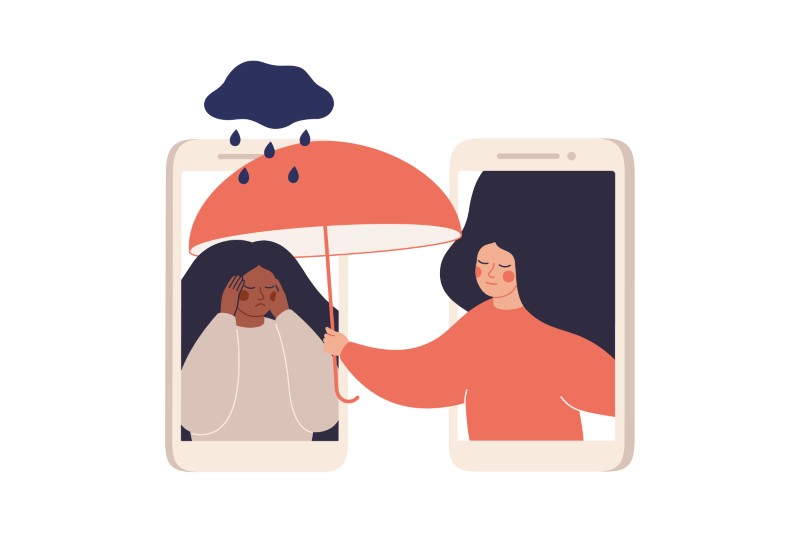 Ending a relationship with a depressed partner
While many relationships involving someone with depression may never lead to a breakup, there are some instances where it might be healthy to end the relationship.
Although depression can affect a person's mood in surprising ways, it is never an excuse for abusive or violent behaviour. Whether your partner is depressed or not, be aware of the signs of toxic relationships and toxic relationship cycles. If you keep cycling through relationship problems, emotional ups-and-downs, or abusive behaviour, it might be time to call it quits.
FAQ on dating someone with depression
Is dating good for depression?
If you struggle with depression, dating can help you get out of your comfort zone. It can also help you face any fears or negative beliefs you may have about dating and relationships.
It's important to check in with yourself throughout the dating process. Take your time, and don't rush yourself. If dating seems to trigger more negativity or hopelessness, stop and reassess. You can also discuss your concerns with a therapist.
Can online dating cause depression?
Online dating itself doesn't cause clinical depression, but it can illuminate some insecurities, which can lead to us feeling down.
If online dating causes you to question your worth, you take a break from it or try a dating site that caters to the type of relationship you want, rather than relying on quick swiping.
Can depression make you less attracted to your partner?
People with depression may start to feel uninterested in their partner, though this might often coincide with a lack of interest in other things you once loved.
Your sex drive may dip, and those butterflies you once had might disappear. If this happens, you can look to other positive qualities you appreciate about your partner or experiment with taking some time away from your partner, whether it be for just a day or longer.
Can a partner's depression be contagious?
Depression isn't contagious. But partners of someone suffering from depression may also feel down and depressed if they start neglecting themselves. Remember to balance your relationship with your own well-being, too.
Dating someone with depression: our final thoughts
When you are dating someone with depression, the relationship—like all relationships—can have its ups and downs. While there are some challenges to dating someone with depression, the relationship can ultimately be rewarding and fulfilling. Encouraging your partner to seek professional help can be the best way to help them—and yourself.
Married but Looking
Best for passionate encounters
Privacy guaranteed
An easy and private messaging interface
Friendswithbenefits
Best for: Making good-time friends
Free membership: Free registration, limited
Users: 600,000
Singles50
Get started free of charge
Meet your match
50s and over only
OneNightFriend
Meet open-minded people
Flexible payment plans for added features
Free registration
Be2
It costs nothing to get started
Match with people with similar interests
Find genuine connection and chemistry
WantMatures
Best for: Available Mature Singles
Free membership: Free registration, limited
Users: 35 000
EliteCupid
For people who value their career and time. Date like-minded individuals!
Personality assessment for enhanced screening

Global reach. Match with like-minded singles all over the world

Smart matching finds your most compatible partners

Meet your equal in values, lifestyle, and career ambition

In-depth profiling and unlimited search means unlimited matching
Aussiebang
Explore your wildest fantasies with Aussiebang!
Perfect match for a sex and fuck
Easy sign up process
DateRussianGirl
Popular online communication platform with Slavic women
A variety of verified, active and up-to-date profiles
Protected by world's leading certificate authorities
DateEuropeanGirl
Women here are very easy-going
100% chances to find your perfect match
Personal Data Remains Confidential
SingleCupids
At SingleCupids, we believe that great relationships start with great conversations. Connect with like-minded individuals, share experiences, and ignite sparks of romance. Your next meaningful connection is just a chat away!
Chat & Connect: Engage in lively, meaningful chats with other singles. Whether you're sharing stories or discussing interests, it's all about building connections.
Experience Exchange: Share your experiences and learn from others. Discover the richness of different backgrounds and life journeys.
Dating Redefined: Find potential partners who resonate with your interests and values, making dating an enriching and fulfilling experience.
Virtual Events: Join exciting online events and themed gatherings to meet new people and create memorable experiences.
Privacy & Security: Your data and interactions are safe with us. SingleCupids takes privacy and security seriously to ensure a worry-free dating experience.
Eurobabes
Diverse Russian & Ukrainian Women
3000+ Profiles
Unique Matching
Flirt
Best for: Finding your local flirt
Free membership: Free registration, limited
Users: over 1 million
SingleSlavic
There are enough online Slavic girls to interact with on the platform.
The engagement is high thanks to access messaging functions.
Create meaningful and long-lasting relationships with like-minded singles
Justrooting
Best for: Quick contact
Free membership: Free registration, limited
Users: 90,000
Maturedates
Best for: Meeting your someone in your local area
Free membership: Free registration, limited
Users: 250.000
HotUkrainians
Casual sex encounter with HotUkrainians
Experience the thrill of online sex dating
Find your perfect HotUkrainians match
iDates
Join up for free
Meet a special person near you
Trusted by thousands of Australians
DateYourGirl
Meet real asian, european, and latino singles
Real-time communication with efficient tools
Professional dating services
eharmony
#1 trusted dating app in Australia
For serious, long-term relationships
Free registration
Ashley Madison
Best for: Singles looking for no strings attached fun
Free membership: Free registration, limited
Users: 54 million
CupiDates
Large database of verified & attractive Asian and European singles
Efficient communication tools for real relationships
Our instant messaging service brings you closer together than ever before.
Academic Singles
Matches based on questionnaire for attitude, opinions, desires, and expectations
Get your questionnaire, personality assessment, and matches all completely free
Aimed at the educated crowd and focused on helping you meet your special someone