Anyone can face challenges while dating, but it can be especially difficult for people within the LGBTQ+ community. On top of possible issues within relationships such as disagreements, bad timing, and lack of chemistry, some queer people are worried about trying to date while being in the closet.
In this article, we will discuss what it means to be in the closet, the challenges of dating while queer and in the closet, and some advice that we have if you're trying to come out to family members and friends.
What is "the closet"?
The term "the closet" is used by people in the LGBTQ+ community that means not being open or public about your sexual orientation or gender identity. Usually, the reason a lot of people are "in the closet" is due to the fear of losing support from their family, being bullied at school, or facing any other negative and discriminatory actions based on other people's beliefs.
The most common people that are in the closet are transgender and gay people who are also usually under the guardianship of their parents or other family members. However, other people in the LGBTQ+ community can also be in the closet, including adults especially when it comes to their jobs.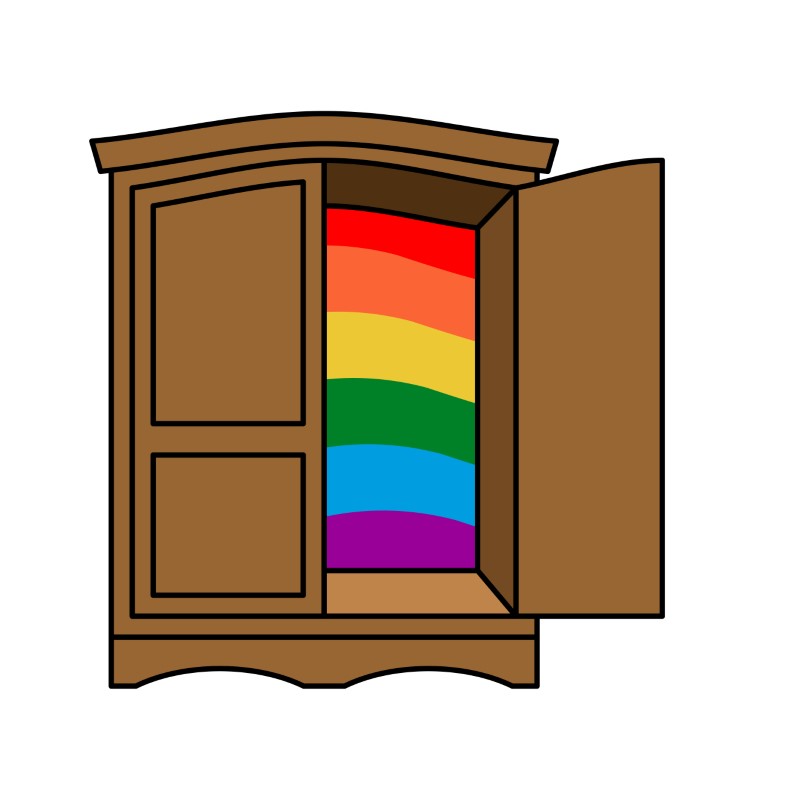 Risks & problems of dating as a closeted queer person
​​​​Being in the closet is an uncomfortable and stressful experience, but that doesn't mean that you don't deserve to hang out with and date other people. However, it's undeniable that it can be difficult to remain in the closet as you navigate the world of relationships.
So, what are some of the risks that come with dating as a closeted person?
Family: Especially if you are a minor that is dependent on your parents or guardian, there is an unfortunate risk of being kicked out of the house or facing other consequences if they don't accept your sexuality or gender identity.
Friends and colleagues: Even if you have friends, some of their values might be homophobic or transphobic. If you don't normally talk about LGBTQ+ related topics with other people, it can be difficult to know exactly how they feel about the community and put you at risk. Also, if you are in school, there can be many different people from different backgrounds that can lead to bullying and other terrible outcomes.
Work: Another place that you could encounter homophobia and transphobia is your workplace. Even though it's supposed to be a professional environment, there are also people with different beliefs that might work at the same place you do and it's possible to encounter hateful people there. Some people could even be fired or not be hired to a new job due to their identity. Unfortunately, bullying and harassment can also happen at work even from your manager.
Other public: Other people that can pose a risk are anyone else from the public that are hateful towards the LGBTQ+ community. There have been cases of couples being harassed or attacked for displaying PDA in public, or being "hunted" on dating apps after disclosing their sexual or gender identity.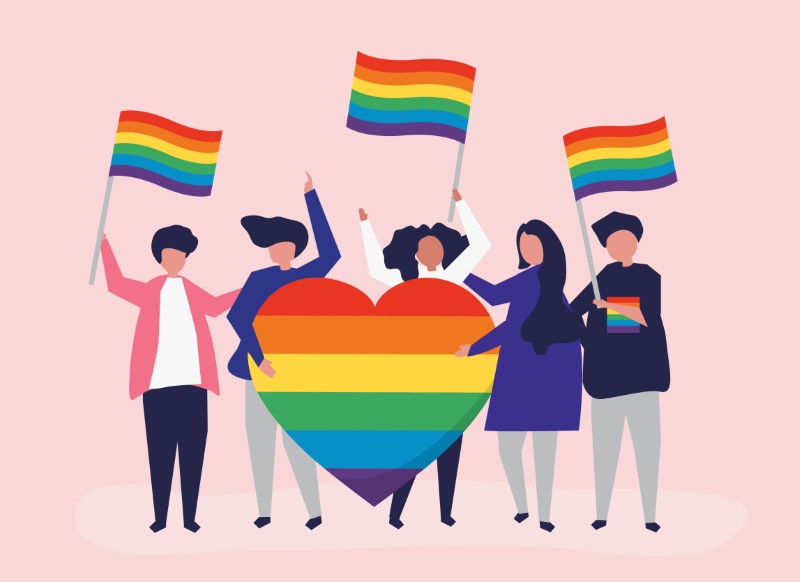 Tips on dating while still in the closet
If you're looking to date someone while you're still in the closet, how can you navigate that challenge? Here are some of our tips:
Talk with your date: You don't owe an explanation to anyone about why you're in the closet, but it's important to discuss with your date or partner what your boundaries are. Some topics to discuss could be what labels to use for sexuality and gender identity, whether or not to post your relationship online, who can know about your relationship, and how to act with each other in public.
Be understanding: Of course, it's extremely stressful and can even be a risk to your safety to be in the closet, but it can also be a risk for the other person that you are interested in dating. It's important to try to be understanding if someone doesn't want to date someone that is in the closet. This could be due to a variety of reasons such as risks of personal safety and looking for a more public relationship that could be difficult to achieve if someone is in the closet.
Look for support groups: Whether you are looking for someone to date or to have some personal support if others in your life aren't, try looking for LGBTQ+ support groups or clubs in your area. Some high schools also have clubs that are dedicated to making safe spaces for queer people.
You're dating a transgender person who's still in the closet and you're wondering whether it can work? We've got the answer to your question!
Should you come out?
Coming out is a very personal choice that should only be made on your own terms when you feel the most comfortable to do so. It's important to always take your own safety and well-being into account when you decide to come out, as that should be your priority.
You can always come out of the closet when you want to, but it would be the best option to make sure that you have a safe place to be when you do.
If you are interested in coming out but aren't sure how your family might react, you could try to talk to a close friend. Usually, best friends share similar interests, values, and are much more likely to keep the secret of you being in the closet if you haven't told your family or job.
How to come out of the closet
If you want to come out, we're proud of you for making that courageous step in your life! There are many different ways that you can tell the people in your life about your identity, but what are they? Below, we'll share with you our thoughts on how you can come out of the closet.
Have a support system: Whether this is a friend, support group, or another family member, it's important to find your own support system that can help you just in case the other people in your life don't accept you for who you truly are.
Try to find out if others will be accepting: Before you come out, it's a good idea to try to find out how receptive the people may be to you coming out to them. One way to do this could be discussing any new LGBTQ+ related news and seeing what their thoughts are about it.
Find a method that works best for you: It's completely up to you how you decide to tell people about your identity. You may prefer to do it in person, but it's also acceptable to do other things such as write a letter or leave a voicemail. The most important thing is to do what's best and most comfortable for you.
Start with one person: Some people like to come out to a larger group to get it all done at once or possibly to ensure more safety, but it's also perfectly fine to come out just to one trusted person in the beginning if that is what you're comfortable with.
Other tips: If you're unsure about the other person's reaction, you could try to come out in a public setting in case you're worried about the person becoming violent, or asking a friend to be next to you while you tell that person.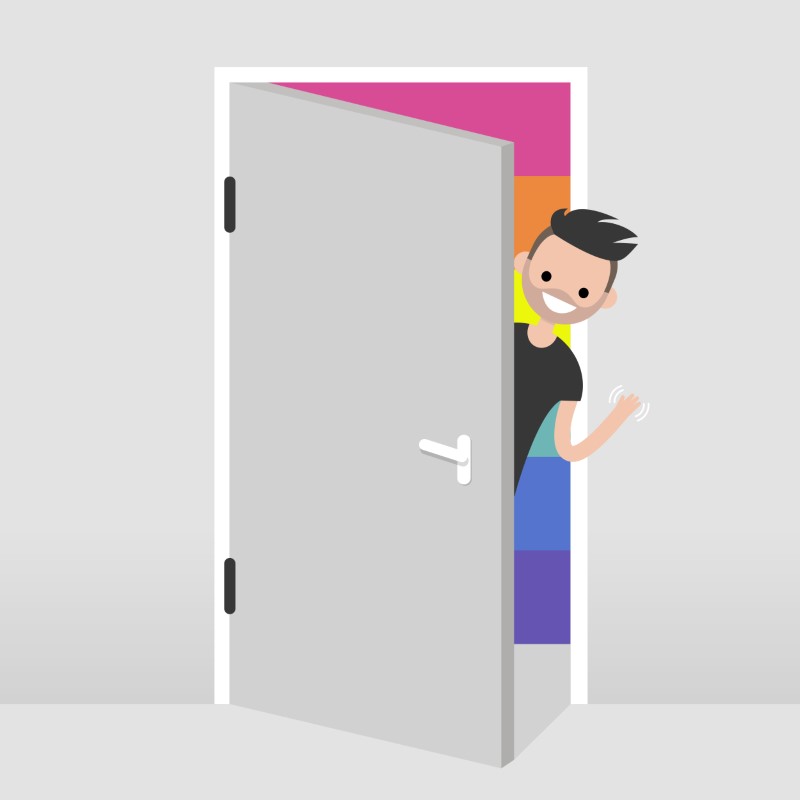 Why people might want to stay closeted
There are many reasons why people stay in the closet rather than immediately coming out to family, friends, and coworkers the moment they come to terms with their sexual orientation or gender identity. One of the main reasons is for their own personal safety. People that are close to the closeted person could have negative views on people in the LGBTQ+ community and even become violent.
Especially for youth, coming out to parents can be very scary and a threat to their safety as some minors can be kicked out of their house or even sent to harmful locations such as conversion camps for trying to come out to their family.
Another reason someone may still be in the closet is the fear of rejection, harassment, and bullying by colleagues and other people at school. A place like school is where you can spend the majority of your week, and it can be an intimidating place to be.
Dating someone in the closet – can it work?
Whether or not being in a relationship while one or both people are in the closet can work or not depends on each individual person, but the short answer is yes, it can work. This depends on communication between both people and if the person that isn't closeted is willing to date someone that is closeted.
Being closeted can mean that you don't act like a couple in public, including sharing posts or photos about your relationship on social media or inviting each other to family events that you may otherwise be able to go to without the fear of being accepted.
However, if both people are willing to date while one person is closeted, there are ways that it can work. The main thing to keep in mind is that when someone is in the closet, other people shouldn't find out about the person's identity unless it's on their own terms. No one else should ever "out" the other person as it could put the other person's safety at risk.
In regards to dating, there are many things you can still do that doesn't involve posting it on social media or sharing your relationship with other people.
Some ideas of activities that you can do while dating a closeted person is:
Spending time at the other person's house if that house is accepting.
Visiting a park, beach, or other secluded area.
A date at a movie theatre.
Traveling (even if it's to a nearby town).
Multiplayer gaming or chatting online.
Of course, these are just a few ideas and you can always come up with your own!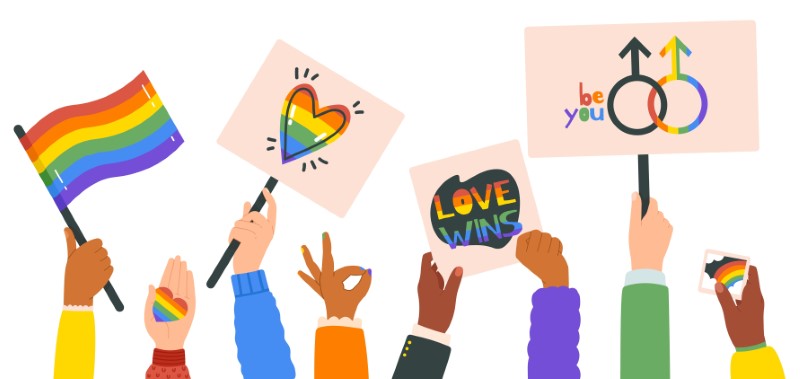 Are there safe dating apps for people in the closet?
If you're interested in looking for someone to date using apps, are there safe places for closeted people to use?
Here are some of the most popular LGBTQ+ apps that you might want to try. They also feature a variety of gender identity and sexuality options for your profile if you decide to display yours openly.
It might be that you have to pay for a service to be completely safe, but even free LGBTQ+ dating services offer a safe space for you.
Grindr
This app was originally made for gay men but now advertises itself as being open to other people in the LGBTQ+ community. On Grindr, you are not required to upload a photo of yourself and you can also customize your own display name, so you don't have to use your legal name to use the app. However, this app is still primarily used by people that are looking to hookup, so keep that in mind if you are looking for a long-term relationship.
OkCupid
This dating app has a unique feature that allows you to change your privacy settings to not allow people that identify as "straight" to be able to view your profile. This can help protect closeted people from being attacked by anyone that is hateful towards the queer community.
Tinder
They used to use only your Facebook account to make your Tinder account, but you can now sign up using only your phone number. Even if you want to use a Facebook account, you can always make a separate, more private Facebook account as well.
LGBT Dating Online
These are our top recommendations for LGBT dating online. Check them out and pick the one that works best for you.
EliteSingles
Free sign ups
Elite singles only
Massive database
LGBT singles near you
Only-flirts
Big pool of users
Easy and convenient interface
Many success stories
Plenty of attractive members for you to have fun with
eharmony
Science based matchmaking
Proven results
Trusted by the LGBT community
Start for free
MyDailyFlirt
Sign up and start flirting with Australians who want older men. Guaranteed matches with Australian women. Chat anytime, night or day.
Free registration only takes seconds
Male profiles needed
Chat 24/7
Search and View profiles
Guaranteed match
OnlyFlings
Register free of charge
Your local fling awaits
Adult dating made simple
Meet fun-loving people looking for easy going good times
iDates
Memberships are free
Start connecting instantly
High-quality, verified profiles to browse
Dating made simple
Ashley Madison
Best for: Singles looking for no strings attached fun
Free membership: Free registration, limited
Users: 54 million
Friendswithbenefits
No cost to get started
Browse wide range of profiles
Find a naughty friend near you
Be2
Free membership types
LGBT friendly
Start matching today
Over 30m global users
Zoosk
Begin free of charge
Open-minded people
Meet your match
Thousands of new users every day
DateYourGirl
Meet real asian, european, and latino singles
Real-time communication with efficient tools
Professional dating services
CupiDates
CupiDates empowers individuals to search the globe for their perfect partner. The international dating site has connected the East and the West with its smart matchmaking tools.
Large database of verified & attractive Asian and European singles
Efficient communication tools for real relationships
Top-level safety and professional support
Where you could find love and romance without boundaries
Our instant messaging service brings you closer together than ever before.
Academic Singles
Get started at no cost
Meet educated singles near you
Find friendship and love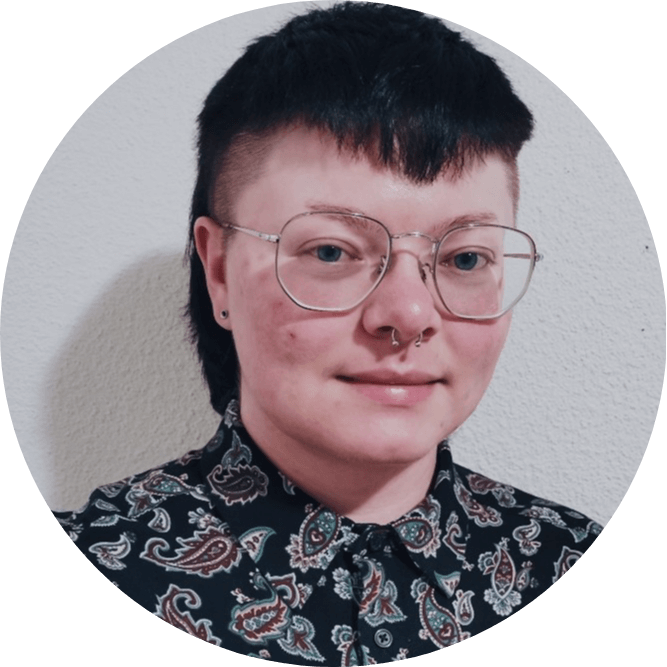 I'm Felix (he/him). I'm a 26-year-old queer transgender man who currently resides in the temperate city of Victoria, British Columbia, Canada after escaping the northern 'Cariboo' region. Felix received a Bachelor of Arts degree with a major in Pacific and Asian Studies from the University of Victoria in 2017 and has worked towards building a freelancing career for himself ever since.
After all, the student loans need to at least feel worth it, right?
Despite working as a barista by day, Felix is determined to make a name for himself as an author while simultaneously sharing his passions by night.
Some subjects he is passionate writing about include the LGBTQ2IA+ community, social justice issues, history, and culture. One of Felix's life goals is to write at least one book in his lifetime, although finding the motivation to write a series rather than a single book would be welcomed with open arms.
A few previous career ideas included an archaeologist or lawyer, but Felix soon discovered neither of those paths would be quite right for him. Despite his love of history, the majority of his existence is spent inside, shielded safely away from the elements. That kind of luxury is not possible for an archaeologist. On the other hand, Felix may be passionate about social justice issues, but his inability to separate emotion from debate could potentially spell disaster as a lawyer in court.
Beyond his writing passions, Felix's other interests include:
Being awake at ungodly hours of the night.
Scrolling through TikTok that he has become unironically addicted to since the beginning of the COVD-19 pandemic.
Trying to stop his roommate's cat from attacking his ankles.
Telling himself that he needs to finish playing The Witcher 3 game.
Out of those four, TikTok has occupied most of his free time.
As someone that has first-hand experience with some of the issues that transgender people face on a daily basis, Felix strives to write the most accurate, inclusive, and informative articles for Datingroo. The first article he has written is titled, "Tinder for Trans People: Is It a Safe Space?".
That article was surprisingly relatable for him to write as Felix has some experience with using Tinder and Bumble in his quest to find a long-term partner. Unfortunately, he is still searching for 'the one', but nonetheless he was excited to bring his experience to the table and discuss the pros and cons of using Tinder as a transgender person.
He believes that education and exposure are some of the most important ways to spread awareness not only about the LGBTQ2IA+ community, but any other social issue that arises. He may not be a politician or a lawyer, but writing can be another effective way to inspire change from all corners of the globe.
In an increasingly digital age, ideas can spread around the world in seconds. Depending on the issue at hand, a movement could potentially stir up worldwide support from information that has been accessed and spread online. That said, the possibility to be able to inspire change motivates Felix to continue writing about what's most important to him.