Dating in general as a trans person can be a challenge, as you navigate your way through a dating pool that has been surveyed to prefer dating other cisgender people. If you find a cisgender person to date, it can be difficult for your partner to understand trans-related issues such as gender dysphoria which can add stress to the relationship.
What about a trans person dating another trans person? What can that type of relationship look like? In this article, we will address these topics and more below.
Are trans people comfortable meeting up with or dating other trans people?
The concept of gender identity and gender dysphoria can be difficult for a cisgender person to fully understand. A lack of understanding may lead to microaggressions, whether or not someone is intentionally being malicious to someone else. For example, a microaggression against a trans woman may be, "You look so beautiful for a trans person!".
While every trans and non-binary person is unique in their own way and have their own preferences on what kind of person they may wish to date, the common experience of gender dysphoria is something that many trans people understand on a personal level. Because they understand it, inappropriate questions about topics such as appearances or surgeries are far less likely to be asked.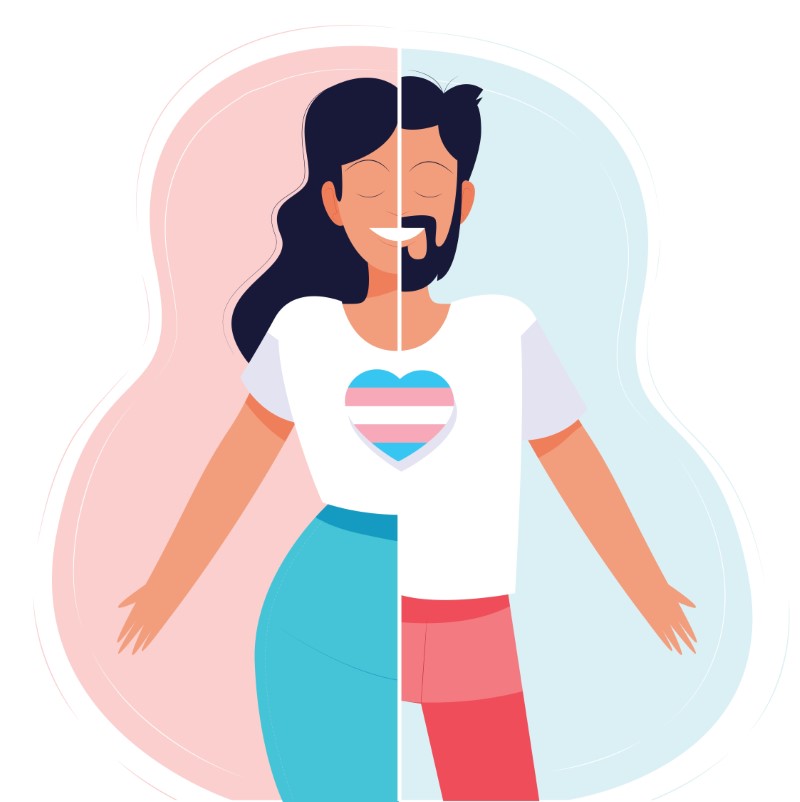 Trans/trans relationships are unfortunately not mentioned or represented often because there is still the common assumption that a trans person always seeks out a cisgender person and vice versa. The truth is that some trans people do date other trans people, and we will give examples of trans/trans couples at the end of this article.
Gabrielle Bellot is a transgender woman who wrote an article for them. in which she explains her experience with dating another trans person. She says that when she was dating cisgender men and women, they had never dated a trans person before.
In addition to their lack of experience and knowledge, Gabrielle also explained that many people she encountered fetishized her existence as a trans woman and only saw her for her body. Understandably, it made her uncomfortable that others saw her as an 'experiment' for themselves rather than dating her for who she was as a person.
However, Gabrielle then talks about how she began to feel accepted and much more comfortable in her own body once she began dating other trans people. In her own words, she writes:
"I realized something again as I cuddled with him, this new lovely trans man — now my partner — whose path I had crossed: that although my dysphoria hadn't completely gone away, I had found someone who understood that dysphoria and who didn't feel the need to invasively ask what surgeries I had had or how sex works for me. Someone who liked me not in spite of my body, but instead wanted to be beside me, regardless of what parts I possessed."
Ultimately, transgender and cisgender people can date anyone they wish to date, but there is something to be said about the mutual understanding within trans/trans relationships.
Benefits of dating another trans person
If you identify as trans and are wondering about the possible benefits of dating another trans person, here is a list that we have compiled:
They may also experience gender dysphoria and understand how it feels.
They may be able to help you with transitioning, whether it is teaching you how to style your hair or supporting you through a surgery.
They understand how nerve-wracking it is to be "out" as a trans person.
They can help you love your own body and love you for who you are.
This list may be endless, but these are some of the most significant benefits that we have noticed with trans/trans relationships. In general, there is a mutual understanding of each other and how it feels to exist as a trans person.
If you date another trans person, they could give you advice for your own transition journey. For example, if your partner is a trans man, they might be able to give advice about the best binders to buy or how to style a suit.
Of course, it depends on that person's own gender expression and how they choose to present themselves to the world, but in general the trans and non-binary community is quite helpful with other trans people.
Understanding gender dysphoria and healing in trans/trans relationships
If you've heard of the term gender dysphoria but not sure what it means — or even if you've never heard of it — we've got you covered! From the American Psychiatry Association, gender dysphoria is defined as, "clinically significant distress or impairment related to a strong desire to be of another gender, which may include desire to change primary and/or secondary sex characteristics.".
In simpler terms, gender dysphoria can cause distress for many trans people if certain body parts don't align with their gender identity. For example, a transgender woman may experience gender dysphoria if she has male body parts.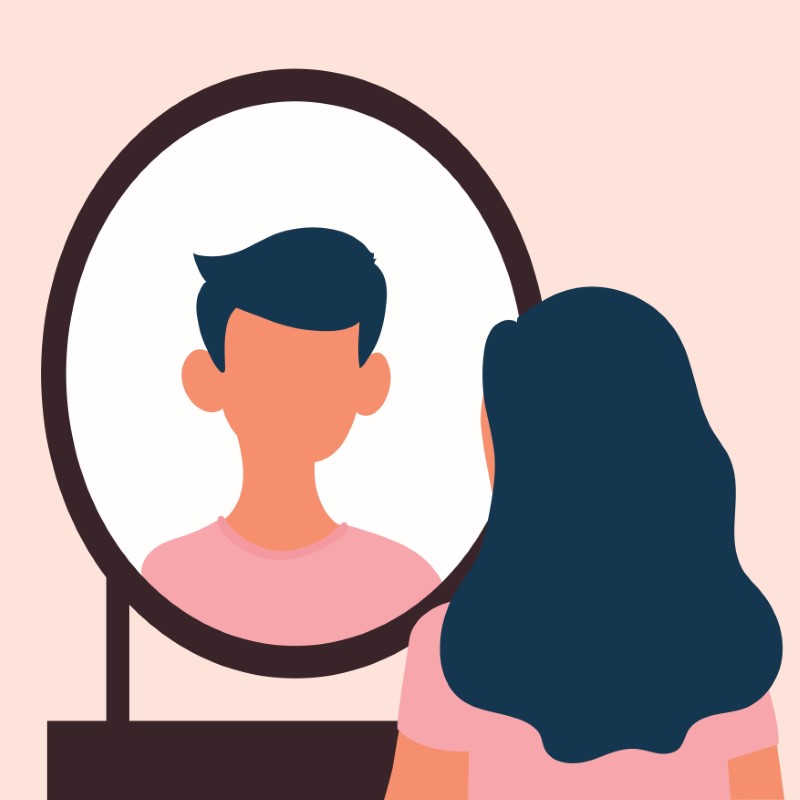 Medically transitioning and undergoing surgeries can alleviate or even remove gender dysphoria, but it's important to know that not all transgender people experience gender dysphoria. However, it's also important to be aware of the mental health implications for people that struggle with gender dysphoria, especially if they don't have the resources to help align themselves more closely to their gender identity.
In trans/trans relationships, gender dysphoria is already understood between both trans people. There's even a chance that dating another trans person can help with feelings of dysphoria because you aren't seen as just a trans person among cisgender people.
As Kelvin Sparks writing for Salty explains:
"I love being with other trans people — men, women, and non-binary people — for a multitude of reasons. The first is that when I seek out other trans people, I get to not think about my trans status constantly. In trans-focused spaces, even if they exist only in fleeting moments or between two people, I get to be just "a queer man" rather than "a queer trans man." I get to be just a man rather than a trans man, a term that cis queer people use as a composite noun even if they include a space between the two words."
Kelvin also speaks of mutual healing between two trans partners because in that type of relationship you don't need to center your life around other cisgender people. You can simply exist as who you are next to someone that already understands what you are going through.
Best dating apps for the trans community
Alright, you're interested in seeking out another trans person, but what are the best dating apps to find other trans people?
Taimi: This app was originally made for gay men but has since been developed to be inclusive for the entire LGBTQ+ community. Taimi has a few inclusive gender options such as trans male, trans female, intersex, and non-binary. This app also has features that are akin to other social media platforms that allow you to post 'stories', go live, and joining groups.
OkCupid: As one of the first dating apps to allow users to display their pronouns, OkCupid is near the top of the list for being trans friendly. With 22 gender identity options, trans people should be able to show their authentic selves on their profile whether they prefer to identify as trans, non-binary, genderqueer, two-spirit, and more.
Fiorry: This is a new dating app that advertises itself as being catered to the trans, non-binary, and genderqueer community as well as cisgender allies. On their site, it states that users can search for a dating match without discrimination or fetishization and have measures in place to help eliminate it. Interestingly, Fiorry also has a transition fund program for their members. Unfortunately, because this app is just getting started, there may not be many members in your area, but the premise of it is quite promising.
Tinder: We're adding Tinder to the list because of the sheer amount of people that use this app, which leads to a greater chance of finding your match no matter where you live. However, despite Tinder having the option to include any gender identity you wish to put on your profile, there are many different people that use Tinder. With users from all different backgrounds and beliefs, there is a heightened risk of discriminations and fetishization.
This list of dating apps has their own demographics, but the best apps for inclusivity are Taimi and OkCupid. Even though Taimi is a smaller app with 8 million users, it is meant to be used by the LGBTQ+ community and all sexual orientations.
OkCupid isn't exclusively made for the LGBTQ+ community, but it has very inclusive gender identity and sexual orientation options that make it easier to display your authentic self on your profile.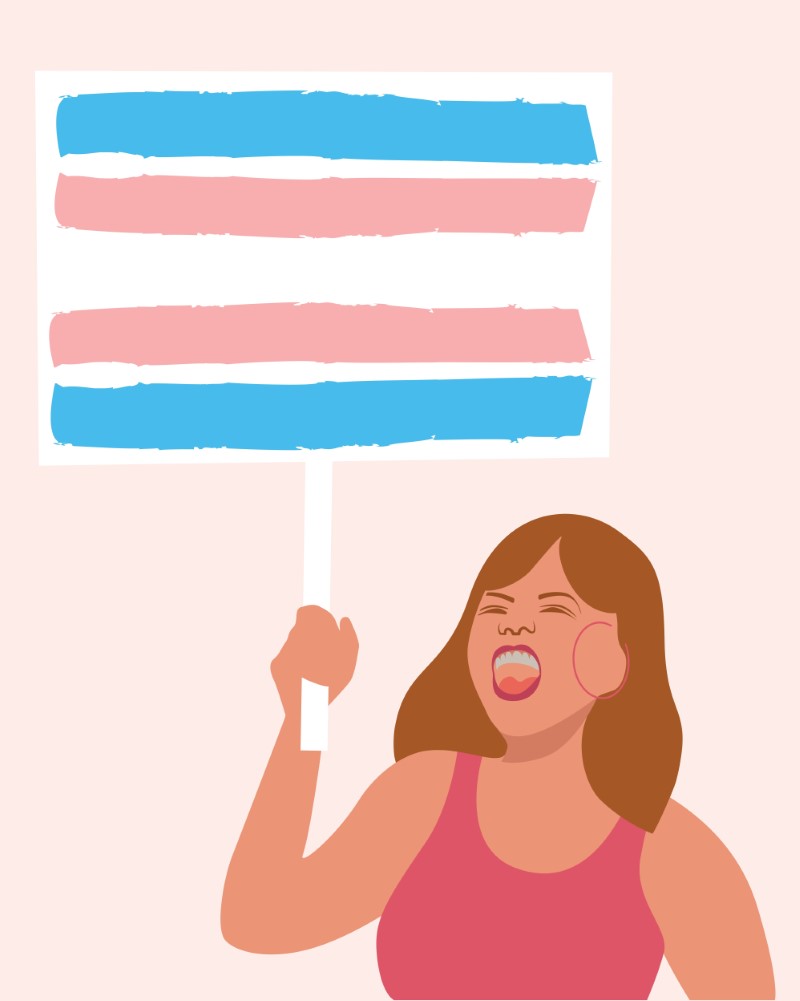 How to make dating between two transgender people work
For cisgender people that are dating a transgender person, advice for how to make their relationship work includes avoiding microaggressions, but what about trans/trans relationships? Can there also be challenges?
A lot of the same advice can still apply. For example, microaggressions can still come from a trans person. Although it may be less likely to come from someone that already knows what it's like to live as a trans person, that doesn't mean that an inappropriate comment or question may not come from them.
From our list above that mentioned benefits of dating another trans person, something to keep in mind is that your partner may not want to help with gender expression tips. Also, even if your trans partner identifies with the same gender as you, they may present themselves differently. It's important to remember that each person is unique and that you are also allowed to carve your own identity.
One thing that Kelvin Sparks mentioned in his article is how he had some trans partners in the past that tried to pressure him out of seeking bottom surgery. What someone wants to do with their body is a personal choice, and can even be a necessity in the case of gender affirming surgery.
If you're dating another trans person, you should accept them for who they are, even if they are still in the process of transitioning.
Successful trans relationships​
Since trans/trans romantic relationships aren't talked about enough, we will highlight a few couples that show these relationships do exist.
Precious and Myles Brady-Davis
The pair met when Precious, a trans woman, was working at an LGBTQ youth center in Chicago and entered a relationship when Precious' friend encouraged them to go on a date. Myles, a trans man, told Precious that he wanted to have children with her.
They were a little uncertain about parenthood as a trans couple, but both of them decided to temporarily stop hormone treatments to give them the best chance with their fertility. After two years, Myles became pregnant through IVF and decided to proudly continue riding the bus to work rather than hire ride services.
In December 2019, their daughter Zayn was born which became a first for the state of Illinois as she was born to a pair of transgender parents.
Katie Hill and Arin Andrews
This couple was labeled as the first openly transgender teen couple in the US a handful of years ago. They met each other in 2012 while going through their transition. They posted videos talking about their journey of transitioning together and the highs and lows of their relationship. Unfortunately, they allegedly have now ended their relationship, but Kate and Arin claim to still have a special bond with each other.